Prashant Kishor was the brain behind many of Narendra Modi's popular programs such as 'chai pe charcha' during the Lok Sabha polls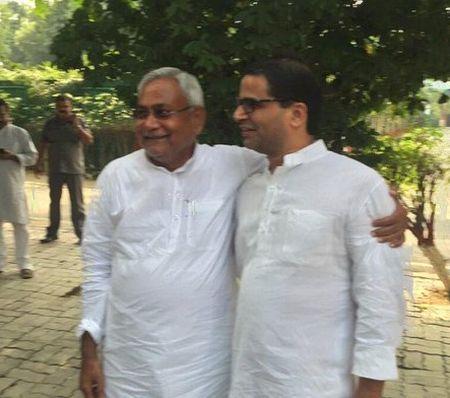 The man who hardsold brand Narendra Modi during the 2012 assembly polls in Gujarat and last year's general elections, also helped craft Nitish Kumar's campaign strategy in Bihar that saw him thump his arch foe in the state assembly election.
Prashant Kishor, a native of Bihar, had quit a UN health expert's job in Africa in 2011 and returned to India to form a group of young professionals who devised the strategy to project Modi as the face of good governance in the 2012 Gujarat polls and last year's general elections with resounding success.
Kishor, the man with the Midas touch, replicated the feat once again when Nitish Kumar secured a third consecutive term trouncing Bharatiya Janata Party-led National Democratic Alliance in Bihar where Modi, an arch rival of the Janata Dal-United leader, had staked it all, having addressed at least 31 election rallies, unusual for a prime minister in a state poll.
Kishor, 37, who conceptualised and implemented Modi's popular 'chai pe charcha' initiative, substituted it with 'parcha pe charcha' (discussion over pamphlets) under which Nitish's poll managers sought feedback from people on the state government's performance over the past decade.
Realising that the JD-U cannot match the resources of the BJP, Kishor's team also devised the 'Har Ghar Dastak' (knock on every door) that helped the party establish a personal connect with the masses.
When top BJP leaders were busy criss-crossing Bihar on helicopters, Nitish Kumar and workers of his party went knocking the doors of the electorate seeking their vote as part of the direct outreach initiative.
When asked why he switched over to Modi's rival, Kishor said, "Nitish Kumar is one of the country's most credible politicians."
The usually laconic Kumar, members of Kishor's team said, was hardly a talking point when the team landed in Patna. Working assiduously behind the scene, they crafted a strategy where Kumar matched Modi's each trenchant criticism with equally sharp retort.
Kishor had brought together a group of graduates from India's premier institutes and multinational companies to work on Modi's 2014 election campaign under the name 'Citizens for Accountable Governance'. He dissolved CAG a few months after the elections.
-- Complete Coverage: Battle for Bihar
Image: Nitish Kumar with Prashant Kishor. Photograph: @srivatsayb/Twitter