'As long as true Hinduism survives in India, we need not let the Hindutva fear factor keep us from accepting a change in Muslim personal law with a ban on triple talaq,' says Najid Hussain.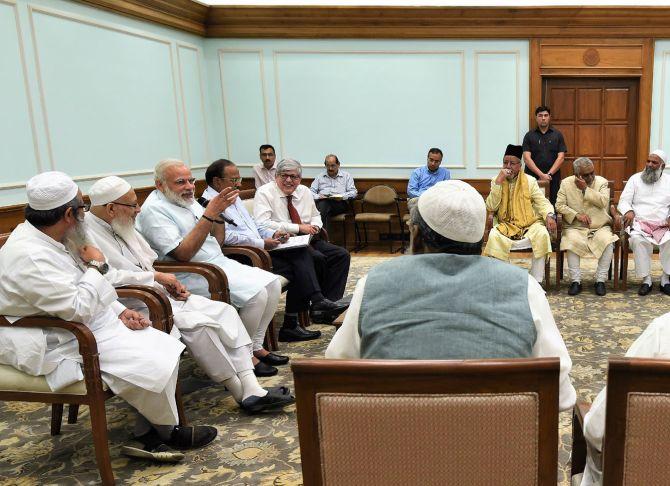 When the issue of triple talaq inhabits the minds of Muslim women, rights activists, lawyers, members of the All India Muslim Personal Law Board and BJP politicians, we must be optimistic that a status quo on the practice is short lasting.
However, if past experience is any guide to the future, that optimism may be misplaced.
For over a quarter of a century most of us believed the Ram Mandir would be built in Ayodhya; Article 370 would be scrapped; black money would be history; the Ganga would be cleaned...
Despite all the noise generated by these issues, the wait for action continues.
Triple talaq (triple divorce) is a practice prevalent among Indian Muslims, which gives a Muslim man the right to instantly divorce his wife.
The practice is despised by most women but defended by Muslim men, with the excuse that it is ordained by Allah in the Qur'an.
Rights groups supporting Muslim women want India's judiciary, or an act of Parliament, to alter, if not abolish, the existing provision on triple talaq, which is seen as biased against women.
The AIMPLB and other supporters of patriarchal laws want to see the status quo maintained on the practice.
In a few high profile cases of triple talaq brought to India's high courts (Shamim Ara; Afreen Rehmat, Shayra Bano), the courts ruled those divorces invalid, but did not declare the practice unconstitutional.
As a result, the statute continues to be a part of Muslim personal law and the practice continues to be an integral part of the community, especially among poor and uneducated members who have little access to courts, or legal counselling.
A judgment on Shayra Bano's PIL (Public Interest Litigation) to ban triple talaq is currently pending in the Supreme Court.
Devout patriarchal Indian Muslims believe that the rule of triple talaq is decreed by Allah in the Qur'an (verses 2:228, 230) and no one can change that.
Progressive moderate Muslims also believe the decree is from Allah, but interpret the verses to mean pronouncing divorce three times in one sitting is equivalent to only one divorce.
So unless three divorces -- each one followed by three months of separation -- is exhausted, it does not qualify as triple talaq, and thus triple talaq rules do not apply.
However, none of these groups have anything against the apparent patriarchal nature of the law that gives so much power to Muslim men and denies a similar right to their women -- a stand that is against the basic rule of contemporary societies requiring equality of race, religion, and gender.
The purpose of this essay is not to chastise either the politicians for their opportunism and inaction, or the legal luminaries who very often end up helping the status quo by muddying the waters with their divergent expert opinions.
The objective is to delve into Qur'anic history to see if Allah has ordained this practice in the Qur'an, or if it is possible that the desire of a few seventh century Arab men, surreptitiously found its way in Allah's book.
After all, the Qur'an is the book for all people and all times, so how can its message lose validity within 1,400 years!
Seen from a Muslim's perspective, such an analysis can neither be easy, nor innocuous. One has to take up the role of the devil's advocate.
There is a common perception among Muslims that the Qur'an as a book was sent down to Prophet Muhammad by Allah. Muslim intellectuals, however, know, and accept, that the Qur'an was not brought down from heaven to the Prophet as a book that we see today, but it was the word of Allah revealed to the Prophet.
Those divine revelations continued over two decades, during which time, as and when the revelations arrived, the verses were recited by the Prophet, and memorised or written down on pieces of leaves, rocks, cloth, or leather, by his companions. Paper was not around at that time, as the Chinese invented it two hundred years later.
At the time of the Prophet's death, the Qur'an was not collated as a single volume. It took several decades after the Prophet's death, well into the period of the second Caliph, Umar, when the Qur'an finally came into existence in the form that we see today.
The final compilation, to a large extent, depended upon the passed down memories of the Prophet's companions, as well as other available writings of the original verses on the shards.
Prophet Muhammad never had a chance to proof-read the Qur'an of today and authenticate every verse in it as the word of Allah.
It is possible that a majority of Muslims will find it hard to accept this analysis -- not because it lacks logic or reason, but because it hurts their sentiments that someone should cast aspersions on their holy book.
This analysis, however, is not to belittle the Qur'an, or cast doubts on its message.
The Qur'an, without doubt, is a remarkable book that has guided and shaped the lives of billions of people over centuries, through faith and creed, and will continue to do so for generations to come.
This is just to open up our minds as believers, and welcome meaningful, independent reasoning in Islam, so that our beliefs are logical, reasonable, gender just, and fair.
It is worth noting that most Islamic countries -- including Pakistan -- have banned triple talaq. But the Muslims of India -- including the moderates -- continue to oppose a similar ban. That is mind boggling.
Moderate Muslims, after all, reject literal interpretations of difficult Qur'anic verses: Such as the ones on the issue on disciplining women (4:34-36), treatment of unbelievers (3:28), virgins as rewards in heaven (78:31-34), and many more.
Why then defend the evils of patriarchy?
When elements of the Hindutva brigade -- who have assaulted and humiliated Muslim women in Gujarat, Maharashtra, Uttar Pradesh, and many other parts of India, with impunity -- come out in support of Muslim women on triple talaq, Muslims have every reason to feel uncomfortable and see it as a clever ploy of the Modi government to open the door to Muslim personal law so that eventually a Hinduised version of the Uniform Civil Code can be pushed through.
It's no secret that the Sangh Parivar's ultimate objective is to take away Muslim rights assured by the Constitution, and relegate the community to second-class citizenship in their own country.
Given the history of hate and contempt of the Sangh Parivar for the minorities, the Modi government's intentions on helping Muslim women cannot be seen without suspicion.
But alongside that history, there is another history that we must not forget -- that of brotherhood, equality, and support of a majority of our secular, non-Hindutva Hindu brothers and sisters, who always stood by us, and fought for protecting minority rights.
As long as true Hinduism survives in India, we need not let the Hindutva fear factor keep us from accepting a change in Muslim personal law with a ban on triple talaq.
IMAGE: A delegation from the Muslim community, under the umbrella of the Jamiat Ulama-i-Hind, call on Prime Minister Narendra Damodardas Modi, May 9, 2017. Photograph: Press Information Bureau.