The best tribute to Aruna Shanbaug would be to take some legislative action on ending the mental and financial trauma of those who can't live outside of a hospital again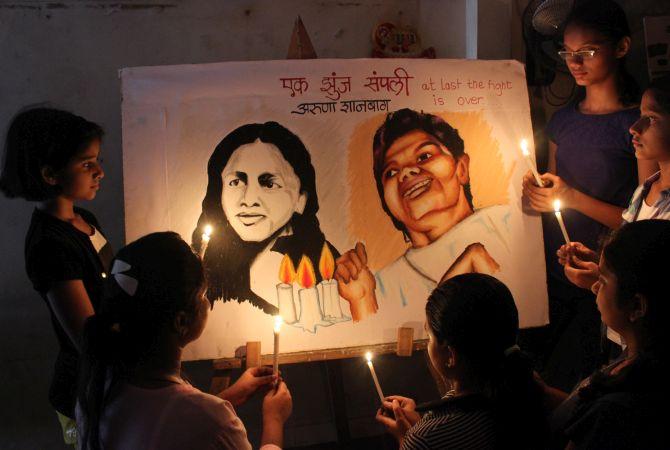 Students pay tribute to Aruna Shanbaug. Photograph: Deepak Salvi/Rediff.com
A regular reader called on Monday evening -- the day Aruna Shanbaug finally died after 42 years of "living" in a vegetative state. The reader (he wanted to remain anonymous) was at pains to explain why denying a person the right to die with dignity was an inhuman act. And he was speaking from his personal experience.
His brother, left paralysed from the shoulders down after a severe spinal injury, "had to" live for 15 years more even though he was unable to move and was dependent on a ventilator to breathe. After he was told by doctors that he couldn't live outside of a hospital again, the man begged the doctors to take off his breathing tube so that his family was at least spared the daily mental and financial agony. The doctors obviously had no option but to turn down his pleas. He finally succumbed to a heart attack 15 years later, by which time his wife had become a mental wreck and his kids had to be taken care of by a few relatives who pooled in money.

The question that follows is -- could he and his family have been spared the mental and financial trauma for so long? Could that hospital bed be better used for someone who had some chance of recovery?
The law, as it stands now, is clear in its answer -- no.

For, such cases do not meet the conditions prescribed by the Supreme Court for "passive euthanasia" -- he wasn't brain-dead and he was not in a "persistent vegetative state" for whom the feed can be tapered out and pain-managing palliatives be added.
MUST READ: Aruna Shanbaug, euthanasia and whose life is it anyway?
Ironically, the court judgment had come in 2011 while rejecting a petition made by the NGO Common Cause for the mercy killing of Shanbaug. The judges did not allow the petition, even though Shanbaug was going through unbearable physical pain and lived just because of the mashed food being put into her mouth all these years. The nurses at Mumbai's KingEdwardMemorial Hospital, who had celebrated after the rejection of the mercy killing petition, would do well to ask themselves whether they were treating the hapless woman as some kind of a trophy of their kindness.
Shanbaug or the brother of the reader mentioned in the opening paragraphs are not alone in their grief. There have been many cases of cruelty imposed on people and their families who have been denied euthanasia.
One such well-publicised case was that of Jeet Narayan of Mirzapur. In 2008, Narayan pleaded for assisted death for his four sons, all crippled and paralysed below the neck, and there was hardly any money to take care of them. The President of India rejected his plea and no one knows the fate of the family. There's more. An IANS report mentioned the case of Dilip Machua, a 30-year-old slag picker from Jamshedpur who was paralysed after an accident in November 2008. His plea for euthanasia was rejected and he died a painful, slow death much later.
Only four countries in Europe and three states in the US have laws permitting some form of euthanasia. In several other countries, piecemeal judicial or legislative measures have been taken towards evolving a statute on euthanasia. But barring these places, any form of assisted suicide or death is considered illegal, almost universally. This is especially tragic for developing countries such as India where even basic health care is missing or out of bounds for most and people have to see their near and dear ones sink bit by bit.

Religion has also played a critical role in non-acceptance of euthanasia, with most religious leaders treating it as a sin. This is strange as the Jains and Hindus have a ritual of Santhara and Prayopavesa -- voluntary death by fasting. The Mahabharata talks about Iccha-mrityu (self-willed death) as a blessing that Shantanu had granted to his son Gangaputra Devavrata, better known as Bhishma.

The net result of all this inbuilt bias has been simple. Even though the Supreme Court accepted conditional passive euthanasia in 2011, there has been zero follow-up in terms of legislation thereafter, except for some we-are-studying-it kind of assurance by the government of the day. The best tribute to Shanbaug would be some action on this front.