Changing the names of Uttar Pradesh cities has accelerated into a movement ahead of the 2019 Lok Sabha election, notes Ranjita Ganesan.
Illustration: Uttam Ghosh/Rediff.com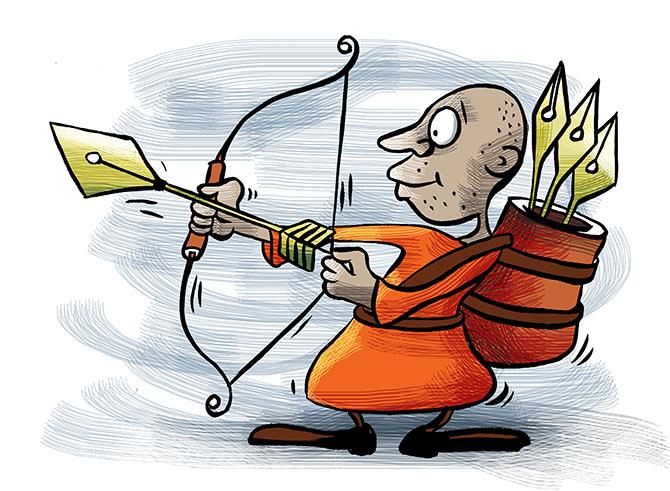 Who:
For Diwali this year, Uttar Pradesh Chief Minister Ajay Singh Bisht aka Yogi Adityanath dressed up two places in his state in new names.
He turned Faizabad district into Ayodhya district, just weeks after renaming the city of Allahabad Prayagraj.
'Ayodhya is a symbol of our 'aan, baan aur shaan' (pride and glory)... Nobody can do injustice to Ayodhya,' he said at the recent Deepotsav event where the change was announced.
He justified the decision -- to replace labels given by Muslim conquerors with Hindu references -- as a 'restoration' of history.
At the time of scrapping the name Allahabad, he stated: 'Some ask 'what's in a name'. So, I said, why didn't their parents name them 'Ravana' and 'Duryodhana' in that case? In this country, the name holds a lot of significance.'
That significance may be more political than historical, critics of the chief minister have said, while his supporters viewed it as satisfying a long-standing demand.
What:
Such retitling appears to have accelerated into a movement ahead of the 2019 Lok Sabha election.
The Bharatiya Janata Party-led government had earlier changed the well-known name of the railway station Mughalsarai Junction to 'Pandit Deen Dayal Upadhyay Junction'.
Geographical renaming itself is not new in India, as Western colonial labels have been shed and local ones adopted in the last few decades:
Madras became Chennai, and Calcutta became Kolkata.
The fresh targeting of Muslim-sounding names has been dubbed a measure by right-wing policymakers to impress Hindu nationalist admirers.
On Twitter, as some seemed pleased to bid goodbye to 'Faizabad', others pointed to more urgent issues such as infrastructure, education, malnutrition and women's safety.
How:
Adityanath's announcement in Ayodhya town included a promise of a new medical college named after King Dasharatha, and an airport named after Rama.
In the cases of previous name changes, there has been little data related to the effect they have had on the fortunes of the cities or neighbourhoods in question.
It is also difficult to know how successful such nominal transformations truly are, as old names often remain preserved in certain institutions and in local parlance.
The costs added by these initiatives are more easily gauged, as highway and railway signage, official documents and government stationery have to be altered to reflect the changes.
These shifts are also likely to cause confusion among those who are not locals.
Where:
The UP chief minister has company in his endeavour.
Political players in other states have readied their own white-ink pens, including the Shiv Sena in Maharashtra, which is known for its enthusiasm around renaming.
The party, having previously imposed the change from Bombay to Mumbai and relabelled several city monuments and institutions after Maratha king Chhatrapati Shivaji, renewed its demands for Osmanabad to be known as Dharashiv and Aurangabad as Sambhaji Nagar.
Gujarat Chief Minister Vijay Rupani, too, spoke of weighing proposals to give Ahmedabad the name Karnavati.
Steps towards this, he said, would be taken before the 2019 election.