'My heart weeps for Vajpayee, the prince among poets, the king among politicians and the emperor among statesmen,' says Sudhir Bisht.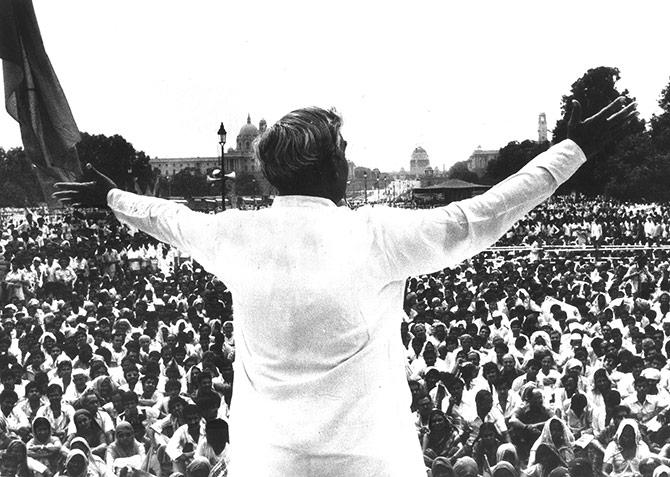 The passing away of Bharat Ratna Atal Bihari Vajpayee is the third heartbreaking news for Indian politics in the last 10 days.
It started with the passing away of 'Kalaignar' M Karunanidhi on August 7. Then Somnath Chatterjee, the Communist Party of India-Marxist's one-time stalwart and former Lok Sabha Speaker, who dared to defy his party whip, left for his heavenly abode on August 13, and now, the poet-journalist-politician-statesman Vajpayeeji has called it quits to join his Lok Sabha Speaker of 2004 and the leader of his one-time ally, the Dravidra Munnetra Kazhgam, in heaven.
As is common practice, leaders across the Indian political spectrum have begun to shower praises upon Vajpayeeji.
He is hailed, and rightly so, as Ajatshatru, a man who has no enemies. His contribution to the diverse fields of poetry, oratory, diplomacy and leadership is indeed unparalleled.
ABV was the symbol of the first sustainable alternative to the left-of-Centre power structure in India.
The way he managed the coalition government that had 17 partners, with some of them having pronouncedly Socialistic moorings like the Samata Party, and most of them with conspicuous loyalty to their own states' interests, can have an entire treatise written about it.
ABV was a man of many parts.
A poet who could have made a decent living out of reading his Hindi poem at kavi sammelans (assembly of poets) in big cities and mofussil towns, he could have equally made a career as a journalist-cum-editor.
ABV could have been one of the finest diplomats had he joined the Indian Foreign Service, but Vajpayee's true calling lay in the hurly-burly of politics.
It is to ABV's credit that he joined Syama Prasad Mookerjee, founder of the Bharatiya Jan Sangh (the parent of the present-day BJP), as his personal secretary, but was able to carve out his own identity and within just a few years became the party's frontline leader who could fearlessly combat with Jawaharlal Nehru on the floor of the Lok Sabha.
After the death of the Jan Sangh's second president Deendayal Upadhyaya, he became the tallest leader in the party.
He became president of the Jan Sangh much later, but it is a fact that he towered over his senior colleagues in the party. This is a testimony to the Jan Sangh's adherence to meritocracy as well as to Vajpayee's own leadership qualities.
I was fortunate to have listened to some of his speeches and witnessed the immediate connect he was able to make with his audience.
It would not be an amplification to say that the Jan Sangh found a strong voice after the passing away of Mookerjee only in the person of Vajpayee.
Atal Bihari Vajpayee was a three-time prime minister of India. His first stint in 1996 lasted just 13 days. He returned as prime minister in 1998, but his government fell by a single vote in a no-confidence motion, after being in power for just 13 months.
Former prime minister Chandra Shekhar was among those who voted against ABV's government in 1999, but Vajpayee didn't exhibit any bitterness against Shekhar, remaining friends till the latter's death.
That was ABV's biggest quality.
There was not a single leader in the country who ever had a harsh word for Vajpayee.
The only blip came when Kalyan Singh, the present governor of Rajasthan, started calling him names, but only too briefly to be taken note of.
Dr Subramanian Swamy will, of course, remain a notable exception to all rules in the recent history of Indian politics. No disrespect to Swamiji there, I must add.
While the nation writes its obituary to one of its most beloved sons, it is important to remember that without the quintessential Number 2, L K Advani, Vajpayee would not have achieved much success.
It was under the leadership of Vajpayee as the BJP president that its tally plummeted to just 2 seats in the 1984 Lok Sabha election.
The BJP's unusually poor performance in 1984 can largely be attributed to a sympathy vote for Rajiv Gandhi after then prime minister Indira Gandhi was assassinated by her bodyguards, but it is also a fact is that under a moderate president, the BJP was not able to carve out a separate identity of its own.
It was Advani who positioned the BJP as a right-of-Centre party with a definitive Hindutva identity.
It was Advani's rath yatra that put the BJP back in the reckoning at the national level and if it came back with 120 seats in the 10th Lok Sabha election in 1991 and with 161 seats in the 11th, it was largely due to the strategy adopted by Advani as party president.
Advani in a way was the man who had the vision, the strategy and the unending energy to breathe new life into his party.
Advani was a combination of Arjun and Bhim in the BJP's army. Metaphorically speaking, he had the precise shooting skill of Arjun and the unsurpassed mace power of Bhim, and it was due to Advani's power that the BJP maintained its improvement spree in the elections.
But at the end of the war in Mahabharat, the kingdom was not given to Arjun or Bhim, the worthiest warriors. It was Yudhisthir, the eldest brother, who was crowned king. And just as Bhim and Arjun joined in the celebrations, the magnanimous Advani was always the first to hail Vajpayee as his king.
Even though Advani was the prime architect of the BJP's resurrection from 1986 onwards, Vajpayee was enthroned as prime minister. This was largely because ABV had this image of being a moderate and hence seen as someone who was acceptable to a coalition government.
In his book Nice Guys Finish Second, B K Nehru reveals how he had a great chance of becoming the secretary-general of the United Nations after Dag Hammarskjold's death. But he felt that politicking by V K Krishna Menon, who was envious of B K Nehru, ensured that he never got the coveted job.
In Atal Bihari Vajpayee's case he was the nice guy, but he finished first. A lot of credit for this should go to Advani who remained loyal to the cause of his party and to his friend.
Although Vajpayee was a three-time prime minister, he enjoyed only one full term. To say that his last stint was hugely successful would be no overstatement.
The country progressed at a high pace under his leadership, yet the BJP lost the 2004 general election under him.
Why?
I have a very personal view on this and I think that the great ABV was indirectly responsible for his party's fall in 2004.
By the end of this third term as PM, Atalji had lost all his vigour. The 24x7 television channels had invaded the political world and the new generation was hardly enthused by the picture of a prime minister who appeared tired.
It is a fact that the lively, enthusiastic and charismatic Vajpayeeji had begun to fade by the end of 2003. His slow walk across the corridors of power, shown live on television, had begun to take away from his magnetism. His speech had slowed down, with the pauses becoming longer and more frequent.
The new set of voters didn't feel inspired enough by a prime minister who was at the end of a glorious innings as statesman.
My heart weeps for Vajpayee, the prince among poets, the king among politicians and the emperor among statesmen. But I think we should also thank God for giving our beloved leader a full life, a life well lived, and a life well rewarded.
He leaves behind a grieving nation, but a nation that is on its way to achieving greatness, and Atalji contributed a lot to it.
To me, Atalji was the nice guy who finished first. In fact, the nicest of them all.
Sudhir Bisht, PhD, author and columnist, tweets at @sudhir_bisht