'Pakistan may feel emboldened to give an upswing to the proxy war in J&K, having secured a better international consensus on its strategic importance.'
'The raising of Pakistani flags by separatists in J&K is an attempt to win psychological space and more of this can be expected as we go into the summer.'
'Pakistan should remain warned that pushing India on this issue will be dangerous,' says Lieutenant General Syed Ata Hasnain (retd).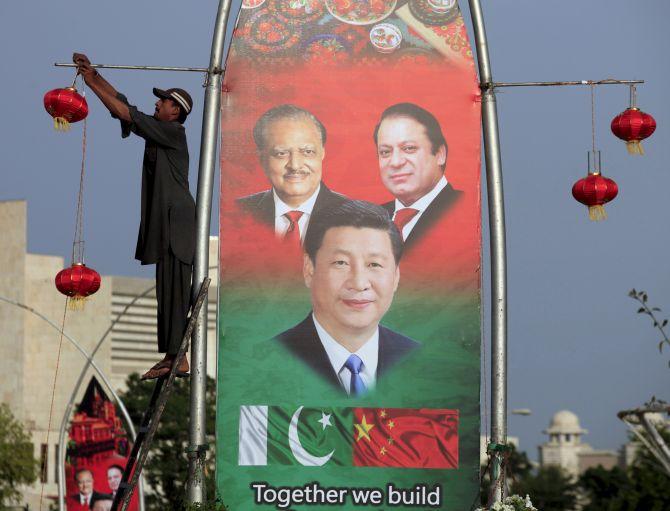 International analysts have been observing Pakistan closely to ascertain its internal security situation and assess the feasibility of the predicted implosion which could bring a catastrophic fallout in the subcontinent.
In the urge to focus on this situation, many may have overlooked the positives that have flowed Pakistan's way in the last few months.
In the wake of the Peshawar terrorist attack on the army school, Pakistan's already weak civil society, military and political leadership appeared shaken and there were immediate steps undertaken towards retribution against the so-called bad jihadi elements.
Even with its failing confidence Pakistan appears to have ridden out the storm and a new swagger to its national confidence seems increasingly evident.
This is clear from the body language displayed on television, the utterances of common Pakistanis as well as the handling of its diplomacy.
How has this happened and what effect is this likely to have on bilateral relations with India?
The first of the reasons for Pakistan's surge in confidence is the three way diplomatic success that it has achieved.
From Russia, a nation with which Pakistan could never establish a strong political relationship, there came a helicopter deal for Mi-35 attack helicopters opening up a channel for arms supply which has never existed in seventy years.
From the US comes one billion dollar support with equipment for its counter insurgency operations (dual use of this for conventional operations is not ruled out) on the western border with Afghanistan.
This is a boon because Pakistan has hardly demonstrated its full intent of comprehensively targeting all terrorists and continues its selective focus while supporting Punjab-based jihadis linked to Hafiz Sayeed and his ilk.
The paradox is that the $10 million bounty on Sayeed's head remains live and Pakistan without a step towards enabling that receives the reward of a billion dollars' worth of weaponry.
The high profile visit of China's President Xi Jinping, earlier postponed due to the agitation in Islamabad, has added a couple of inches to Pakistan's chest, notwithstanding the poor record of implementation of deals and promises made by China.
The Sino-Pakistan relationship, often described as 'all weather' and sometimes as 'sweeter than honey and stronger than steel,' is a source of great politico-strategic strength for Pakistan.
Besides the $46 billion infrastructure deal under the China Pakistan Economic Corridor, CPEC, programme, China had earlier agreed to provide eight submarines; a total of fifty other agreements in agriculture, education and energy were signed.
Xi's aircraft was escorted through Pakistan's airspace by eight JF-17 Thunder jets which Pakistan built with Chinese help. The visit had all the optics right to send home the message that the Sino-Pakistan relationship was an enduring and mutually beneficial one.
The CPEC, spoken for long and on which work in patches was already ongoing, will provide China access to the Indian Ocean through its fragile western region which is crying for economic development and where some of China's richest mineral deposits exist.
It will also facilitate an adjunct infrastructure to exploit China's stakes in Afghanistan's rich and unexploited mineral belt. The detail is irrelevant because it is suffice to assume that Pakistan's survival as a nation State cannot ever have been more important for China.
On the Afghanistan front Pakistan could not have it better. The change of presidency brought Ashraf Ghani to power as against the expected Abdullah Abdullah who as CEO now plays a lesser role.
Ghani's perception that without Pakistan there could be no peace in Afghanistan may well be correct, but taking it to the other extreme by treating India as of little significance probably gives Pakistan its required ego boost, notwithstanding his just completed visit to New Delhi.
Ashraf Ghani visited New Delhi a full seven months after his appointment and after he has had his fill of visits to Pakistan, including to the Pakistan army's GHQ to register the Pakistan army's role. Enough reasons for Pakistan's upgraded confidence.
The last of the virtual diplomatic coups that Pakistan has pulled off is the red signal it showed its greatest benefactor, Saudi Arabia. In the face of its none too strong economy denying military support to the Saudi-led alliance of Arab nations against the Houthi rebels in Yemen is nothing short of a major surprise.
For once Pakistan has displayed its ability to resist looking towards the Arab world although the consequences of this it will have to bear. Prime Minister Nawaz Sharif and army chief General Raheel Sharif did proceeded to Riyadh to offer support and explanations, but Pakistan's diplomatic stature has probably risen in the eyes of the international community, giving it further confidence.
Will the new swagger impact India-Pakistan relations and have an effect on Prime Minister Narendra Modi's upcoming visit to China? This must be seen in the light of India's earlier decision to send its new foreign secretary to Islamabad as a part of a SAARC round robin of visits.
Perhaps this too added to Pakistan's confidence towards its ability to weather India's diplomatic pressure. Some strategists may not be in agreement with Mr Modi's policy of reversing India's decision so quickly after it had called off foreign secretary talks.
I tend to believe that Mr Modi was right for the simple reason that his decision added unpredictability to India's diplomatic discourse and recognised the emerging dynamics of the region where perhaps India could end up more isolated.
Pragmatic analysis shows that Pakistan's geo-strategic location is its greatest asset. A key player in the New Great Game in Central Asia and peripheral areas, Pakistan is internationally crucial for three aspects of any modern strategic relationships -- accessibility to the ocean, energy conduits and ideology.
Being the realist that our prime minister is, he is bound to appreciate this. It is better to be engaged, even peripherally, than find yourself outside the ambit of international dynamics which are hurtling at speeds faster than can be responded to.
Mr Modi has lost nothing by making this engagement and can progressively decrease or increase his outreach. With China it will need to be strongly registered that the infrastructure built in Gilgit-Baltistan and Pakistan occupied Kashmir infringes upon what is considered as our territory.
This is the second time such liberty is being taken with territories which are Indian but under Pakistani and Chinese control, the last being the illegal ceding of over 5,000 square km to China by Pakistan.
The successful Chinese president's visit to Pakistan should not put our prime minister's visit to China in any jeopardy because the Sino-Indian economic relationship is far too significant.
However, we need to be clear that Pakistan is not going to allow access to India to take benefit of the emerging New Silk Route connecting China with Europe. There is no option but to aggressively pursue the Chahbahar route for access to Central Asia and perhaps band wagon on the New Silk Route too. For this, we need Iran more than ever before.
Lastly, Pakistan may feel emboldened to give an upswing to the proxy war in Jammu and Kashmir, having secured a better international consensus on its own strategic importance.
The situation in J&K is undergoing progressive change with terrorism at a low ebb. Recent events such as the raising of Pakistani flags by separatists is an attempt to win some psychological space and more of this can be expected as we go into the summer.
Pakistan should remain warned that pushing India on this issue will be dangerous. In fact our diplomacy must now sufficiently sensitise the international community on the dangers of a resurgent Pakistan and any of its actions targeting J&K.
Lieutenant General Syed Ata Hasnain (retd) commanded India's strategic Srinagar-based 15 Corps. He is associated with two strategic think tanks - the Vivekanand International Foundation and the Delhi Policy Group.
REDIFF RECOMMENDS
Image: Decorations on a pole next to a banner showing Pakistan President Mamnoon Hussain, China's President Xi Jinping and Pakistan Prime Minister Nawaz Sharif, ahead of Xi's visit to Islamabad. Photograph: Faisal Mahmood/Reuters