It is quite likely that the Pakistanis are cleverly using the Jadhav card to derail the outcome of the JIT process, says Rajeev Sharma.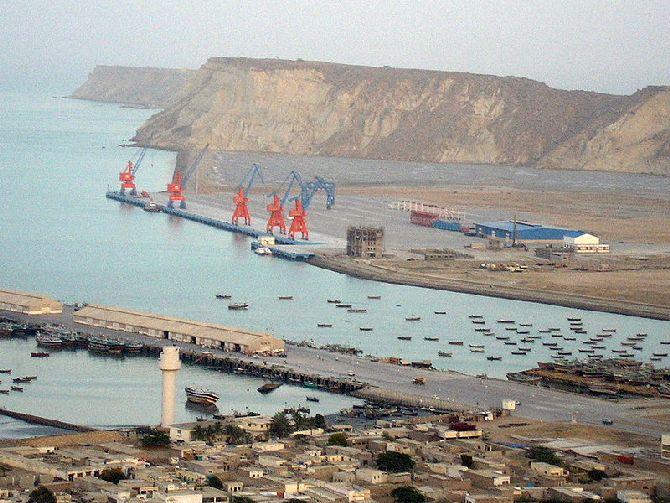 IMAGE: Gwadar port in Pakistan's Balochistan province
It is not often that Pakistan claims to have arrested 'an Indian spy' -- and that too someone who has been a retired middle-level officer in the Indian Navy.
The queer case of Kulbhushan Jadhav, who sought premature retirement from the Indian Navy years ago, fits the bill. Jadhav was arrested earlier this month, allegedly from Pakistan's insurgency-hit province of Balochistan. The Pakistani agencies quickly flaunted his Indian passport that he was allegedly carrying on him.
The Pakistani establishment played up the event so much so that Pakistan's powerful army chief General Raheel Sharif raised the issue with visiting Iranian President Hassan Rouhani and discussed with him the problems Pakistan faces on account of India's external intelligence agency, the Research and Analysis Wing (R&AW)'s alleged involvement in fomenting trouble in Balochistan.
Equally queer was the Indian response. India did not deny the existence of Kulbhushan Jadhav, a fundamental alibi any nation takes in the event of alleged espionage. Clearly, India could not have obfuscated Jadhav's identity as he had served as a commander in the Indian Navy before his premature retirement.
India's official response is that while Jadhav was indeed a retired naval officer, he has had nothing to do with the Indian government since his premature retirement.
The Pakistani case is much different: That Jadhav had joined R&AW after premature retirement from the navy and was deployed in Iran as a R&AW agent.
The alleged circumstantial evidence offered by Pakistan against Jadhav was a bit too much as India strongly refuted the Pakistani allegations. In any case, the Pakistani version is full of loopholes.
If Jadhav was indeed deployed as a R&AW agent in Iran, as Pakistan has alleged, what was he doing in Balochistan?
Why should he make himself a sitting duck target for capture in an enemy State even if one believes Pakistan's version for a minute that he was a spy and was on an espionage mission in the restive province?
Furthermore, it is a bit too much to digest the Pakistani theory that he was travelling with a valid Indian passport.
Various accounts have emerged as to how Jadhav, an officer with the equivalent rank of a lieutenant colonel in the army, had become a businessman and even owned a small ship as part of his business activities, though everything is quite opaque about Jadhav's current profile and what business he was doing since his premature retirement.
Pakistan does not prove anything by claiming that Jadhav was arrested in Balochistan. It is quite probable that he was compromised and lured to Balochistan where he was eventually arrested by the Pakistanis.
Another compelling and probable theory is that Jadhav may been compromised and arrested from another location and his arrest was shown from Balochistan.
Whatever may be the case, it is quite clear that he was set up big time. Or else, how does one explain that he was in possession of an Indian passport? Would a spy travel to an enemy country with a valid passport?
India has sought consular access to Jadhav, but has not been successful so far. A key diplomatic source based in Pakistan told me that getting consular access to an arrested person -- and that too someone arrested on charges of espionage -- is not easy. It may take months for Indian diplomats to meet Jadhav.
This is the primer on la affaire Kulbhushan Jadhav, but the real story may well be something different and the real objectives even more vastly different.
Pakistan has raised the Jadhav episode just before the Pakistani Joint Investigation Team set foot on Indian soil. The Pakistani JIT's arrival in India on Sunday, March 27, which includes Inter Services Intelligence Lieutenant Colonel Tanvir Ahmed, to probe the January 2-5 terror attack on the Pathankot airbase is unprecedented and a potential game changer in the India-Pakistan context.
It is quite likely that the Pakistanis are cleverly using the Jadhav card to derail the outcome of the JIT process.
That said, the least the Indian government can do and must do is to secure Jadhav's release unharmed.
Rajeev Sharma is an independent journalist and strategic analyst who tweets @Kishkindha