India must integrate more with East Asia by getting into regional trade arrangements, lower its tariff walls, and improve the quality of its workforce, suggests T N Ninan.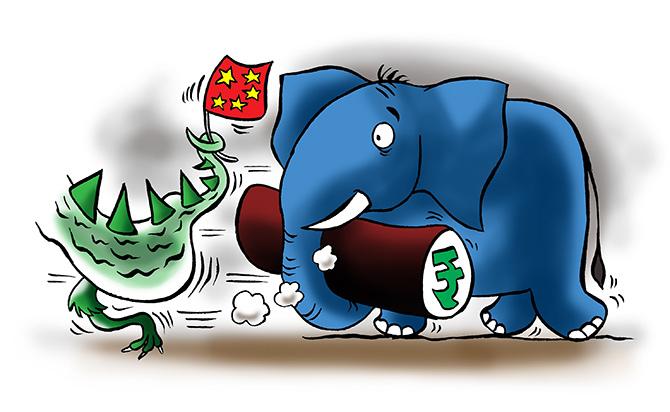 China has been making the headlines with news of its growth slump, following a decade-long, progressive slowdown.
Part of what lies behind those headlines is a shift of numerous factories and supply-chain dependence away from China.
But such is the scale and depth of China's four-decade success in manufacturing and trade that the new wind sweeping through corporate boardrooms around the world is unlikely to undermine the country's status as the 'factory of the world' and as the leading trading power.
Still, it is important to note how industrial policy has made a dramatic comeback as countries compete to attract companies away from China.
Tokyo is paying Japanese firms to move their factories from China and elsewhere in the region, into Japan.
It also introduced last summer a new economic security law covering 14 sectors deemed to be part of societal infrastructure.
South Korea and Taiwan have comparable 're-shoring' programmes that target mainly China.
So, Asia's three most industrialised countries are offering incentives to move their companies out of China and back to home base.
Tokyo's budget for re-shoring is $2.5 billion. Some 250 Japanese companies are reported to have left China in recent years, with the trend accelerating.
The move is not just back into Japan but to other countries in the region.
The Asahi Shimbun newspaper reported, for instance, that 135 companies moved out of China just last year and re-located plants making semi-conductors, motor vehicles, appliances, and clothing.
Sony has partly re-located its smartphone production to Thailand, which saw a surge of foreign investment in 2021 (some of it coming from Chinese companies themselves).
South Korean companies too have been not just re-shoring but 'friend-shoring' as well.
Samsung has opted for Vietnam, which has also attracted Google for producing its Pixel phones, Apple its Macbooks and iPhones, as well as Nike and Adidas.
Malaysia has benefited from 32 projects re-located from China.
And in response to US President Joe Biden's announcement of incentives that outdo Asia's industrialised giants, Hyundai has announced an electric vehicle and battery plant in Georgia, while LG is partnering Honda for a new battery factory in Ohio.
China hasn't helped itself with its aggressive behaviour.
A (two-way) visa ban has hit both Japan and South Korea, reflecting political tensions.
South Korea's Lotte retail chain, Sweden's Ericsson, Australian wine-makers, Taiwan's pineapple producers, and all of Lithuania are among those who have felt the heat of the dragon's breath.
Naturally, global firms see heightened political risk and complain about discrimination, rising production costs (entry-level factory wages in Vietnam are 60 per cent lower), stricter environmental rules, and of course disrupted supplies.
A European survey found 23 per cent of firms were considering moving away from China.
None of this should be taken to mean the abandoning of China as a production base or as a market.
Foreign direct investment into China actually increased in 2022.
Germany's BASF, for instance, is re-locating into China.
And a two-part series this week in the Financial Times detailed how interlocked the Apple production network is with the Chinese ecosystem.
Countries like the US and India that have tried to restrict imports from China have only seen their China trade deficits grow.
Still, the change of mood is undeniable. A CNBC supply chain 'heat map' showed China losing out to Vietnam, Malaysia, Bangladesh, India, and Taiwan.
So the revival of industrial policy, much derided in the days of globalisation, is very real -- driven by concerns about national security, supply-chain vulnerabilities, and political tensions, which in combination trump straightforward competitiveness.
China itself announced in September (without disclosing the details) a comprehensive national security system which has been described as the 'securitisation of everything'.
Good or bad, this picture shows that India's current policy thrust (production-linked incentives, capital subsidies, etc) is very much in line with the East Asian if not global trend.
But though India ranked seventh on a 2021 UN list for foreign investment, it is not for most global companies the default alternative to China.
For that to change, India must integrate more with East Asia by getting into regional trade arrangements, lower its tariff walls, and improve the quality of its workforce.