'Not just the angry families, but the public will remember Sushma Swaraj's foreign ministership for this colossal lapse of judgement,' notes Karan Thapar.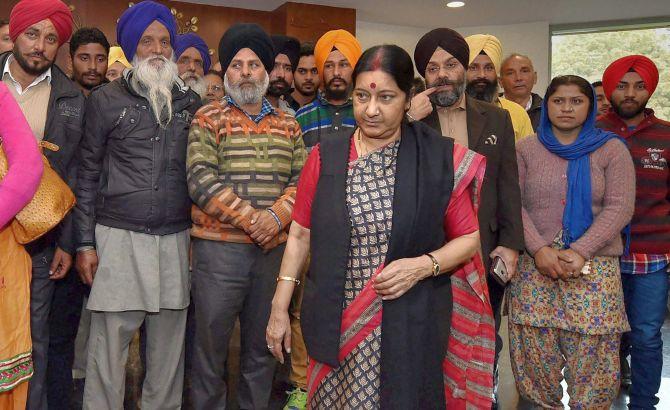 IMAGE: External Affairs Minister Sushma Swaraj with the families of the 39 Indians abducted by ISIS in Iraq, February 7, 2016.
On March 2, 2018, she told the Rajya Sabha -- before she informed their families -- that the Indians had been murdered by ISIS terrorists.
Photograph: Vijay Verma/PTI Photo
Sushma Swaraj is said to be an effective politician and a sensitive human being.
Those who know her say she works quietly and efficiently and is always careful not to hurt or upset people.
If this is true, it is all the more bewildering why she blundered so badly in handling the case of the 39 Indian hostages now confirmed to have been killed.
It turns out she not only repeatedly said the wrong thing, but ended up tearing her reputation for sensitivity to shreds.
I accept a government can't declare hostages dead before it has convincing proof.
But over the last four years there was ample suspicion and even reason to believe they had been killed.
So whilst not confirming their death, the government should have made clear it was deeply worried and everything pointed towards the worst.
But Swaraj did not do that.
Instead, her statements repeatedly confirmed the hostages were alive.
On July 25, 2014, she told the Lok Sabha: 'They are safe and alive and also getting regular meals.'
On August 4, she added: 'I can say responsibly that they are alive and are doing well.'
Two days later she said: 'I would like to say here with responsibility that they are alive and safe. We should not believe rumours.'
She said much the same thing in 2015.
On February 22: 'We have been informed by many sources that they are still alive and we believe that information is true.'
On May 14, she claimed eight sources had confirmed the hostages were alive, adding 'One is so solidly reliable there is no question of not believing.'
It seems the lapse of time and the deafening silence from the hostages did not raise doubts.
On June 19, 2016 she said: 'I am not giving false assurance when I say they are alive, I have taken on myself a major responsibility for tracing them.'
Even a year later, on July 16, 2017, by when Mosul was back in the Iraqi government's hands, she said General V K Singh had been told the hostages were 'sent to a jail in Badush.'
So, far from voicing doubt and concern and sharing the obvious fears that existed, Swaraj gave repeated assurances the hostages were alive.
This was particularly misleading when no trace of them was found after the recapture of Mosul.
Yet from the outset there was at least one alleged eyewitness, Harjit Masih, who claimed he had witnessed their killing.
Swaraj did not trust him and was unwilling to accept his word.
Today, she must rue that folly.
However, far from accepting she got it wrong and, therefore, mislead the next of kin -- each and every one of whom insists she led them to believe the hostages were alive -- Swaraj compounded her blunders by an unbelievable act of insensitivity.
Claiming Parliamentary propriety required this, she first informed the Rajya Sabha before sharing the tragic news with the bereaved families.
As a result, they found out from the media.
Now, as far as I am aware Parliamentary protocol only requires a minister to first inform Parliament of policy statements.
Swaraj made a personal commitment to inform Parliament of the hostages's fate, but it was neither binding nor even necessary.
Thus, when she did find out the tragic outcome the proper thing to do was immediately let the families know.
MPs would have understood if they had been informed afterwards.
Yet a minister who earlier made such a display of her sensitive concern for the families of the hostages not only forgot about them, but went on to insists she had done no wrong.
Not just the angry families, but also the media and public opinion will remember Swaraj's foreign ministership for this colossal lapse of judgement.
So when the prime minister tweeted his congratulations to Swaraj for leaving 'no stone unturned in trying to trace and safely bring back those we lost in Mosul, was he, in fact, making a dig?
The truth is, with every stone she turned Swaraj should have begun to suspect and, then, voice the worst.
Yet she did the opposite.