Using a sledgehammer to fix some ills can cut down a game at its peak, warns Shekhar Gupta.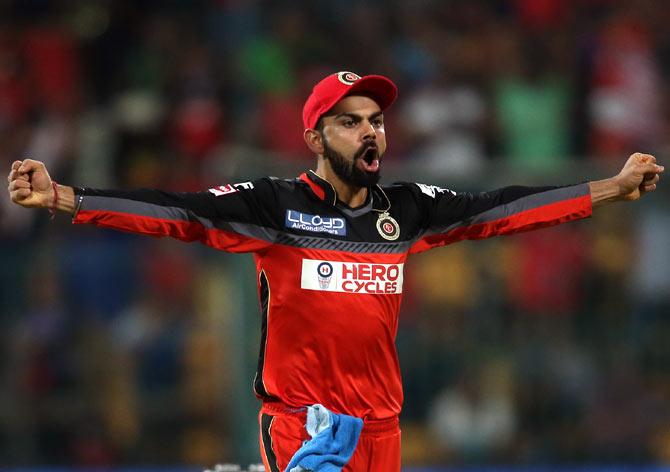 As I left home reluctantly for the airport, I may have, in a nutty moment not unusual for sport-lovers, been wishing my Bengaluru flight, already delayed by two hours, was held up further.
And no, I wasn't thinking about cricket, or the Supreme Court-appointed Justice Lodha Committee's surgical strike on the BCCI brass.
I was thinking wrestling, and not the film Dangal, but the real thing.
I had just seen real-life Babita Phogat lose to Sofia Mattsson in a short, one-sided 46 seconds.
Then a familiar-looking figure stepped on the mat, in a red silk wrap. He was Azerbaijan's Toghrul Asgarov, who won the gold in the 60 kg category in the London Olympics and followed up with a silver at Rio in 65 kg.
Challenging him was Vikas Kumar, an Indian unknown.
After a first round (5-0 to Asgarov), Kumar attacked almost like Dangal's Mahavir Phogat had seized him and won the second round 3-2.
Match lost, but an unknown journeyman Indian had taken the fight to the world's best.
There is serious money and reputations involved in India's latest Pro Wrestling League.
City and state-based franchises are owned by wealthy entrepreneurs (just like the IPL). It attracts the best men and women wrestlers in the world now for money of both kinds: Prize, and price.
You have the opportunity to now watch world class, proper wrestling (not that Sultan-style mixed martial arts rubbish) on your TV screens, or in a very decent indoor stadium (modernised for the 2010 Commonwealth Games) if you feel more adventurous.
More important: You are seeing the rise of a new class of Indian wrestler who can earn a decent living, besides fame.
Fine wrestling had competition, and the sport-lover was the king with the remote in his hand.
On another sports channel, in the Premier Badminton League, the latest Indian star, Kidambi Srikanth, was battling reigning world number 2, Jan Ostergaard Jorgensen of Denmark.
Srikanth is ranked 15, but he won clinically. The stadium in Lucknow was full. Srikanth and Jorgensen had turned out for franchises Awadhe Warriors and Delhi Acers, respectively.
All of the world's best badminton talent is here now, playing with champions of the rising new power, India.
If you watch the PBL, you can't miss a somewhat familiar figure in the VIP patrons' front row: Politician Akhilesh Das who, as chief of the Badminton Association of India, runs the game with an iron hand.
He is an education tycoon, son of the late Banarasi Das (a UP chief minister), and has served as the minister of state for steel in UPA-I, to walk out furious with Rahul Gandhi one day and join the BSP.
The BAI under his watch has had controversies, including litigation by players. Indian badminton has never been in better shape. Das never played serious badminton.
The Wrestling Federation of India is the fiefdom of five-time MP (four times for the BJP and once, in 2009, for the SP) Brij Bhushan Sharan Singh, from Gonda, in eastern Uttar Pradesh.
He has earned more notoriety than fame, having been charged under Section 307 of the IPC when 16, jailed for participating in the Babri-Ayodhya campaign, and later for detention under TADA. For more authentic details, you can check out his own website.
Verbatim: 'Since childhood, he love his wellness a lot. He used to do horse-riding, cycling, exercise, yoga and wrestling every morning. This passion increased with time and leads to deep interest in wrestling.'
If the WFI was the BCCI, Brij Bhushan Sharan as well as Akhilesh would fail the Lodha Committee test. But sports under their watch are flourishing.
Survey some of the other sports in which we have made progress. Boxing had its heyday between 2007 and 2012 when Abhay Singh Chautala (whose appointment as the Indian Olympic Association life patron had us outraged) 'owned the federation.'
After Chautala lost out, boxing declined.
The federation has now been reconstituted under Ajay Singh, the new owner of SpiceJet and old friend of the late Pramod Mahajan.
Again, kabaddi is flourishing. Players earn up to crores of rupees in auctions in India-based international leagues now, even a couple of 'world cups.'
Janardhan Singh Gehlot, a typical heartland politician who has played from both sides of the political arena, has ruled it for years only to become the head of the World Kabaddi Federation now, leaving India in the able hands of his wife Dr Mridul Bhadauria.
None of these, at the helm of games which have shown great improvement, would pass the Lodha test for age, profession or tenure.
The odd one that might: Like athletics. The Athletics Federation is headed by a top athlete. Adille Sumariwalla was the fastest Indian for years, ran in the Moscow Olympics and later mentored Zenia Ayrton, the fastest Indian woman for years.
He fully passes the Lodha test. Indian athletics is stagnating.
Yet another booming game lately is hockey which defies definitions of good or evil.
The Indian Hockey Federation, led by the much-admired K P S Gill, was suspended (by Suresh Kalmadi's IOA, no less) when its officials were caught on camera taking bribes for national election.
Kalmadi's IOA, and the sports ministry set up Hockey India until recently led by Narinder Batra, owner of a hospital, under whom we got back to being men and women's Asian champions, world number 5-6 after 25 years for seniors and now junior world champions.
Batra has just become the first Indian to head FIH. Hockey India League is now attracting the world's best players, auctions are yielding prices hockey had never dreamt.
It will boom further with the arrival of the five-a-side game, hockey's equivalent of cricket's T20.
Can we draw any conclusion from this very confusing data?
Age, politics, riches, sporting record, nothing works consistently.
How do you then draw criteria for cricket, where we have been at the top, besides being the world's only financial superpower.
The BCCI is opaque, corrupt, arrogant and ridden with many conflicts of interest, sometimes involving officials but not excluding players, current and former.
It's also a victim of envy, like any elite club. How do the well-meaning, honourable judges address this?
The BCCI blundered in defying the court with the most infuriating insolence.
But enforcement of the Lodha Committee, if I may say with humility, is a shot fired in anger.
The court or its committees should never have got into the hands-on mess of 'reforming' the BCCI by itself.
It now risks leaving a patient cut open, but not stitched back.
The correct way was to refer the committee report to the government, and seek an action taken report, after due deliberation.
Cases of corruption could have been sent to the CBI and ED. They have chosen an almighty regime change instead.
The judges have worked hard, but they miss a point about modern sport.
It is now about glamour, glitz, moolah, noise and colour, endocrinology, physicality.
Fireworks, confetti, cheerleaders, trendily dressed TV hostesses and comically clad hosts are all part of sport, even the once gentle game of cricket.
Sport succeeds when entrepreneurship commercialise it successfully, the IPL being the pioneer in India. All the sports listed earlier have boomed because they followed the IPL playbook.
The paying public gets its joy from the Virat Kohli-Ravindra Jadeja kind of aggression, and no longer from Bapu Nadkarni's 21 consecutive maidens or a Bishen Bedi sportingly applauding as Zaheer Abbas drives him to the cover fence.
Sport is now as much about the game as money, tamasha and showmanship.
I'm not sure the honourable members of the Lodha Committee ever found time to watch Jerry Maguire. Or they would have known.
IMAGE: Royal Challengers Bangalore Captain Virat Kohli.