'He is wily and has everything that a political leader needs to succeed at that level.'
'He would be outstanding as a counter to Modi in the Lok Sabha, if he had the Opposition benches behind him,' says Aakar Patel.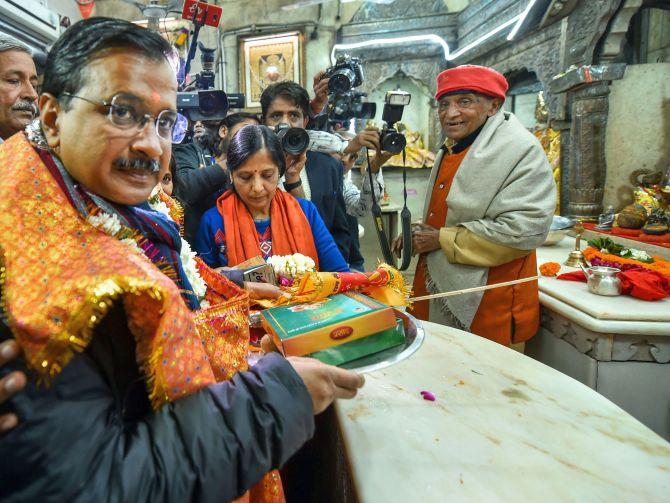 Arvind Kejriwal's superbly executed victory over the Bharatiya Janata Party in Delhi has thrown up a few questions that we must consider.
The BJP has shown total dominance in Indian elections over everything, from narrative to booth management.
For the first time, in a highly polarised match, it was not the BJP that came up with the goods in the end.
That must lead us to examine the victory and see what it portends.
First we must look at the role of Delhi's Muslims in the victory.
Only 12 per cent of the population, they could not have made a significant impact in the election, and they did not.
The Aam Aadmi Party got over 53 per cent of the vote compared to the BJP's 38 per cent, a margin of 15 per cent.
Even if no Muslim had voted in the election, AAP would have won more votes than the BJP, and it is the vote of Hindus that put Kejriwal on top.
It was an election the BJP insisted was being fought between the desh bhakts (nationalists) and gaddars (traitors).
Kejriwal's ability to skilfully avoid this and press home his advantage on governance and grassroots execution was what took him to victory.
But it was quite clear that this was not a triumph of his liberalism.
Columnist Mihir S Sharma expressed this best, writing that 'It might feel wonderful to declare that this was the voter in Delhi rejecting divisiveness and declaring her disagreement with what the BJP had to say, but that would be a brazen misinterpretation of what has actually happened.'
'In fact, the BJP won the argument. It simply did not win the election. AAP has not disagreed with the BJP on the themes or substance of its critique of Shaheen Bagh, of the anti-CAA protests, and so on.'
'Arvind Kejriwal himself complained the problem with the CAA was that Indians themselves were not getting jobs. He also declared that if given a free hand, he would clear Shaheen Bagh in a couple of hours, and that nobody had the right to block traffic indefinitely.'
Kejriwal bolstered his credentials with a (possibly planned) recital of the Hanuman Chalisa, unfamiliar to most Indians.
This gave him the space to move on from the Hindu versus Muslim frame the BJP had made and was probably the moment at which it became clear he was through to his third election win.
Even before the Hanuman Chalisa episode, it should be mentioned here that AAP had also promised to add desh bhakti to the school curriculum, on the assumption that there is currently a shortage of it in the market, which there is not.
There is far too much nationalism in India as opposed to rationalism and free thinking, but AAP is going with that flow, telling us that its position as a culturally traditionalist (that is, Hindu) party is strategic.
So if we were to take this approach as a strategy, can we apply it elsewhere?
Is the AAP model of governance plus a deliberate avoidance of liberal positions replicable elsewhere in India?
Can another party (or possibly AAP itself) do to the BJP outside of Delhi what it did in February 2020?
This is easily answered and unfortunately for those who are hardcore AAP fans, the answer is no.
AAP's success is to a pretty large extent rooted in its location.
Delhi is a small state with a population of 20 million or so.
It controls a Rs 60,000 crore budget that runs a surplus.
This is not the sort of situation that other states in India are familiar with.
They have resources per capita that are much smaller than what is available to AAP.
This is one reason why the party can promise and deliver its so-called freebies.
These included free or highly subsidised water, Wi-Fi, electricity, public toilets, free public transport, teerth yatras for senior citizens, home delivery of ration and English tuition classes for the poor.
These are not the sort of things that other states can give.
It they did, it would bankrupt them.
Of course it is the case that AAP must have managed its finances competently and this is not to say that its success is entirely the product of its location.
It is not. But it is premised on it.
The second part of the question is whether AAP can expand to other parts of India, given its undeniable brand equity and the quality of its execution.
Here again, the neutral observer must conclude that it is not possible.
India's political parties are formed on the back of large, already available community groupings that we refer to as caste.
The BJP in Karnataka has been built on the back of a support base of the community known as the Lingayats.
In Gujarat it is the Patidar who provides the primary voter and around whom the other communities coalesce.
AAP is not caste based.
Its leader comes from a very small community, the Agarwals, who are disproportionately powerful and influential compared to their numbers, but politics is about mass base.
The AAP brand is urban, middle-class, modern (even though tinged with strong traditionalism) and to the extent that this is possible in politics in India, free of caste-based support.
This leaves it bereft of the initial impetus needed to establish itself as a player of prominence in, say, Tamil Nadu or Madhya Pradesh.
The most important thing on this issue is my wish that AAP not pursue 'soft Hindutva' of any sort.
Because even if it were to succeed politically, it will be disastrous for the country.
AAP is not the first and not the last party to flirt with traditionalism and so-called soft Hindutva.
For decades before and after Partition, it was the Congress that has represented Hindu majoritarian sentiment.
It is only the death of its last real Hindu leader (Indira Gandhi) and the rise of the much harder Hindu BJP that gave Congress the image of being secular.
Those of us who remember the 1980s and what they brought didn't automatically classify Congress as being secular or soft.
The success of any sort of majoritarian politics, and especially Hindutva, whether soft or hard, and whether led by Narendra Damodardas Modi or Kejriwal, will lead us to disaster.
It will surprise readers to know that what is seen as the original sin on the subcontinent, Partition, can accurately be put down to the soft Hindutva approach of the Congress.
Partition happened three decades after Muhammad Ali Jinnah first hammered out an agreement with the Congress in Lucknow.
It was not the whim of an individual or the desire of Muslims to break up Bharat Mata that produced Partition and Pakistan (and later Bangladesh).
It was the inability of Hindus led by the Congress to arrive at a power-sharing mechanism that would satisfy the world's largest religious minority.
Had Jawaharlal Nehru accepted the Cabinet Mission plan, with a federal structure and a relatively weak centre, India would have come into freedom intact.
But Nehru wanted a strong Centre, a desh bhakt centre, as India continues to have and as the Rashtriya Swayamsevak Sangh has always insisted on.
Any assertion of independence of action by the federation units is seen as secession.
Any act of defiance by the minority to counter majoritarianism is seen as sedition and separatism.
This is the root of the goli maaro saalon ko sentiment.
Jinnah's concerns about how India would treat its minorities on achieving independence have been fully validated.
His insistence on separate electorates with the option of voluntary integration was eminently sensible.
Today, the party running the Indian government has 303 Lok Sabha MPs, of whom none is Muslim, the largest minority in the world.
It is incorrect and cruel to say that Muslims partitioned India when their every attempt was to preserve the Union.
It is equally wrong to assume that a weak Congress capitulated.
It is the strength and backing received from over 90 per cent of the Hindus that gave the Congress the arrogance to go it alone and dismiss the legitimate demands of India's Muslims.
We must weigh any future success AAP achieves through its soft Hindutva against what this approach has produced in the past.
To end on a note more positive and upbeat, let us accept that there is, however, one very good way in which Kejriwal might be able to rise to prominence nationally.
This is if the Opposition unite behind him as the person to take on Modi.
He is in Delhi, from the Hindi belt, gifted at debate and in control of his material.
He is wily and has everything that a political leader needs to succeed at that level individually.
He would be outstanding as a counter to Modi in the Lok Sabha, if he had the Opposition benches behind him.
We will, however, have to classify that as a pipe dream, though the fact is that the Delhi win has made many in India dream again.