Dhruv Munjal meets Shobha Ram, among the estimated 100,000 beggars who roam the streets of Delhi.
Illustration: Dominic Xavier/Rediff.com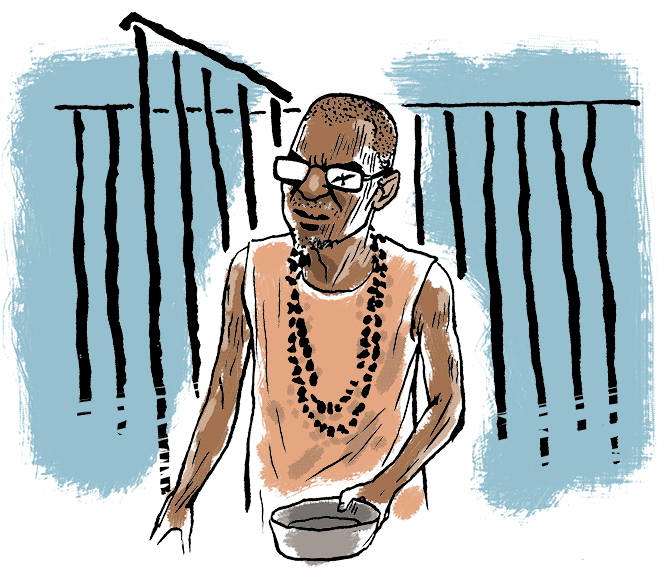 "Agar baat karni hai toh pehle paani pila do (If you wish to chat, please buy me a bottle of water first)."
"Photo chahiye? (You want a photograph?)"
"Do bread pakore khila do (Buy me two bread pakoras)."
On the face of it, Shobha Ram comes across as a master of the barter -- unflinching and persuasive in his demands. On closer inspection, he is as helpless as all the others who swarm the perimeter of the Pracheen Hanuman Mandir on New Delhi's Baba Kharak Singh Marg every day, sometimes for years.
"Forty-six years I've been here," he says, four fingers of his right hand pointing skywards.
His gaunt frame is draped in faded saffron and his face is marked by a wispy white moustache and thick glasses.
It is painfully evident that Shobha Ram has seen better days. "I worked at the railway station in Etawah (his home town in Uttar Pradesh) before this happened." By "this" he is alluding to his amputated left leg, the consequence of a bus running over it while he was asleep on a pavement years ago. "I have never been able to work since."
Shobha Ram is among the estimated 100,000 beggars who roam the streets of Delhi -- the national figure is believed to be over 500,000.
Begging in the national capital was a crime under the Bombay Prevention of Begging Act, 1959. But on August 7, the Delhi high court changed this, stating that 'people beg on the streets not because they wish to, but because they need to, and begging is their last resort to subsistence'.
Two days later, the news is yet to reach Shobha Ram who is unaware that there was a law that criminalised begging in the first place. "I have been picked up and thrashed by the police so many times. And every time, I asked them what had I done wrong."
With no federal law covering beggary, a number of states rely on the Bombay Prevention of Begging Act, which carries a detention period of one to three years in beggar homes as penalty.
Shobha Ram makes no secret of the fact that he loathes these rehabilitation centres. "Hell" is how he describes them. "They take you there, give you food and clothes, and make you work. But we don't 'earn' anything. I pray every day that I'm not sent to one of those dreadful places again."
Begging, as it often does, extends to other members of the family here, too. Shobha Ram points to his two sons, one sprawled on the flaming summer floor, and the other munching on a laddoo. "Both got into drugs and didn't do anything for the family," he laments. The wife, I'm later told, is away.
While I converse with her husband, a devotee of Ram, she is at the mosque across the street. "She has different clothes for the mosque. They won't allow you there in saffron," he explains. "On occasions such as Eid, even I, despite my condition, go to places in Old Delhi." The couple makes Rs 400 to Rs 500 a day.
But is he happy that the police won't bother him again? "You never know with the police; they might beat you up for no reason. More than this, we need work."
Even as the snarky laddoo-seller behind him reminds me of how Shobha Ram has now got used to making "easy money", the man himself says he is willing to work eight hours a day, provided someone can find him a job where his disability is not a deterrent.
As I take my leave, I deliver on my promise of bread pakoras. "You leave your phone number," says Shobha Ram. "I'll call you in a week. Hopefully, you would've found a job for me by then."
I nod slightly, wishing that keeping this promise were as easy as the one that involved bottled water and bread pakoras.