'Many who haven't even seen the documentary are claiming that it defames and damages the image of India, makes it sound unsafe, and gives the rapist a forum.'
'This couldn't be further from the truth, and the film shows the best qualities of India and Indians in standing up against evil as much as it shows the unvarnished truth.'
Ram Kelkar on why India's Daughter should be shown widely across the country.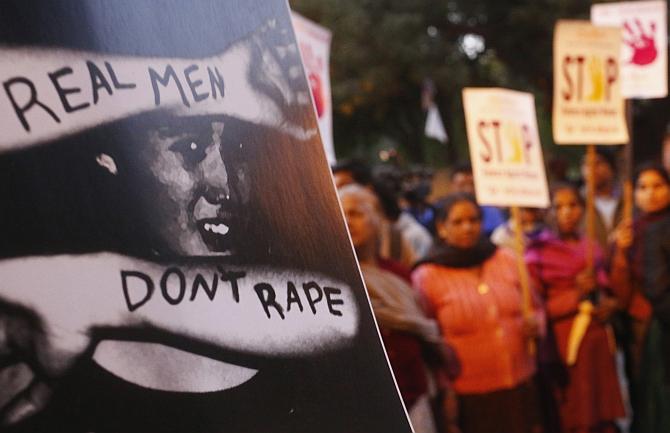 Imagine a film which showcases a traditional Indian family from a small village in the Indian heartland, and yet with modern and progressive ideals.
'We were given a gift of light and happiness when she was born... when a girl is born, people don't rejoice as much... we said we're equally happy having a boy or a girl.' The movie goes on to paint a picture of how these loving parents gave everything to support and nurture their daughter's dreams for a chance to fly like an eagle to the heights of her imagination.
'Papa, whatever money you've saved for my wedding, use that to educate me... (so) we sold our ancestral land to pay her fees.'
On a Sunday evening at the none too late hour of 8:30 pm in a major world capital, the girl and her friend board a bus to watch The Life of Pi and the plot suddenly takes a turn into a horror movie.
Fast forward to visuals of a remorseless rapist and his enabling lawyers who justify the brutal rape and evisceration of the young woman since '... a decent girl won't roam around at nine o'clock at night. A girl is far more responsible for rape than a boy.'
The police efficiently track down the rapists, and the country erupts with anger with young people and college students protesting on the streets demanding justice and equality for women. 'They wanted change... they believed that change would take place... the first time young people had gone out to protest without a leader, without being called by any political party...'
And then a chorus of voices from civil society speaks up in support of women's freedom and dignity, including former Delhi chief minister Sheila Dikshit, Justice Leila Seth, Oxford academic Maria Misra and former solicitor general Gopal Subramaniam.
India's Daughter in many ways spotlights the good people in India, from loving parents, to able jurists, to competent policemen, to idealistic youngsters, who are trying to face up to and change the ugly, misogynistic and neanderthal mindset that persists amongst some in society, not just in India but everywhere in the world, from the West to East.
Many who haven't even seen the documentary are claiming that it defames and damages the image of India, makes it sound unsafe, and gives the rapist a forum. This couldn't be further from the truth, and the film shows the best qualities of India and Indians in standing up against evil as much as it shows the unvarnished truth.
The claim that the filmmaker violated 'permission conditions' as claimed by Home Minister Rajnath Singh appears baseless. N Ram has pointed out in The Hindu that 'a reading of the relevant papers establishes that this is one of those rare cases where compliance with the procedures and conditions precedent was flawless every step of the way.'
One of the few other defensible reasons to ban the film could be that the matter is sub judice and under appeal at the Supreme Court of India, but even that claim has been thoroughly debunked by the Editors Guild of India, which has called the ban wholly unwarranted.
Those who call out the documentary as 'poverty porn' or 'slum tourism' should note that even Satyajit Ray was criticised for glorifying India's poverty to the West in Pather Panchali.
The critics ought to have been focused on defeating poverty, rather than railing about its truthful depiction. Likewise, India's Daughter does not defame India, but instead shows up the monsters, found in every country in the world, who practice rape and violence against women.
While India (fortunately) does not have a law as egregious as the blasphemy law in Pakistan, freedom of speech in India is not as unfettered as it may be in the US and elsewhere.
Section 153A of the Indian Penal Code addresses '... words, spoken or written, or representations that promote disharmony and feelings of enmity, hatred or ill-will between groups.'
Section 295(A) punishes with a fine and imprisonment, any writings or signs which 'with deliberate and malicious intention' insult the religion or the religious beliefs of any class of citizens. And Section 298 penalises the 'utterance of words' that might hurt the religious feelings of any person.
On the basis of these laws, freedom of speech has been under assault in India by the self-appointed and government-enabled guardians of other people's feelings, right from the time when Salman Rushdie's Satanic Verses was banned back in the 1980s to the recent furor about Wendy Doniger's The Hindus.
The government's action in banning India's Daughter is of a piece with a very worrisome trend in India of banning anything that may give cause for anyone from any corner of the political or cultural or religious spectrum to protest.
All it takes is for some group or political party to create a ruckus in Parliament or in the streets, and political parties are immediately scurrying for cover and opinion leaders are calling for bans under the guise of protecting 'feelings.'
Per Soli Sorabjee, even Mohammed Ali Jinnah had wisely stressed the necessity of securing 'the fundamental principle that those who are engaged in historical works, those who are engaged in the ascertainment of truth and those who are engaged in bona fide and honest criticisms of a religion shall be protected.'
But mob rule in India does not care much about such nuances. Thus it was that the foot soldiers of a political party ransacked the renowned Bhandarkar Oriental Research Institute in Pune, and vandalised priceless historical artifacts to protest the American author James Laine, who had made objectionable remarks in his book Shivaji: A Hindu king in Islamic India.
This was the veritable equivalent of cutting off one's own nose to spite the face, since the Bhandarkar Institute had nothing to do with the book other than having the misfortune of having been peripherally associated with Mr Laine, who was already back in the US.
The fever to ban India's Daughter is being fanned by leaders like Parliamentary Affairs Minister M Venkaiah Naidu, who said that 'this is an international conspiracy to defame India.' And New Delhi MP Meenakshi Lekhi of the BJP, who one would think would be more concerned about the prevalence of rape, is rather concerned that 'this will certainly affect tourism.'
Instead of banning the documentary, it should be shown widely across the country to remind Indians that along with the Nirbhayas of India and their parents, there are remorseless rapists and murderers who calmly speak about their actions as rightful while on death row, and lawyers who justify the worst kind of violence based on medieval mindsets.
If anything, it is eye opening to listen to the presumably well-educated lawyers speak, for they remind us that even the most modern and educated minds do not have any respect for women.
Nirbhaya's parents say in the end that she 'has become a symbol. In death, she has lit such a torch not only in this country, but throughout the world... I wish that whatever darkness there is in this world should be dispelled by this light.'
To truly honour Nirbhaya, her story should be shared with the world to change attitudes and mindsets for a better tomorrow for all of womankind.
Banning India's Daughter and imposing strictures on the freedom of the press under any guise would mean that India's national motto is morphing into Satyameva (Kadapi) Jayate. Truth Triumphs Sometimes.
Ram Kelkar is a Chicago-based writer.