The Congress president's election comes up early next year and party workers fear Sonia may pass on her mantle to Rahul.
If that happens or if she continues to remain at the helm but Rahul calls the shots, there could be large scale desertions of workers and leaders, says Saroj Nagi.
Illustrations: Uttam Ghosh/Rediff.com
After the 2014 Lok Sabha election, in which the Congress party was reduced to a historic low of 44 seats, Sonia Gandhi had promised introspection to reverse the trend.
The Congress president has done nothing of that sort in the five months since.
Perhaps conscious of the murmurs in the party, she and son Rahul, the party vice-president, did not promise any soul-searching after the twin defeats in Maharashtra and Haryana on Sunday, October 19.
Both Sonia and Rahul only said they 'accept' the verdict in Maharashtra and Haryana where the Congress was in power for three and two terms respectively.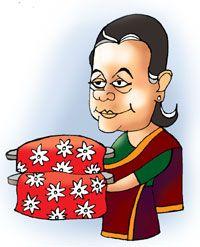 Will the latest defeats finally goad Sonia to act?
Many party workers had placed their faith in Sonia to do something that would pull the Congress out of the mess.
But this faith is shaky now.
Barring one Congress Working Committee meeting held after the Lok Sabha results, all Sonia has done is ask A K Antony to go into the defeat and recommend corrective measures.
Antony handed in his report in July in which he attributed the defeat to every other factor -- ranging from infighting and the failure to tom-tom its achievements -- but one: Rahul Gandhi whose personality and campaigning paled into insignificance before Narendra Modi.
Both Sonia and her son maintained a low profile in the Maharashtra and Haryana assembly campaign, and left it to the state leadership to fight it out. So the burden of defeat fell on Prithviraj Chavan in Maharashtra and Bhupinder Singh Hooda in Haryana, who had led their states as Congress chief ministers.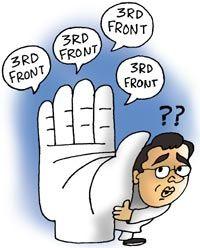 The Sonia-Rahul leadership showed itself to be weak, unwilling to take risks and fearful of being smothered once again by the Modi onslaught -- a perception that is dangerous for a party which survives on the faith it invests in the Gandhis' leadership.
Despite the BJP's poor performance in the August-September by-elections, Modi's gamble of leading the campaign and going it alone worked in both Maharashtra and Haryana.
With Sonia, who will turn 68 on December 9, not quite in good health, Congress workers desperately seek their own political sanjivini -- life breath -- and they see it not in Rahul, but in his sister Priyanka Gandhi Vadra.
Among the first reactions after Sunday's twin defeats was the call for Priyanka to join politics and save the party from doom.
There were slogans and banners of 'Priyanka lao, Congress bachao' outside the party headquarters at 24, Akbar Road in Delhi even though she had rejected this demand after the May election debacle.
The demand was a vote of no-confidence in Rahul who has been vested with greater responsibilities by Sonia, notwithstanding his inability to deliver. The Congress president's election comes up in the first half of 2015 and party workers fear Sonia may officially pass on her mantle to Rahul.
If that happens or if she continues to remain at the helm but Rahul calls the shots, there could be desertions of ground-level workers and leaders worried about their future.
It had happened in Uttar Pradesh and Bihar where the Congress downslide saw its workers migrate to other parties. The Congress has been unable to recover lost ground in UP and Bihar for more than two decades now.
Wherever the Congress has been pushed into the third or fourth place, it has never revived -- be it UP, Bihar, Tamil Nadu or West Bengal.
A similar situation has developed in Andhra Pradesh where the Telugu Desam Party and the YSR Congress are the main parties and now threatens to develop in Maharashtra and Haryana where the Congress has been pushed to third place.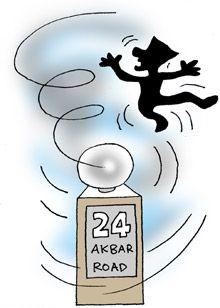 The next round of assembly elections are slated in Jharkhand and Jammu and Kashmir where again the Congress is likely to be routed.
In the 2015 assembly polls in Bihar it will have to beg for seats from the Rashtriya Janata Dal and the Janata Dal-United provided its by-poll alliances hold till then and in the 2016 state polls in Tamil Nadu and West Bengal it will at best be a marginal player.