Where Ms Chawla seems to have erred is that she has not been able to build the desired credibility required to champion the cause she took to court, identifies ad guru Sandeep Goyal.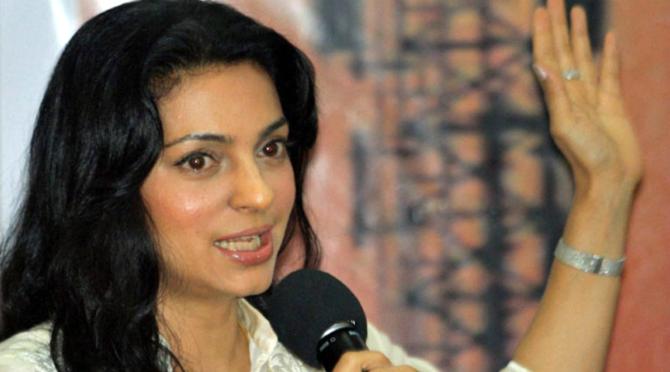 The Delhi high Ccourt recently dismissed a suit filed by actor Juhi Chawla against introduction of 5G technology in India, and imposed a fine of Rs 20 lakh on her.
Justice Jag Jivan Ram Midha said the suit was defective and dismissed it on technical grounds.
'The plaintiffs have abused and misused the process of law which has resulted in waste of judicial time. The cost of Rs 20 lakh is imposed on the plaintiffs,' said the court.
The funds will be utilised for the cause of road accident victims, the court instructed.
The court further said the plaintiffs had filed the suit to gain publicity 'which is clear from the fact that plaintiff no 1 (Chawla) circulated the videoconferencing link of this court on her social media accounts, which resulted in repeated disruptions of court proceedings.'
The hon'ble judge was obviously (and rightly) incensed.
The primary argument in Ms Chawla's suit was that the government should certify to the public at large that 5G technology will not have any significant adverse effects 'on the health, life, organ or limb of adult, child, whether of the present or future generation(s), or to any living organism, or to flora and fauna'.
The suit citing 'scientific studies' also contended that there is an "invisible enemy' which is 'slowly killing us as a result of this ongoing battle between the network service providers to provide 'faster' and 'wider' service'.
Ms Chawla also argued that no studies have been conducted with regards to radio frequency radiation in India, and that 'efficient research on the subject' is called for.
Which brings us to the question: When did Ms Chawla turn activist?
Her official Facebook page describes her as 'Actress, Mother, Entrepreneur, Activist and not necessarily in the same order'. Her recent media coverage has described her as an 'environmentalist'.
To be fair, her activism in the telecom space is not new.
In September 2018, the actress alleged in a Supreme Court petition that radiation emanating from telecom towers results in serious health hazard to people, and the Centre should be directed to formulate rules for prescribing permitted tower density limits in an area keeping in mind the health hazards, including possible carcinogenic effects, on humans which is associated with electromagnetic field radiation.
So why did the high court throw out her 5G petition and why is she being lampooned on social media with memes like, 'Juhi Chawla is the first Indian to pay 20 lacs for 5G without using it!"?
Perhaps Ms Chawla should have heeded the advice of Bill Moyers, the famous journalist, who postulated that there are four different roles activists need to play in order to successfully create social change: The citizen, rebel, change agent, and reformer.
Each role has different purposes, styles, skills, and needs and can be played effectively or ineffectively.
Social activists need first to be seen by the public as responsible citizens. They must win the respect and, ultimately, the acceptance of the majority of ordinary citizens in order for their activist movements to succeed.
Ms Chawla, unfortunately never made that investment in time, or crusading causes with mass appeal. Popping up one day in court and then re-surfacing again some years later with a petition doesn't build reputations.
At the same time, activists must be rebels who protest social conditions and institutional policies.
Ms Chawla's subjects are not necessarily mainstream enough to mobilise mass support and empathy.
Activists as change agents first need to understand what the citizenry needs or wants.
5G is no one's immediate horizon, or a pressing concern as such. And yes, activists as reformers need to challenge the status quo. But on issues with mass relevance and impact.
Where Ms Chawla seems to have erred is that she has not been able to build the desired credibility required to champion the cause she took to court.
Her interventions in the telecom space have been mainly judicial, standing lightly on the shoulders of lawyers and well-worded petitions; giving the impression that she is not a serious complainant but perhaps a proxy for vested interests.
Ms Chawla did not, most likely, think through the fact that activism is not an arm-chair activity where you try and leverage the sediments of past fame and try to keep them alive in the headlines through judicial gimmickry.
She needed perhaps to take a page out of the life of veteran actor Sunil Dutt who would entertain jawans on Indian borders, with wife Nargis by his side, through his Ajanta Arts troupe; undertake padayatras for communal harmony, going from Mumbai to Amritsar in 1987 or travelling 17,000 km on a SAARC expedition in 1999. That was true grit that could neither be branded nor sold. Just saluted.
Dear Juhi, activism needs to be made of sterner stuff.
Sandeep Goyal is managing director, Rediffusion.
Feature Presentation: Ashish Narsale/Rediff.com