'We have created an enemy we can't even see and that enemy is entertaining us while tightening the noose around our necks.'
'As the radiation increases, it will affect everything -- from your little bumble bee to plants to every living cell.'
'By the time the effects are understood, it might be too late.'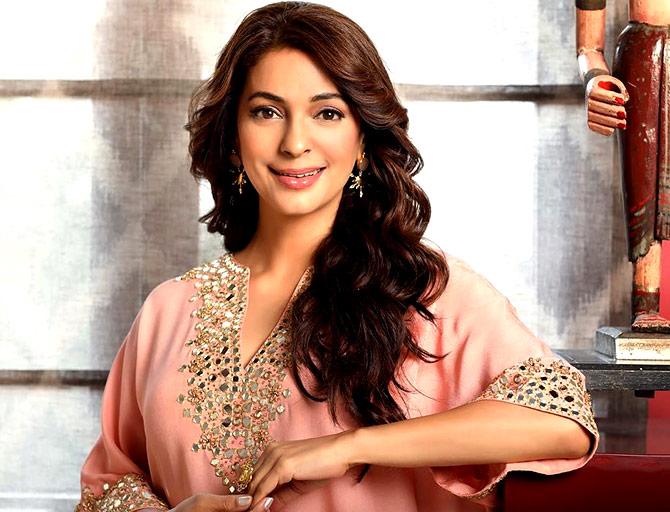 Juhi Chawla has a secret desire.
Here's a hint: It is something she finds hard to do because she is "shy".
The gorgeous actress, who is still so good at her job -- she is one of the best things in Ek Ladki Ko Dekha Toh Aisa Laga! -- is anything but shy when she speaks to you over the phone, as Ronjita Kulkarni/Rediff.com discovered last week.
She is very kind and charming, even maternal -- she asks you if you have your head set on, and if the mobile phone is kept at a distance, and scolds you immediately when you reply in the negative.
She laughs whole-heartedly, and talks about India's biggest superstar -- Shah Rukh Khan -- as if he is an old friend of yours too.
A scriptwriter once told me that there's a certain innocence to Juhi Chawla. "She marvels at little things. You can relate to her even though she is such a huge star," I was told.
And that's so right.
It is so easy to talk to Juhi Chawla, the actress who has our attention since 1984 when she won Miss India before making us fall in love with her in her first hit, Qayamat Se Qayamat Tak four years later.
But all that happened just by chance, she says.
"Miss India happened in college," she says in her soft voice, which always seems to hide a laugh. "We were just fooling around and we participated because the other kids were participating. It was only after that and the modelling, that it (acting) kind of excited me and I said, why not!"
Juhi made her debut with Mukul Anand's Sultanat in 1986, which starred Dharmendra, Sunny Deol, Sridevi and Amrish Puri.
The film also introduced the gorgeous Karan Kapoor who later realised he was too foreign looking for Bollywood.
"Working in Sultanat with such big stars, I would be shaking like a leaf on the sets because I was so scared! I was so nervous about facing the camera and standing in front of a huge movie star," Juhi says, looking back.
In contrast to that, QSQT was like a "college film."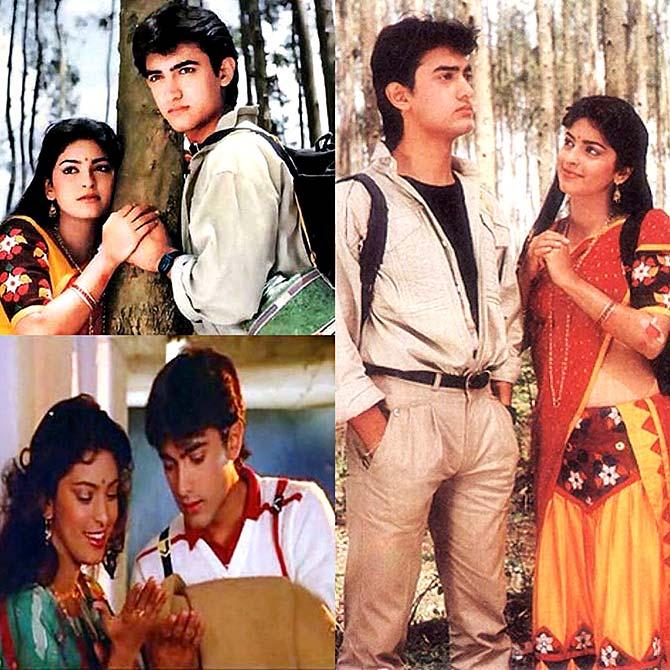 "At that time, I had also done a film in the south (V Ravichandran's Premaloka). That experience was a lot of hard work, but I learnt so much. And that helped me in QSQT and I sailed through it. I am very blessed that I got QSQT," she adds, referring to her blockbuster film opposite Aamir Khan.
She went on to form a close friendship with Aamir which included a fallout during the filming of Ishq in 1997.
"We were so stupid!" she exclaims, "We fought over nothing and didn't speak for so long."
"So long" was seven years, according to Aamir Khan in a recent Rediff.com interview.
"Finally, I made up. I went to his place. I was concerned about him and Reena because they had been in the news," she says, referring to Aamir Khan and Reena Dutta's divorce.
"I had known them since QSQT when they were seeing each other and then they got married at that time. When I met him, I asked what happened, and he said he thought I was mad at him and I was afraid that he was mad at me."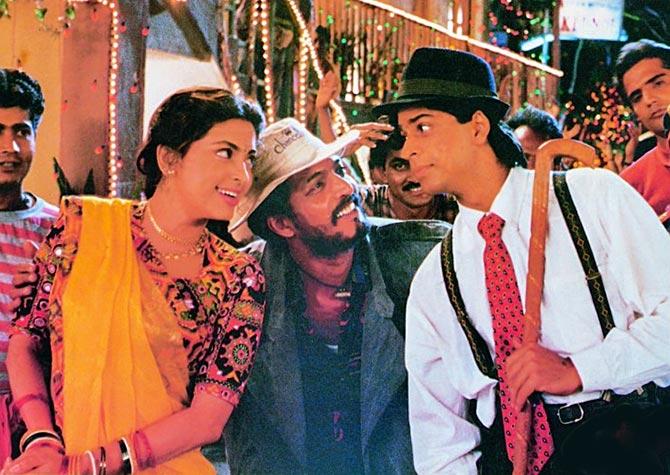 Juhi looks back at her career, spread over three decades, and picks the films that stand out.
"I loved playing a plain Jane in Aaina." The 1993 film saw Jackie Shroff fall out of love with her glamorous sister (Amrita Singh) and in love with Juhi's bespectacled simpleton.
"I truly enjoyed doing Raju Ban Gaya Gentleman because that was when I first worked with Shah Rukh and he would entertain all us. He was so funny, so hard working."
Raju Ban Gaya Gentleman was directed by Aziz Mirza who would go on to partner Juhi and Shah Rukh in their joint production company, Dreamz Unlimited.
"I was over the moon when Yashji (Chopra) took me in Darr, but I was also nervous about matching up to the expectations of a Yash Raj heroine."
Darr saw Juhi opposite Sunny Deol while Shah Rukh played an obsessed anti-hero.
Does she still share a close bond with SRK?
"Arrey, he's my partner in crime!" Juhi says and bursts out laughing. "We've known each other since Raju Ban Gaya Gentleman and that's a long time to know anybody. In between there have been fallouts for different things, but over time, we make up and get together... like in the IPL. But it's not like I meet him very often..." she says.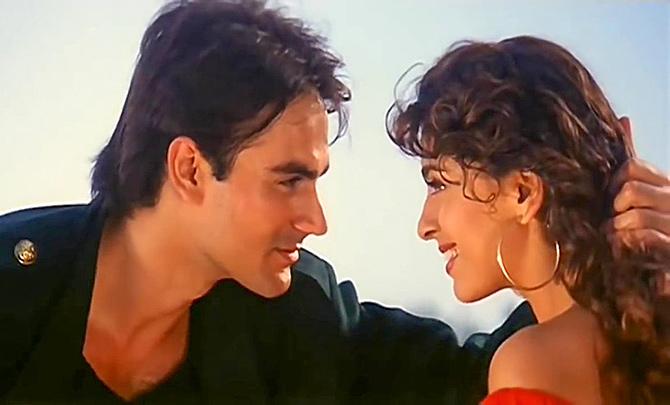 Juhi thought she was "not just good at comedy but very good at it", so she moved on to serious roles like Daraar.
"I thought it was one of my best performances, but it came and it went. I had really put my heart into that." Daraar was inspired from the Hollywood hit Sleeping with the Enemy, and saw Arbaaz Khan's movie debut.
"I loved playing a negative shade in Arjun Pandit. I had so much fun doing that because I was almost like a villain, getting the hero intro trouble, oh wow!" Juhi exclaims and laughs. The 1999 film saw her opposite Sunny Deol once again.
"Phir Bhi Dil Hai Hindustani, we worked double, during the film, after the film. Then when it didn't work, we all cried! I have very vivid memories. One day, I cried, the next day, Shah Rukh was very upset. It was very bad, but I guess it was an experience we had to go through." PBDHH released in January 2000, and was Juhi's first Dreamz Unlimited venture.
"I loved doing a couple of films that were so different, they were like a breath of fresh air, like My Brother... Nikhil, Jhankaar Beats and Teen Deewarein. I had a wonderful time on these films after I got used to the fact that they had no money! And that I was not going to be allowed to do make-up!"
"I was to play very simple and not act. That took a little getting used to, but once I did, I loved it." The three films saw gentle performances from an older, more mature-looking Juhi.
"I loved Bhoothnath! I was working with someone who was an assistant to Mahesh Bhatt when we were doing films with him. And he had a fun subject that was being produced by BR Chopra Films, a sound production house. I was working with Amitji, what more can I ask for? And Shah Rukh as well." Director Vivek Sharma assisted the Bhatts on Sir, Naaraaz, Naajayaz, Criminal and Chaahat.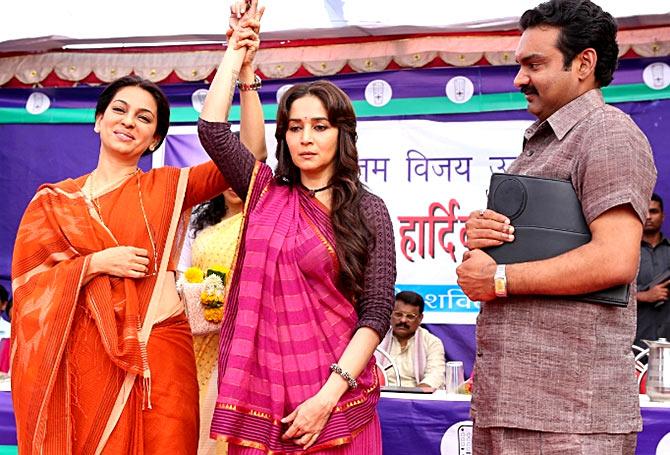 "The first time I heard the script of Gulaab Gang, I was horrified that they even thought I could play a negative character! I said, no way, it's not going to work. I thought everyone would laugh at me. And I thought since the villain has to be the one who gets beaten, they wanted Madhuri (Dixit) to have the upper hand! So I said I am not doing this."
Gulaab Gang saw Madhuri Dixit in a central role, in a biographical film on Sampat Pal Devi.
"They tried persuading me by doing re-readings and then I started to see the light. It was great because at my first meeting with Madhuri, we said let's just do this and make it rock. It was one of my best performances! I thought I'd get an award but they didn't give it to me!" Juhi laughs again.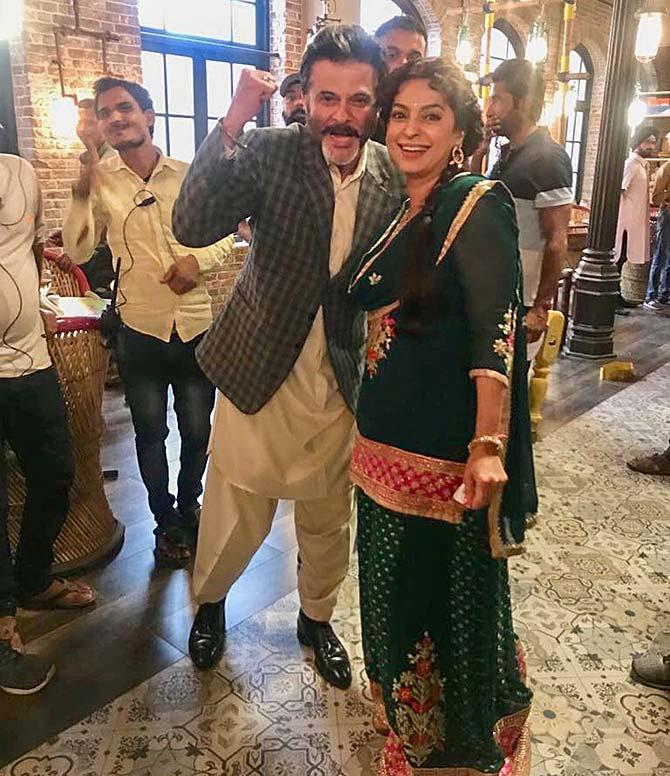 Juhi speaks warmly about her latest film, Ek Ladki Ko Dekha Toh Aisa Laga, starring her old co-stars Anil Kapoor and his daughter Sonam.
How much has changed, and how much hasn't between Anil Kapoor and her?
"Not much has changed," she replies. "Of course, we haven't worked together for some time, but Anilji is still the same. He is friendly, hard working, committed... He has always been this way. He is very conscious of his fitness. Looking at him, you feel oh my God, I don't do anything."
"When we were acting in Ek Ladki, and later when I saw the film, there's an amazing... what do you call that... he comes across beautifully. Ek Ladki is one of his finest performances. And I felt that way even when I was acting with him. I felt, my God, he's really doing very well," she says.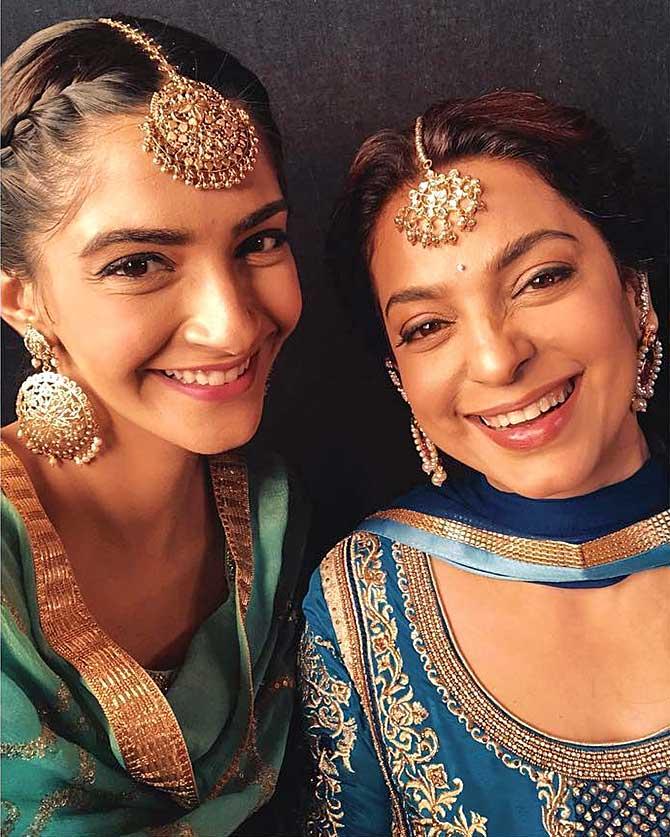 Juhi has known Sonam since Deewana Mastana in 1997 when the entire team went on a 20-day outdoor shoot to Switzerland.
It was a full house with Anil Kapoor, his wife Sunita, their two girls Sonam and Rhea, (director) David Dhawan, his wife Laali, their two boys Rohit and Varun, and the producer Ketan Desai, his wife Kanchan, and daughters Pooja and Raj Rajeshwari, along with Juhi's mum and herself.
"We were staying in little chalets, not hotels," Juhi says. "We would be busy working all day but they would be floating by, going shopping, sightseeing or hanging out together. Sonam was 13 or 14. Later on, as the years rolled by, I saw her becoming an actress and would meet her socially or at the airport. I never imagined that one day, I'd end up working with her."
She must have had a lot to catch up on with Anil Kapoor, but what conversations did she have with Sonam?
"Sonam was very chatty," she replies. "She always wanted to know what it was like working with Anilji earlier and whether he had changed, and how he behaved then. On the other hand, I learnt about how her generation behaved, how they thought, how they approached their work... I learnt a lot from her, I must say."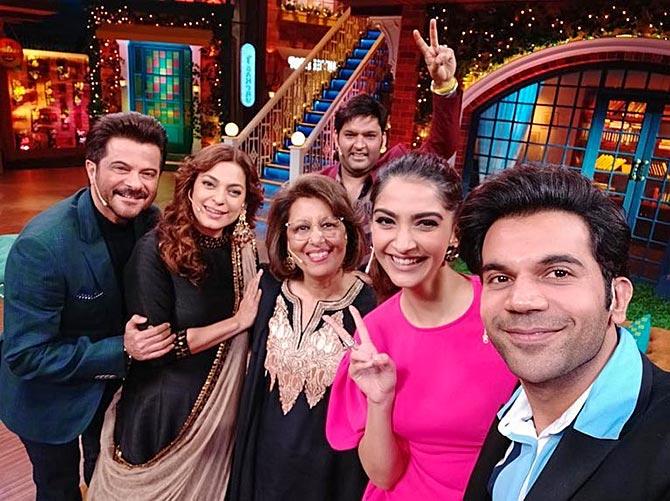 Ek Ladki deals with a same-sex relationship, something not seen in mainstream cinema before. What made Juhi take it up?
"I met (director) Shelly Chopra Dhar for the first time, she sat me down and started reading (the script). In the beginning, it is all about romance, match making, and a happy little family... and I'm wondering, what are they making? Then comes the interval point, and I was like what! And then I was very intrigued to know how they would carry this subject to the end."
Juhi admits she was totally hooked.
"The way they dealt with it, the way they took it to the climax, I thought it was beautifully handled because I am the kind of audience the film is talking to. I am the kind who goes to a theatre and doesn't want to watch anything uncomfortable, especially when I am with elders or my children. I want to see clean entertainment," she says.
"The people who are playing the family on screen are very much like me. So it's a familiar setting, and yet, the subject is totally new. It changed my perception and made me kinder towards people who are like Sonam in the film."
"Earlier, if you met someone (from the LGBTQ community), you may have sniggered or said isn't that odd, but after seeing her character in the film, as a child going through loneliness, being distanced from others, the fears and humiliation she feels... she clamps up because she has nobody in the world whom she can share herself with -- not even her immediate family. What a life! Isn't it tough?"
"In the end, I loved what Anilji said, that this is not a disease, it's not about Western or Indian culture. She has been this way ever since she was a baby. How can I deny her happiness?"
"And I was like, I'm doing the film!" Juhi says, the laugh always in her voice.
The conversation drifts to the other passion in Juhi Chawla's life, and the laugh is silenced.
The subject of mobile towers and radiation is very close to Juhi's heart, and she is dead serious about its ill effects.
Why is this *so* important to her?
"Some (mobile) towers came up around my house, and someone pointed it out, saying that they are not good for your health. So I researched it and got my home checked. I tried to have them removed and eventually found success. Then people started approaching me for help and that is how I got involved. I feel it is not me who chose radiation, but radiation who chose me," she says.
"Later, I realised it is such a complex technical subject that even if the world's best scientists try to explain it to lay people, firstly, they wouldn't come, and secondly, they wouldn't understand. A simple person like me, who speaks a language that all of us can relate to, and me being a celebrity helps the matter. I can help it become a conversation. I have been chosen to do this," she says.
So what exactly is so wrong about mobile towers?
"I used to make 20-minute presentations about this, and I do it beautifully," she says, and then gets right down to business.
"We are talking (on the phone) and there is not a second's delay in my voice reaching you. How does this happen? It happens because there are these waves being carried through the air," Juhi explains.
"How are they being carried? With the help of electrical charge. These waves are emitted through the air. They are going from my mobile phone to the mobile tower and finally, reaching you."
"There are 20 million people in Mumbai. How does my phone choose your phone within seconds? How does it know? All these rays that are shooting through the air, we cannot see them, but it is like a web of electro-magnetic smog.'
"It doesn't make a sound, it doesn't smell, and you think it is not there, but it is. That's how everybody's phones are working."
"And they are working even if you are not using it, even if it is sitting idle by your side, looking innocent. It is downloading your mails, Instagram, Twitter, getting your notifications, Whatsapp... It is working all the time."
"Imagine, everybody's phones are working *all* the time. So much activity in the air around you, but you cannot see it."
"The amount of this activity is rising because the number of phones is increasing. The graph is going vertical. The earth is like a network of electro-magnetic radiation, which did not exist until 20 years ago. So nobody from birth to death has actually known the effects of this radiation."
"At least 20 years of research goes into a drug before comes into the market, side effects kya hai, FDA approvals. Tell me, who has certified this to be harmless or who has researched the side effects? Yet, it has been unleashed upon this world."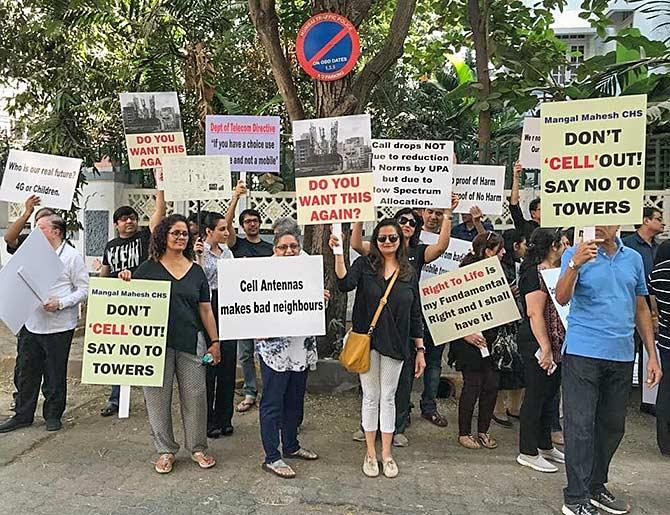 Mobile phones and towers are increasing at a maddening pace. Doesn't it get frustrating?
"Sometimes, yes," she answers. "Then I remind myself that I am doing my bit to help people and myself. There is no point getting stressed about it. I have a team that works with me on this. I tell them, we cannot lose our health over this because then, who will do it?"
"Change only happens in a crisis. Until it reaches a critical point, you cannot change people," says Juhi, and asks, "Would you change anything in your life until it reaches a critical point?"
"We have created an enemy we can't even see and that enemy is entertaining us while tightening the noose around our necks," she says, adding that she always uses a head set when she is using the phone.
"As this increases, it will have an effect and it will affect everything -- from your little bumble bee to plants to every living cell. But by the time the effects are understood, it might be too late. But chalo, main kya karu?" Juhi concludes with a laugh.
The seriousness has gone in a wink, and Juhi returns to her cheerful self.
The best way to forget the bleakness is to probably break into a song and sing with abandon -- and not clamp up even when someone asks her to sing.
That is, after all, Juhi's secret desire.