The Election Commission has done its homework pretty well on the political hashtags, observes ad guru Sandeep Goyal.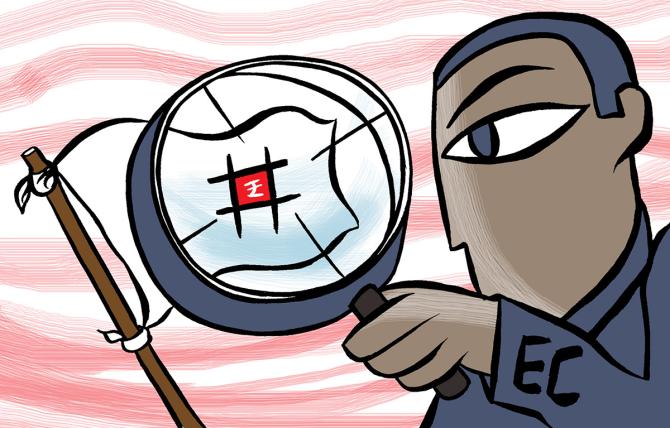 The Election Commission's Media Certification & Monitoring Committee will hitherto oversee the use of hashtags in political advertising in all Indian elections.
A 'hashtag' on Twitter makes for 'highly-polarised political narratives', opined a panel set up under an ex-IRS officer, Harish Kumar, to review poll expenditure limits and expenditure monitoring mechanisms.
The panel called for the creation of a separate social media monitoring cell in the district election officer's office to track political ads on social media during polls, and report them to the expenditure observer.
Hashtags especially came into the crosshairs of the expert committee who put it on record that, 'IT cells of different political parties often use 'bots' to create trends on social media. Hashtags used for this purpose are part of a manufactured campaign where expenditure is involved. It won't be easy to figure out how much. Nonetheless, they must be considered as part of election expenses as suggested by the expert panel.'
This is really smart thinking, I must say. Usually governmental understanding of digital trends lags user reality by quite a mile. But this has been a reasonably adroit move by the poll body.
The main events in a political campaign, in decades gone by, used to be out in the open: A fiery debate, or a public community event where candidates tried to earn a newsworthy picture on the next day's front page in the local newspaper.
But that was before the grand arrival of Facebook, Twitter and YouTube as political platforms of preference.
Now some of the most pivotal and meaningful thrusts of a campaign are orchestrated in the often murky and most times unfathomable world of social media, where ads can be targeted to even an audience of one, and run without interruption, with no disclosure of who is paying for them.
Election observers will now have to ensure that they see, and police, what voters are seeing too, including insinuations, hoaxes and forgeries, which spread instantaneously, mostly with creative hashtags that instantly signal subject, intent and target.
A hashtag on twitter is like a shorthand message; the social media equivalent of a newspaper headline: Pithy, direct, evocative and designed to arrest attention.
Donald Trump won the 2016 US presidential election using the #MAGA hashtag as the pincer of his social media strategy.
Over time his detractors too used #MAGA to crucify him.
#MAGA for them was not about Making America Great Again but Morons Are Governing America! Used whichever way, the message remained political.
Actually political hashtags can look and seem pretty innocuous most times.
India's top-ranked political hashtags on Instagram, Twitter, Facebook and Tumblr are #indianpolitics (24 per cent), #india (13 per cent), #bjp (9 per cent), #narendramodi (9 per cent), #politics (8 per cent), #modi (8 per cent), #rahulgandhi (7 per cent), #congress (7 per cent), #delhi (5 per cent), #amitshah (5 per cent).
But their use attracts supporters, and detractors, like flies to honey.
The expert panel of the Election Commission has actually done its homework pretty well on the political hashtags.
It noted that a trending hashtag indicated 'enormous' coordination among party workers and the candidate's sympathisers and supporters.
The panel was of the view that it was not possible to have a hashtag to trend without an elaborate social media cell or 'illegal' hiring of bot accounts.
Suggesting that hashtags endorsed by candidates and party functionaries be closely examined, the panel suggested that a Twitter hashtag or trend be treated as a 'political advertisement' in practice and must be covered under the MCMC regulations of the Election Commission.
Interestingly, the panel also suggested that open source tools like botometers be used to check a Twitter account that is supporting the campaign hashtag.
This would help the expenditure monitoring team to discover the use of underground services for campaigning under the guise of hashtags over Twitter.
Political or otherwise, do hashtags really work? Well, let us look at #BlackLivesMatter.
With its origins in one heartfelt Facebook post, following the 2012 shooting of 17-year-old Trayvon Martin, this hashtag spawned a civil rights movement that effectively changed the face of the United States.
There are now more than 26 Black Lives Matter chapters across the US.
The movement is fuelled by grief at the seemingly endless stream of unjust deaths; by rage at institutionalised racism; by frustration at the consistent denial of equal rights for all Americans.
More than any civil rights movement in history, the Black Lives Matter movement has been brought together from across the world by the uniting power of social media, especially the hashtag #BlackLivesMatter which has been like a clarion call to the faithful.
The task ahead for district election officers will not be easy.
Most of them, in fact the vast majority of them, are digitally ignorant.
The panel therefore recommended that the DEO's office be permitted to engage external consultants or software development companies to develop and deploy suitable social media monitoring solutions. #WellDoneEC. #GoGetThem.