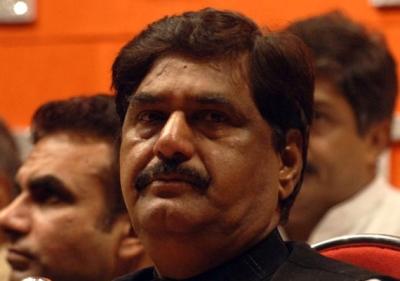 Gopinath Munde came up the hard way and never forgot his roots. Just when he seemed destined for bigger things, death snatched him away. N Suresh hails the departed Maharashtra strongman's memory.
It was supposed to be a grand celebration of the Bharatiya Janata Party's win in Maharashtra and an acknowledgement of Gopinath Munde's pivotal role in the triumph. But fate had other plans.
He was the last of Marathwada's formidable trio. Pramod Mahajan, Vilasrao Deshmukh and Gopinath Munde made a lasting impact on state and national-level politics and their absence will leave a huge void.
Munde was an aggressive politician and despite years of experience he hadn't polished his diplomacy skills. He easily showed his emotions, including anger. Else, he would have been able to win over his detractors, mainly within his own party. With the public, Munde rarely lost his cool. He was most welcoming and accommodating of them.
Munde came up the hard way. He hailed from a poor family, his father was a farmer and they were from the backward Vanjara caste. He never forgot his roots and that was a bone of contention between him and the upper castes in the BJP. They feared Munde and his carefree attitude.
Munde was married to Pradnya, Pramod Mahajan's sister (a Brahmin), and that was probably one reason why Munde was often targeted in his party. Munde had the guts to take on the RSS. I recall him telling me, "Aho me Vanjara ahe me ghabrat nahi ya bamnanana (I'm a nomad, I'm not scared of these Brahmins)."
Allegations of an affair with a dancer surfaced in the mid-1990s. They rocked his political career and also created tension between him and his brother-in-law, Pramod Mahajan. A few years later, social activist Anna Hazare too tried to expose Munde for using his official quota to allot a house to the dancer.
Around this time the BJP-Shiv Sena alliance had come to power in Maharashtra. Mahajan was being prepared to take on a bigger role at the Centre. The RSS wanted to project him as a future prime ministerial candidate, while Munde focused on the state.
Munde began as a student activist, joined the Akhil Bharatiya Vidyarthi Parishad, and campaigned against Indira Gandhi's Emergency. He was a legislator from 1980 to 1985, again from 1990 to 2009, and was elected MP twice.
Prior to 1995 Munde targeted Sharad Pawar, but never crossed the fine line of getting personal. He launched a campaign against Pawar for amassing land. At that time Munde had threatened to dump the Enron power project into the Arabian Sea, terming it anti-people. Munde's anti-Enron agitation was partly responsible for the American corporation leaving India.
Munde became a formidable leader in Maharashtra, but remained in the shadow of his brother-in-law. By the time Munde became deputy chief minister, he had developed good relations with Shiv Sena supremo Bal Thackeray.
On the morning of his death he was leaving New Delhi to join the victory celebrations in his hometown. But fate had other plans for the leader who was given the tag 'late Lateef' by his supporters. In true style he would arrive at an event three hours late and defend why he was never on time. He would remove a comb, brush his hair and then step out of his vehicle. Somehow the public would forgive him for keeping them waiting for long hours.
Gopinath Munde will keep the villagers of Parli waiting all their lives.
Also read: Munde: Trigger-happy home minister, Marathi music buff