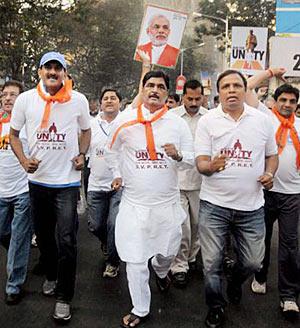 Syed Firdaus Ashraf/Rediff.com recalls his encounters with the late Gopinath Munde many years ago, when he was Maharashtra's home minister.
Getting to travel in the same car as Gopinath Munde -- the then Maharashtra home minister and deputy chief minister -- was not an easy task for a young reporter like me way back in 1997.
For one, I had no political contacts, and to make sense to Munde's secretary that I needed an interview with his boss for Rediff On The Net (as Rediff.com was then called) was a mammoth task.
The secretary had not heard about the Internet (this was in 1997) and had no idea what the World Wide Web, the new buzz going around, was about. He simply could not understand which publication I was representing. Rediff On The Net, what was that all about, his demeanour seemed to suggest.
So he refused to let me meet his boss, and as I was remonstrating with him I saw the deputy CM coming out of the Bharatiya Janata Party office in Aurangabad.
I buttonholed him and told him that I needed an interview with him and I had come all the way from Mumbai to cover L K Advani's Swarna Jayanti Rath Yatra.
Munde glanced at me and without blinking an eyelid said, "The only way to do the interview is in the car as Advaniji's schedule is very tight."
I got into the car with him and found to my surprise that Marathi folk songs were playing on the music system; apparently Munde was a big fan and he asked if I would like to hear them too. I said, "I don't mind, but how will I conduct the interview?"
Munde asked the driver to stop the music and we started the interview, which was on 'encounter killings' in Mumbai.
In the two years of Shiv Sena-BJP rule in the state, the Mumbai police had killed 90 gangsters in 'encounters' and arrested 267 criminals under the National Security Act.
As the home minister of Maharashtra, Munde gave the police a free hand to kill gangsters. 'Just go and do the job,' was his message to the force.
He had absolutely no qualms about the death of gangsters and told me on record, "If the policemen kill criminals who are harmful to society, I don't see anything wrong in it."
I was surprised to hear this, and reminded him that many innocent people were killed in these 'encounters' too.
He flatly denied that was the case. "If a complaint has been filed by an individual against a policeman stating that one of his kin has been killed in an encounter. I personally investigate the matter. If I do find something wrong in the case, a detailed inquiry is conducted. But so far, I have not come across one case where I have found an innocent man killed in a fake encounter."
Human rights activists said it was strange that not a single policeman was ever injured in any of these 'encounters', proving that they were staged, but that issue did not bother Munde as he felt he was making Mumbai safe for its citizens.
Before his tenure gang wars were out in the open, spilling over onto the streets of Mumbai, but post the Shiv Sena-BJP rule in 1999 the back of the underworld was broken and these gangsters could never again become a power to reckon with in the city.
As the interview ended, Munde became very jovial and started talking about his favourite songs and different aspects of life.
I asked him why many Muslims felt the BJP-Sena was communal and anti-Muslim in its policies. "It is wrong to say that," he said, "because in my village many Muslims are supporters of the BJP. Only some Muslims support Pakistan and we are against them."
I realised what he meant two years later, when I conducted another car interview with him on the eve of the 1999 elections, again with Marathi folk songs playing in the background.
At one of the pit stops in Beed I discovered some 500 Muslims had gathered to welcome Munde to their village. They told me he had provided water supply to their village and was instrumental in erecting a graveyard for them.
"What has the Congress given Muslims in the last 50 years?" asked Asim Shaikh. He then went on to answer the question himself: "All that the Congress gave us was a bunch of useless Muslim leaders."
Another positive thing the Shiv Sena-BJP government did for the Muslims of Mumbai was to grant extra Floor Space Index to mosques to build more floors for prayer so that Muslims could stop offering namaaz on the streets.
During the 1992-1993 Mumbai riots, the offering of namaaz on the streets had become a major issue, with the Shiv Sena conducting Maha Aartis on the roads, leading to tension in the city.
"We have given extra FSI and now you see Muslims are happy because they can pray on the upper floors rather than on the roads. So it is wrong to say the Sena-BJP is communal," Munde told me.
As we were reaching our destination, Munde requested that he now wanted to play the Marathi folk songs louder; when the lyrics proved difficult for me to understand, he told me what they meant. I could not believe that this music buff was the same Munde who was ruthlessly gunning for gangsters.
Seeing his jovial mood, I dared to ask him a very awkward question, about his alleged affair with Barkha Patil, the tamasha dancer.
He took the question in his stride and said, "I have never met her. I have only seen her beautiful pictures in the newspapers."
He then went on to explain the next stanza of the song playing in the car till we reached our destination.
These memories came flooding back to me when I read the news about his untimely death in New Delhi on Tuesday.
RIP, Munde Saheb.
The late Gopinath Munde participating in a Run for Unity at the August Kranti Maidan in Mumbai, December 2013. Mr Munde died on Tuesday in a road accident in New Delhi. Photograph: PTI Photo.