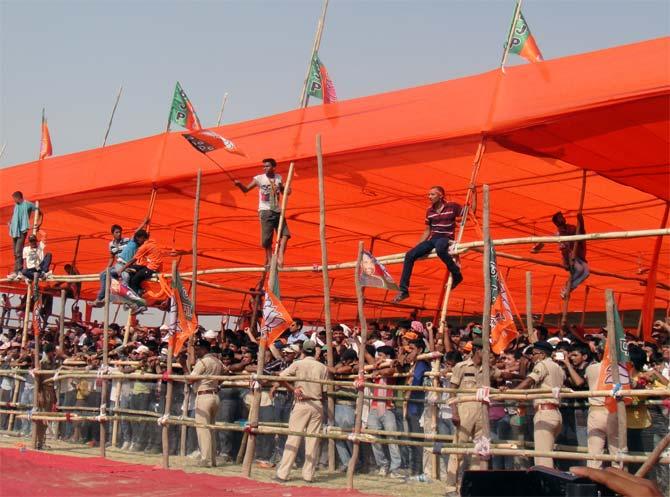 'By resorting to divisive issues, the BJP is giving the impression that even if it is voted to power it won't do anything new to give Bihar a facelift. It will repel voters with the belief that the BJP can't do anything without communal polarisation as its core ideology. This is sad and unfortunate,' says Mohammad Sajjad.
Arguably, no election in Bihar may have been as much communally charged as this one. Not even the elections of 1989 and 1990, when the Babri Masjid issue had divided society in an unprecedented manner or when corruption was the main issue.
The Bharatiya Janata Party, the Socialists and the leftists were all ranged against the Congress. Subsequent elections in Bihar were fought more on the plank of social justice and least on communal divisions. More recent elections in Bihar have been on the issues of good governance (sushasan) and development (vikas).
During the first two decades after Independence Bihar elections and their results demonstrated extraordinary communal amity to the extent that political scientist Harry Blair observed, 'Bihar's Muslims are probably making the best of their opportunities; more Muslims are getting elected in Muslim areas, but Bihar politics has not become polarised along communal lines, for some Muslims can still be elected from non-Muslim areas.'
One of the probable reasons why Bihar was able to display this kind of relative communal amity may be traced to its socio-political fabric in late colonial history. Sir T Rutherford, the then governor of Bihar, observed in 1946 that 'Bihar Muslims were not very strong supporters of Mohammad Ali Jinnah.'
In Bihar, the modern educated Muslims, as well as the clergy associated with institutions -- the Khanqah-e-Rahmaniya (Munger), and Khanqah-e-Mujibiya (Phulwari Sharif, Patna), the Imarat-e-Shariah, and Deoband-inspired madrasa people -- all were ranged fiercely against the Muslim League's communal separatist politics. Large numbers of Muslims were the architects of the Bihar Congress to fight colonial subjugation.
The Muslim League's Bihar wing failed to find any leader of considerable eminence. The few like Syed Abdul Aziz (1885-1948), Syed Badruddin Ahmad (1901-1983), Syed Jafar Imam (1901-1979) and Sardar Latifur Rahman Ansari of Nagmatiya (Gaya) were not identified as narrow minded chauvinists. All of them stayed on in Bihar after Partition. Many Muslim League leaders of Bihar opposed Partition as honestly as they could. There is therefore much hue and cry from the state's Muslims about why Asaduddin Owaisi has come to Bihar to poison its atmosphere.
In 2015, it seems politicians are out to make Bihar's people forget all the good memories associated with Bihar.
Bihar BJP leader and former deputy chief minister Sushil Modi, in an interview with the Indian Express (October 5) said what he often proudly says, 'In Bihar the BJP's image is not anti-Muslim... This time too many Muslims will vote for us... In some other states, maybe, the BJP's image is anti-Muslim. But in Bihar our image is not anti-Muslim, nor a communal image.' He added that this party would not go for communal polarisation when 'we are getting votes of all sections.'
Around the same time, Sushil Modi tweeted that Chief Minister Nitish Kumar would open slaughter houses across Bihar. He reiterated that the BJP would ban cow slaughter once it came to power. He did not spell out that the 1955 Bihar Preservation of Improvement of Animals Act stands legislated.
Giriraj Singh, the BJP's Nawada MP and Union minister, alleged that Lalu Yadav would throw beef into the Durga Mandir and that Nitish Kumar was aligning with the beef eaters and Jungle Raj. Other BJP leaders including Bhupendra Yadav are alarming people on the beef issue. They have resorted to polarisation by invoking cow slaughter and the beef consumption issue.
Cow-related conflicts in Bihar: A history
After Independence not many communal riots in Bihar have been around the issue of cow slaughter. On April 17, 1959, a riot in Sitamarhi (then in Muzaffarpur district), north Bihar, bordering Nepal, killed 50 people, mostly Muslims. The next day, at Akhta, a Muslim village (the home village of Shahid Ali Khan, the former Bihar minister who is now with Jiten Manjhi's Hindustani Awam Morcha) nearby, organised attacks took place. As many as 200 houses were set on fire, and 11 people were killed.
A false rumour had spread at the annual fair of Sitamarhi town that a cow had been slaughtered, whereas the cow was subsequently recovered from the Janki Asthan. Then prime minister Jawaharlal Nehru, having visited Bihar and having addressed several meetings, wrote, 'The rumour of cow slaughter couldn't be correct because it is hardly conceivable that any Muslim would do such a thing in the middle of a huge Hindu fair. Probably some mischief makers started this rumour.'
Nehru expressed satisfaction at the swift administrative action to contain the violence. He also saw an irony in this anti-Muslim pogrom for the fact that the then governor of Bihar -- Dr Zakir Husain -- was a Muslim; the then president of the Bihar Congress -- Abdul Qaiyum Ansari -- was a Muslim; and the then district magistrate, Muzaffarpur, too was a Muslim. Nonetheless, the rioters remained unpunished.
Earlier, on October 25, 1947, when Dussehra and Bakri Id had coincided, there were some clashes and riots on the issue of cow slaughter. This too was in the sub-division of Sitamarhi in the villages of Singha Chauri (near Pupri), Mehsaul (near Runni Saidpur).
Overall, the subdivision of Sitamarhi has been more prone to communal riots. But by and large electioneering has not been much around communally divisive issues. A particular sub-region, a specific constituency (seat) may or may not have witnessed communal polarisation, but it was never a pan-Bihar electoral phenomenon even during the worst phases of communalisation.
Elusive issue of development in 2015
The 16th Lok Sabha election was fought by promising to bring happy days (achche din), but as the polling dates started coming closer; the electioneering started getting hate-filled.
Bihar happens to be one of the most backward states. In recent days it started developing visibly. Roads, electricity, crime control, women uplift and empowerment, the rise of even those subjugated communities which were left behind even during the 'Backward Raj.' Much of this happened when the BJP was a partner in the Nitish Kumar government.
Today, what has gone wrong with the BJP? Why is it so desperate to throw away all the talk of development and grab a communally divisive issue? An issue taking human lives on the false rumours of animal flesh, edible for some, prohibited for others.
If the prime minster is really confident of getting votes on the issue of development, on the issue of bringing Bihar out of the morass of poverty and backwardness, and if the BJP has taken along many other subjugated castes and communities, then, why is it resorting to brazen communalism?
Is it because:
The much hyped black money is yet to come to India, which the BJP had promised that as much as Rs 15 lakhs (Rs 1.5 million) will arrive in the bank accounts of every citizen?
The Jan Dhan Yojana remains confined merely on paper?
Price rise remains as uncontrolled as it was before May 2014?
Its promises do not really connect with the common people?
The youth don't see any creation or expansion of employment avenues?
There have been quite a few scams -- Lalitgate, Vyapam...
There is a sudden rise in hatred, violence and persecution across India, and more often the BJP affiliates are found taking some lead in such divisive politics?
Spaces of freedom and rationality are visibly shrinking, where the incumbent regime or its rank and file is seen as directly or indirectly complicit in this brazenness?
The common people, not belonging to a particular party, not subscribing to any ideology but concerned only with their own well-being are desperate to know the answers to these pertinent questions. They are looking up to their prime minister that he will spell out models and plans for the economic development of Bihar which will fight its age-old stagnation and backwardness.
More than geography, as political scientist Atul Kohli put it around three decades ago, it is the politics which has kept Bihar more backward.
The prime minister announced a package at a rally in a manner which demeans the dignity of the identity called Biharis. Why is the BJP scared of the resurgent subaltern classes who are asking many questions for their economic uplift and political empowerment?
There are reports that as many as 667 incidents of communal tension have been artificially created across Bihar in recent times. Rather than speaking on beef (against which already a law was legislated by the provincial assembly in 1955, which will help the government penalise erring slaughterers, suppliers and consumers), why cannot the BJP explain to the electorate the reasons for backwardness and the solutions thereof to be implemented by the BJP government?
At least the discourse of electioneering should be on economic development -- the mantra of the BJP-led Union government, sab ka saath, sab ka vikas.
If at all, Lalu Yadav is alleged to be resorting to the rhetoric of caste and community, which has been his age-old practice, why should the BJP step into his shoes and begin to compete with him?
If the BJP is really different from Lalu in terms of the content and practice of politics, why should it emulate him?
Why cannot the BJP marginalise the scare-mongers and hate-mongers?
Why doesn't the BJP explain the steps to be taken towards flood control, towards production of hydroelectricity, towards irrigation facilities, towards bringing agro-based industries, investment in, and development of tourism?
The per capita rail road availability in Bihar is among the lowest; many important tourist spots are just absent from the rail map -- the historic village of Vaishali being one such site. The rail and road connectivities of various parts of north Bihar with the capital city Patna still needs much more concrete steps. These are desperately waiting for quicker and shorter connectivity.
All of these steps will usher in more development, industrializsation, employment creation, higher agricultural production, etc.
Needless to say, by resorting to divisive issues, the BJP is giving the impression that even if it is voted to power it won't do anything new to give Bihar a facelift. It will repel voters with the belief that the BJP can't do anything without communal polarisation as it is its core ideology. This is sad and unfortunate. Does the prime minister really heed all these popular voices of immediate concerns?
May one draw his attention to the following poem by Nida Fazli:
Apna gham le ke kahin aur na jaaya jaaye
Ghar mein bikhri huyee cheezon ko sajaaya jaaye
Jin charaghon ko hawaon ka koyee khauf nahin
Un charaghon ko hawaon se bachaya jaaye
Baagh mein jaanay ke aadaab hua kartay hain
Kisi titli ko na phoolon se urhaaya jaaye
Ghar se masjid hai bahut door chalo yun kar lein
Kisi rotay huay bachay ko hansaya jaaye
IMAGE: A BJP election rally in Bihar during the 2014 general election.
Mohammad Sajjad teaches late colonial and post-Independence Indian history at the Centre of Advanced Study in History, Aligarh Muslim University.