Two women are in contention to become prime minister for the first time in Japan's history -- a potential turning point for a country that ranks below Saudi Arabia in terms of female political representation, points out Rajaram Panda.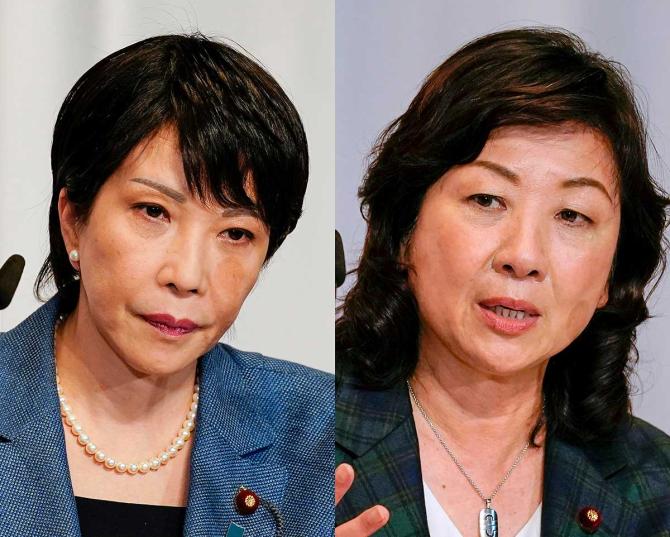 After the surprise announcement by Japan's Prime Minister Suga Yoshihide to relinquish office and subsequent withdrawal from the ruling party Liberal Democratic Party's presidential race slated on September 29, Japanese politics has entered into a new phase where the issue of who would become Japan's next prime minister has taken centre stage.
Sceptics hazard the possibility if Japan is back to the phase of 'revolving-door prime ministers' during which Japan saw seven prime ministers in two decades with less than or a bit more than a year tenure in office, with the sole exception of Abe Shinzo who had the largest tenure in office from December 2012 to September 2020.
That political matrix has suddenly changed when Japan now has to choose a new prime minister.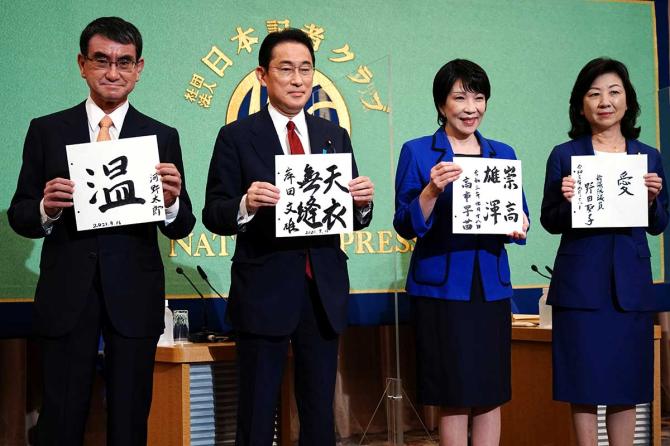 Against the bleak legacy that Suga has left behind, all eyes are focused on who are in the race.
There are mainly four candidates: Kono Taro, Kishida Fumio, Takaichi Sanae and Noda Seiko.
Kono, a former defence and foreign minister, is currently the minister in charge of internal affairs. Kishida is a former LDP policy chief and former foreign minister. Takaichi is a former internal affairs minister. Noda is the the LDP executive acting secretary-general.
Or the four, Noda secured the minimum endorsement of 20 LDP lawmakers required to run just prior to the September 17 deadline.
Ishiba Shigeru, a former defence minister, is also in the race.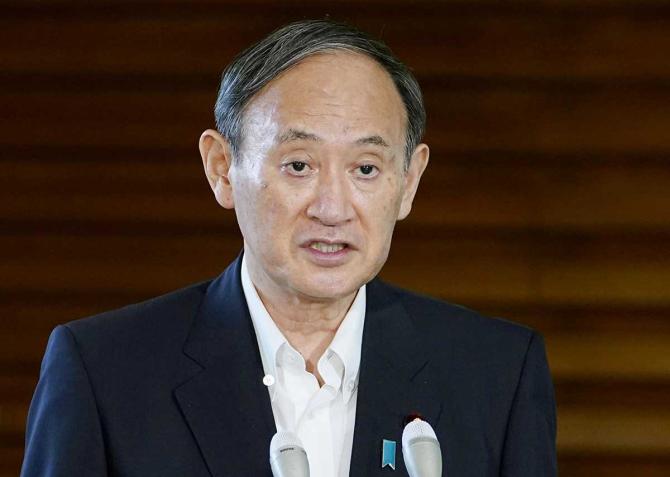 In a faction-ridden political system in Japan, the member of the largest faction can call the shot as he can rally around to garner support of members of other factions or those not affiliated to any faction.
Therefore, there could be always swing votes with an element of unpredictability. But the general trend is not that difficult to read.
In the light of the Suga administration's failure to prevent the fifth wave of infections, the aspirants need to present a counter narrative that is deliverable and convincing.
Peoples are assessing the Abe administration's Abenomics economic policy mix emphasising economic growth and efficiency as vulnerable people were hit by the economic downturn amid the coronavirus pandemic, resulting in widening the gap between rich and poor.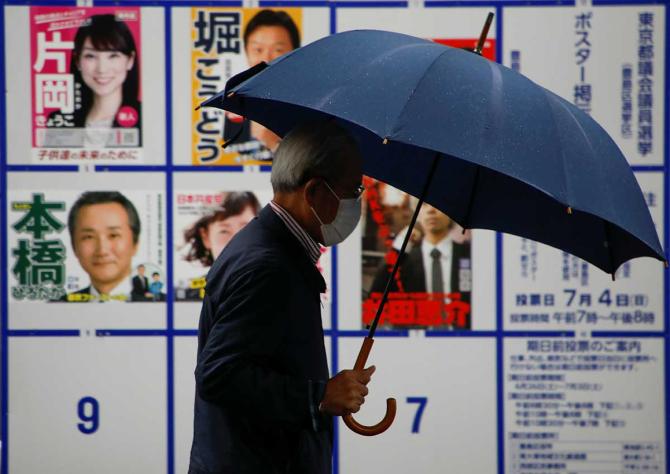 One significant aspect in the race that cannot be easily missed is that two women are in contention to become prime minister for the first time in its history -- a potential turning point for a country that ranks below Saudi Arabia in terms of female political representation.
If either of the two -- Noda and Takaichi -- both former internal affairs ministers and in their 60s make the cut, Japan would see its first female prime minister.
However, in a male-dominated society with a male-oriented mindset, it is difficult to visualise how a majority of male lawmakers would accept a female leader. That could be a will-o-the-wisp.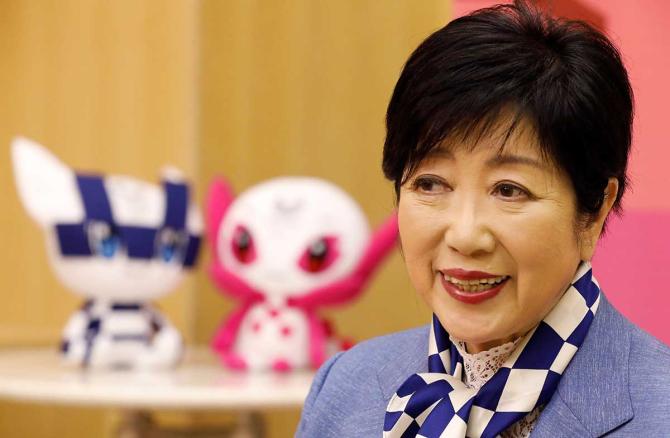 This does not discourage Noda to claim to be the eventual winner and bring a paradigm shift and then women to half the cabinet positions.
Current Tokyo Governor Yuriko Koike was the only woman who had formally run for the LDP presidency, but did not make the cut.
Just 10% of members of Japan's powerful Lower House are women, placing the country 166th in the Inter-Parliamentary Union's global ranking of female representation. Saudi Arabia came in at 151 with almost 20%.
Attempts to introduce enforceable quotas for women have so far failed and there are only two women in Suga's 20-strong cabinet. This speaks of so much of Abe's Womenomics, which, despite his sincere efforts, remained a non-starter.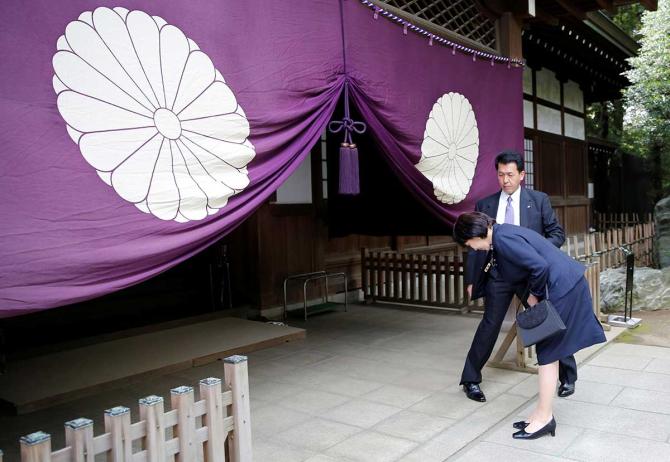 Takaichi, who is backed by Abe Shinzo, is controversial. She visits the controversial Yasukuni shrine on a regular basis, seen by many in Asia as a symbol of Japan's past militarism.
She is against married couples being allowed to keep separate surnames, or the idea that a woman should be allowed to take the imperial throne and pass it to her children.
A progressive Japan would spit venom on such preposterous and coonservative ideas, so Takaichi's chances, despite Abe's support, may not work.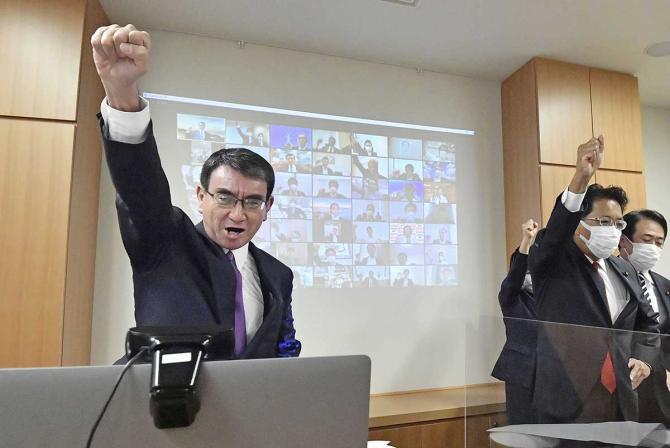 This leaves Kono Taro as the most popular option. Recent surveys in major Japanese newspapers endorse Kono as the most eligible candidate.
Kono is young -- he is 58 -- and has dynamism having been defence and foreign minister.
If Kono can pass the 'youth' hurdle in a society that respects a gerontocracy, there could be a surprise.
Dr Rajaram Panda is Senior Fellow at the Nehru Memorial Museum and Library, New Delhi, and former ICCR Chair Professor at Reitaku University, Japan.
Feature Presentation: Ashish Narsale/Rediff.com