'There shall be no change in India-Japan ties,' predicts Rajaram Panda.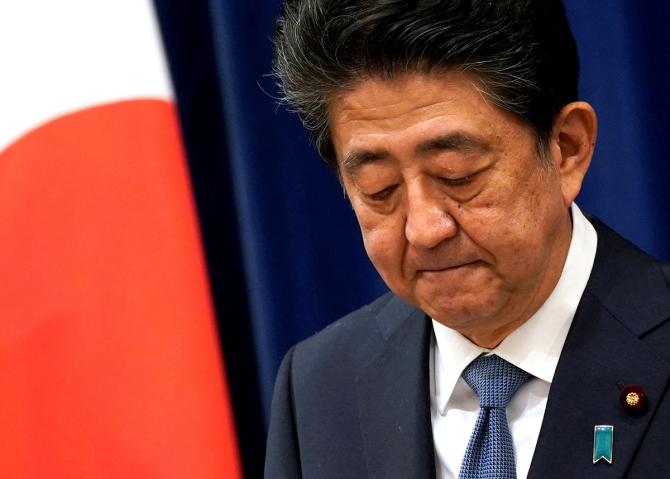 In a surprise announcement, Japan's longest serving Prime Minister Abe Shinzo resigned from the top job even when the virtual summit with Prime Minister Narendra Damodardas Modi to be held in Guwahati in December last year was postponed owing to security issues and was speculated to be held sometime in September or October.
Abe reasoned that he was resigning because of ill health, but his decision has plunged Japan into a new period of political uncertainty after a record-setting tenure that provided unaccustomed stability at the top.
Abe has had ulcerative colitis since childhood, but his condition was controlled with treatment. Speculation over his health issue grew this month when he visited a Tokyo hospital two weeks in a row for unspecified health checkups.
It soon transpired that he is now on a new treatment that requires IV injections. Though stabilised for now there is no guarantee that his ailment could be cured, forcing him to take the extraordinary step to demit office, a little more than a year left on his current term.
After a short spell of political instability that saw many prime ministers giving rise to the coinage of 'revolving prime ministers' when Japan saw six prime ministers in six years, Japan brought a new dimension of securing political stability when Abe took office in 2012 and remained at the helm for eight consecutive years.
During these years, Abe had to deal with a host of critical issues such as overseeing the country's recovery from a devastating earthquake, tsunami and nuclear disaster and restored a semblance of economic health and dealt reasonably well with an unpredictable American President Donald J Trump.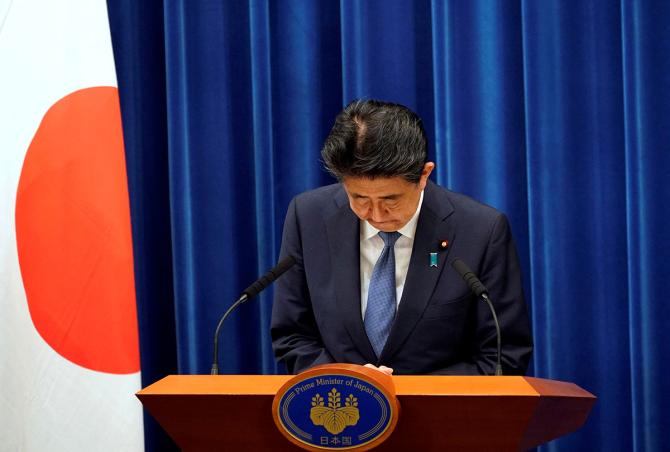 Now it is time to assess the report card of Abe's tenure and how he fared in domestic and foreign policies. Objectively seen, his tenure was punctuated by success, failures and missed opportunities.
On the domestic front, his success rate was relatively tricky as he was unable to revise Article 9 of the Japanese constitution imposed by the occupation forces.
His economic policy measures dubbed as Abenomics, an economic strategy that included a mixture of quantitative easing, fiscal stimulus through government spending and structural reforms saw moderate results, but his decision to raise the consumption tax twice in 2014 and 2019 became controversial.
This led to the loss of momentum of his Abenomics as people started doubting lack of commitment to structural reform.
The problem was further compounded by Trump's protectionist policies and the trade war with China.
The outbreak of the pandemic further led to a slide in Japan's economic health, denting the the nation's recovery despite the massive stimulus package.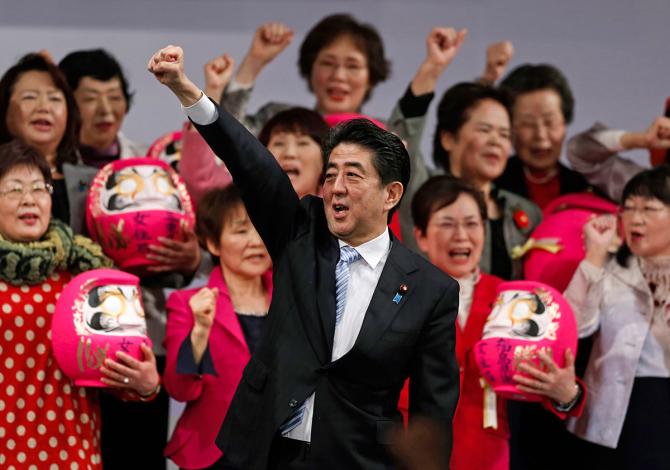 His second tenure also saw influence-peddling scandals, but he overcame and rode out numerous elections. Unable to amend Article 9, he achieved some of his objective when in 2015 he pushed through contentious security legislation that permitted Japanese troops to engage in overseas combat missions alongside allied forces, as part of collective self-defence.
According to a 2019 Goldman Sachs report, empowering women and bringing them to the labour force, known as Womenomics, led to a 'record female labour participation (71 per cent) surpassing the US and Europe, generous parental leave benefits, improved gender transparency, and labour reforms'.
However, the same report saw some deficiency too and noted 'a dearth of female leaders, gender pay gaps, inflexible labor contracts, tax disincentives, insufficient care-giving capacity, and unconscious biases'.
These were not fully addressed by Abe's policies. Further, few cabinet members and just 10 per cent women as law makers in the Lower House was seen that gender inequality continued to remain.
On the foreign policy front, again the results were mixed. He strengthened ties with the US despite that a mercurial American president tried to extract his pound of flesh from Japan to share a larger part of the security burden.
His endeavours to strengthen ties with ASEAN and India were commendable. Ties with Vietnam were taken to top gear.
Relations between India and Japan scaled to new heights. Trade, investment, joint ventures, ODA grew. Defence cooperation was too deepened.
Both sides are soon to sign the Acquisition and Cross Servicing Agreement. Such an agreement would enable the Quad countries (the US, India, Japan and Australia) for logistic sharing bound by a shared strategic outlook.
There were some failures too on the foreign policy front. He was unable to resolve the territorial disputes with Russia that prevented the signing of a peace treaty to officially end World War II.
He was also unable to resolve the abduction issue of Japanese national in the 1970s by North Korea, a promise he had made to the families of the abductees.
He failed to have a summit meeting with North Korean dictator Kim Jong Un though Kim had summit meetings with Trump, South Korean President Moon Jae-in, Russia's Vladmir Putin and China's Xi Jinping.
His administration was also embroiled in a bitter spat with South Korea and could not resolve the 'comfort women' issue, which spilled over to economic relations.
With Abe leaving, who shall fill up the political vacuum?
In the interim, a consensus candidate from the party shall be chosen to lead the government until the party holds a leadership election. Abe's term was set to expire in September 2021.
The leading candidates to replace Abe include Taro Aso, the long-serving deputy prime minister and a former prime minister; Yoshihide Suga, the chief cabinet secretary to Abe; Shigeru Ishiba, a former defence minister who once ran against Abe for party leader; Fumio Kishida, a former foreign minister; and Taro Kono, the current defence minister.
With many competent leaders, and a weak opposition, the succession issue shall be resolved smoothly.
Earlier, following report of Abe's planned resignation, Japanese stocks fell as much as 2 per cent before recovering and finally closed down by 1.4 per cent.
This temporary hiccup shall pass as Abe will remain a member of the Lower House of the Diet, the Japanese parliament, and continue to help his party pursue its goals.
There shall be no change in India-Japan bilateral ties.
Dr Rajaram Panda was formerly Senior Fellow, IDSA, New Delhi.