The underlining significance of the visits lies in the fact that China remains the elephant in the room and has to be tamed, which the United States alone is unable to do and therefore calls allies to come on board, notes Rajaram Panda.
As the US secretary of State under lame duck President Donald J Trump who is refusing to concede defeat but trying to contest the people's verdict in the courts, thereby plunging American politics into an uncertain terrain, Mike Pompeo as an obedient but slavish soldier singing the tune of Trump is too not willing to give up.
He is known to have remarked that American policies shall continue during the Trump 2.0 tenure as before.
Just a week before the American people went to the polls for an election result on November 3, Pompeo decided to tour five Asian nations to whip up his anti-China agenda.
He visited India, Sri Lanka, the Maldives, Indonesia and added Vietnam at the last moment.
The over-riding purpose of these visits was to get these countries on board on the Trump administration's anti-China agenda.
Except in Vietnam where he refrained from mentioning China, he was quite vocal in raising the issue of China as a threat in the new Asia.
How far he succeeded in getting the host nations on board is subject to interpretations.
In short, the answer could be both Yes and No.
One thing however that transpired is both Indonesia and Vietnam and to a lesser extent India were in favour of a strong US military presence in the region, amid escalating tension in the region as China has become more assertive in its claims over a large swathe of the South China Sea.
The strongest rebuff that Pompeo received was probably from Sri Lanka.
This does not mean to suggest, however, Indonesia ever wanted to form any security alliance despite regional rivalries.
Seen from this perspective, Pompeo was pursuing an impossible mission to persuade Indonesia to align with the US interests to isolate China for the simple reason that China is Indonesia's most important trading partner.
Not deterred by the failure in his efforts to restrain China's growing footprint in the Asia-Pacific region during his 5-nation Asian trip, Pompeo now embarks on a 7-nation tour of allies even when Trump refuses to concede defeat.
Pompeo shall travel to France, Turkey, Georgia, Israel, the United Arab Emirates, Qatar, and Saudi Arabia from November 13 to 23.
In Paris, Pompeo will meet with President Emmanuel Marcon, Foreign Minister Jean-Yves Le Drian, and other senior officials to build America's transatlantic work on economic and security matters and on counterterrorism and global threats.
In Turkey, Pompeo will meet with His All Holiness the Ecumenical Patriarch of Constantinople, Bartholomew I to discuss religious issues in Turkey and the region and to promote America's strong stance on religious freedom around the world.
Pompeo's last stop in Europe will be Tbilisi, Georgia, to meet with President Salome Zourabichvili, Prime Minister Giorgi Gakharia, and Foreign Minister David Zalkaliani to express America's support for Georgia's sovereignty and territorial integrity and to urge further progress in democratic reforms.
Pompeo's next destination shall be Israel where he will meet with Prime Minister Binyamin Netanyahu to discuss the Abraham Accords and other regional issues.
Pompeo shall then travel to the UAE and meet with Abu Dhabi Crown Prince Mohammed bin Zayd to discuss security cooperation and other regional issues.
In Qatar, Pompeo shall meet with Emir Tamim bin Hamad Al Thani and Deputy Prime Minister and Minister of Foreign Affairs Mohammed bin Abdulrahman Al Thani to discuss bilateral and regional issues, including the importance of Gulf unity.
Pompeo's final stop will be in Saudi Arabia, where he will meet with Crown Prince Mohammed bin Salman.
The significance of these visits to the countries chosen by Pompeo lies in the fact that despite that the countries chosen for the visit had congratulated President-elect Joe Biden, Pompeo still was thinking for Trump 2-0 regime.
If Pompeo was trying to seek cooperation with the countries he chose to visit even before the impending inauguration of Biden on January 20, he was clearly violating/disrespecting all diplomatic niceties.
The fact that Saudi and Turkish leaders also congratulated Biden meant a snub on Pompeo.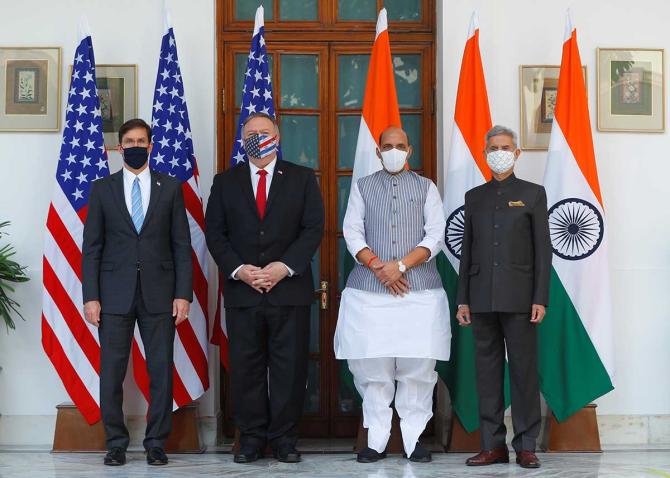 The underlining significance of the visits lies in the fact that China remains the elephant in the room and has to be tamed, which the United States alone is unable to do and therefore calls allies to come on board.
Even in May 2020, at a 75-minute video conference by Pompo with foreign ministers of seven countries including India, Israel and South Korea, Pompeo talked about the coronavirus pandemic and its fallout on the world economy.
That time, dubbed as 'experimental online diplomacy', Pompeo discussed resilience in supply chains, which is what subsequently Japan, South Korea and other European countries followed to relocate their production bases away from China to either back at home or nearby overseas countries such as Vietnam, Bangladesh, Thailand and India.
Indeed, the United States is working with democratic countries such as India, Japan, South Korea, New Zealand and socialist Vietnam to move the global economy forward and explore restructuring supply chains.
It remains to be seen how the lame duck secretary of state shall be able to drive a course of American foreign policy when another incumbent is likely to assume charge in the White House.
Dr Rajaram Panda was formerly a Senior Fellow, Institute of Defence Studies and Analysis.
Feature Presentation: Ashish Narsale/Rediff.com