President Rajapaksa and Prime Minister Rajapaksa will transform Sri Lanka's political landscape after Thursday's electoral triumph, predicts N Sathiya Moorthy, veteran Colombo watcher.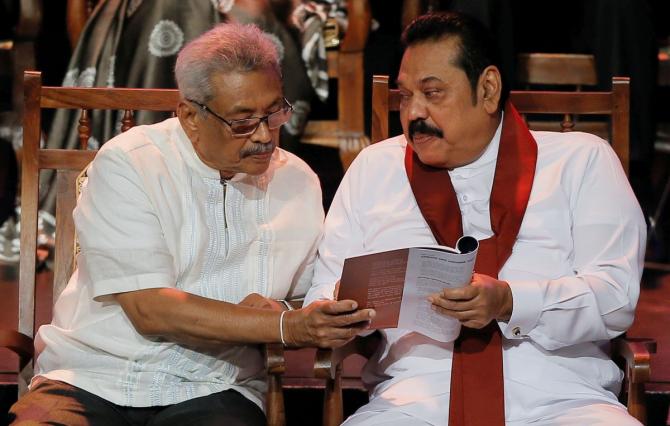 Sri Lankans still have love for their erstwhile colonial masters.
It used to be said that the elite used to pull out their woollens when it was winter in London -- now New York or Washington -- judges of the higher judiciary and also the parliamentary speaker wear wigs, as in the UK, and lawyers with experience and expertise are conferred the title of 'President's Counsel' in place of what used to be 'Queen's Counsel' until the nation became a republic in 1971 long after it attained independence on February 4, 1948.
With all these colonial symbols, they retain the 'plc' to suffix a corporate name to indicate that it is a 'private limited company'.
After this week's parliamentary polls, Sri Lanka has once again become 'Rajapaksa & Bros, plc'.
With a convincing 52 per cent vote-share, Gotabaya Rajapaksa, ex-army officer and war-time defence secretary, became president in November last.
Now, his older brother and two-term president, Mahinda R, formalised his prime ministerial position, from one of nomination post-presidential polls to that of elected PM.
Their party SLPP-led combine has won 151 seats out of a total of 225, with support from strategically-independent Tamil and Muslim parties, and also a moderate Sinhala-Buddhist monk, who was on the other side of the fence the last time round.
'Constitutional reforms' are at the top of the Rajapaksas's poll promises twice in nine months -- and they needed a two-thirds majority for the purpose.
The concurrent question is, will other Rajapaksas too join the government?
During Mahinda's presidential term, older brother Chamal Rajapaksa was the speaker of parliament.
Another brother, Basil, became the all-important minister for economic development.
Rajapaksa critics, starting with civil society NGOs and INGOs, complained that among the three brothers, other than the speaker, they controlled 70 to 80 per cent of the nation's budget.
This time, it is not unlikely that Mahinda's politician-son, Namal Rajapaksa, could be inducted into the ministry. He may have even earned it in his second term as MP as the predecessor government of then president Maithripala Sirisena and then prime minister Ranil Wickremesinghe amended the constitution to deny him the opportunity to contest the presidency, by upping the minimum age requirement from 30 years of age to 35.
It is not as if the Rajapaksas alone represent family/dynastic rule in a nation where universal adult suffrage came as far back as 1931.
The country's grand old party, the United National Party, began with Senanayake Jr becoming prime minister after his father -- though after a gap.
The breakaway Sri Lanka Freedom Party, founded by S W R D Bandaranaike, was succeeded by his wife Sirimavo Bandaranaike, after his 1960 assassination at the hands of a young Buddhist monk.
Sirimavo was the world's first woman prime minister, and was succeeded years later in the same post by her once-politically estranged daughter Chandrika Bandaranaike-Kumaratunga.
After a few months in office, Chandrika contested the 1995 presidential election for the re-unified SLFP. She stayed on till 2005, when Mahinda, then prime minister, succeeded her to the post.
At the time, Chandrika's brother, the late Anura Bandaranaike, politician by inheritance than choice, was supposed to be Mahinda's prime minister, but together with his sister he blew it after openly campaigning for their own presidential nominee in elections 2005.
The rival candidate at the time was the UNP's two-term prime minister Ranil Wickremesinghe, a nephew of former president J R Jayewardene. He served three terms as PM, but only the last one (2015 to 2019) was for a full five-year term.
This was after he lost out on his ambition of contesting the presidency successively thrice. In 2010 and 2015 he had to make way for a common Opposition candidate and war-time army chief Sarath Fonseka in 2010 and ex-Rajapaksa aide Maithripala Sirisena, five years hence.
The former lost, the latter made it.
Today, Ranil has lost out very, very, badly. The UNP could win just one seat, that too on the National List, based on the total polled votes across the country.
Ranil did not win personally. It remains to be seen if he wants to be a loner in a House without friends, as the party's 'National List' MP.
The breakaway SJB of his one-time deputy Sajith Premadasa has proved that he is at a relative top, with a total of 54 MPs in a multi-party alliance under his leadership.
Sajith will be the Leader of the Opposition, a position that had belonged to Ranil as the party boss under the UNP constitution after Gotabaya became president last November.
It is some kind of poetic justice, as between them uncle JRJ and nephew Ranil had snatched away the political chances of Ruwan Senanayake, a nephew of the UNP founder-family.
JRJ made Ruwan a minister after his rebellion. Ranil made him minister and party deputy leader, only for him to lose one and being stripped of the other.
Sajith Premadasa is also not a standalone, first-generation, leader. He is the son of the late president Ranasinghe Premadasa who was assassinated by the LTTE, with whom he hobnobbed to have the IPKF out of Sri Lanka.
Sajith lost the presidential polls badly last year, after snatching the party ticket from Ranil. He has to keep the flock together and build upon it, in time for the nine provincial council polls that his government had inexplicably delayed, fearing sure defeat, and which the Rajapaksas will be too eager to conclude asap.
Whatever may happen to the possibilities of the UNP-SJB re-unification efforts, now especially that Ranil is down and out and for good and Sajith is up and coming and firmly in the saddle compared to the other, the Rajapaksas are sure to try and re-unite with the estranged parent in the Bandaranaikes's; SLFP.
It will then be up to them to decide, which of the party name and symbol, between the two, they would like to retain.
When it happens, they would have completed the 'capture' of the Bandaranaike family party, Sirisena as party chief having sacked Chandrika from the SLFP in this closing days as party chief and president.
Incidentally, former president Sirisena, who handed over the party chief's post to a faceless second-line leader before the presidential polls last year, has returned now as an MP for the SLPP-SLFP combine, and on the Rajapaksas' 'Lotus Bud' symbol -- that too after challenging and replacing Mahinda in in the presidential polls of 2015.
The chances are that the Rajapaksas may not make him a minister. He may not be accommodated in the ministry and his chances of becoming speaker is also remote as they would find him untrustworthy after the 2015 rebellion, which alone made him president.
The Rajapaksas owe their political lineage to their late father D A Rajapaksa, who in turn owed it in a way to his elder brother, D M Rajapaksa.
Apart from Chamal, Mahinda, Gota, Basil and Namal, there are also other Rajapaksa family members in active politics. There are also other Rajapaksas who are active in politics and public life, but do not belong to the family.
---
N Sathiya Moorthy, veteran journalist and political analyst, is Distinguished Fellow and Head-Chennai Initiative, Observer Research Foundation.