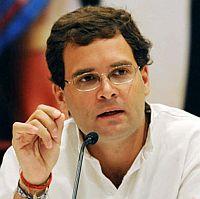 Rahul Gandhi talks of compassion as a necessary element for development. Sreelatha Menon examines

The metaphor of a boat rising with the tide was indeed well put. Speaking to business leaders last week, Congress Vice-President Rahul Gandhi talked of how India was brimming with energy and how we were sitting on a tide of transformation. But there were many who didn't have a boat, and Gandhi suggested that India Inc should help provide them this boat.

Gandhi defines the boat as the basic minimum that an individual needs to fight his battles in life. In reality, the tide of development in the last nine years has seen folks get submerged by it given the displacement and loss of livelihoods -- and even lives -- caused when the police fired on behalf of businesses, for example.

In other places, this tide has come as a curtain made of polluting dust particles from power plants, covering them round the year, or as hordes of sand miners who turn rivers shallow, or as governments who sell even the rivers.

As for the boat, he said, the government had tried to provide for it: through food subsidies, education, employment and now cash transfer. The only problem here is that these boats had holes, so people sitting in them found they were left to their fate most of the time. Food subsidy is not available if you are too poor, or living on streets or a migrant. For benefits need an identity and address.

Education takes place in classrooms that don't have teachers. Even if a few days of employment is guaranteed, wages are not.

Cash transfer is the newest boat for the people, and it threatens to jeopardise benefits currently available to whosoever they are available to.

It would force people to scamper
for Aadhaar numbers and bank accounts. And even after that, if the subsidies for the gas cylinder don't come to your account on time or never come at all, you are left pretty much to your own devices.
Gandhi talks of development and compassion in the same breath, another definition of the boat. He advocates listening to everyone, even your enemy -- an advice that could have averted many tragic conflicts between the State and people in the past.
Gandhi means well when he asks for a partnership between the businesses, the civil society and people. So far, the businesses have been upset because the government seemed to be listening to the civil society, and non-governmental organisations (NGOs) have been sore that the government seemed to be colluding with businesses and policies seemed to be coming straight out of corporate boardrooms or even from beyond the shores of the country. Similarly, the government has been complaining that NGOs are inspired by agendas coming from funding agencies abroad.
There is a partnership of suspicion that binds the three. Just as no prince is going to come on a horse to save people, the air of suspicion is not going to vanish overnight.
And yet, Gandhi sounds more and more like Arvind Kejriwal with every passing day. Mahatma Gandhi talked and dreamt of swaraj, Kejriwal wrote a book on it, and Gandhi talks of it in speech after speech.
Maybe he is on his way there, or it is only a posture. Maybe he will stop halfway to achieving what he promises... devolution of power to take power and right over resources to people. That would require Delhi to pack up its bags and let the state and district headquarters take over.
This is the option especially when Gandhi says no one can be blamed for what goes wrong. For, lack of accountability does not go well with keeping all the power in one's hands.