The success of the PSLV-C34 mission is a result of ISRO's professionalism and the hard work put in by their scientists over the last many decades, says Ajay Lele.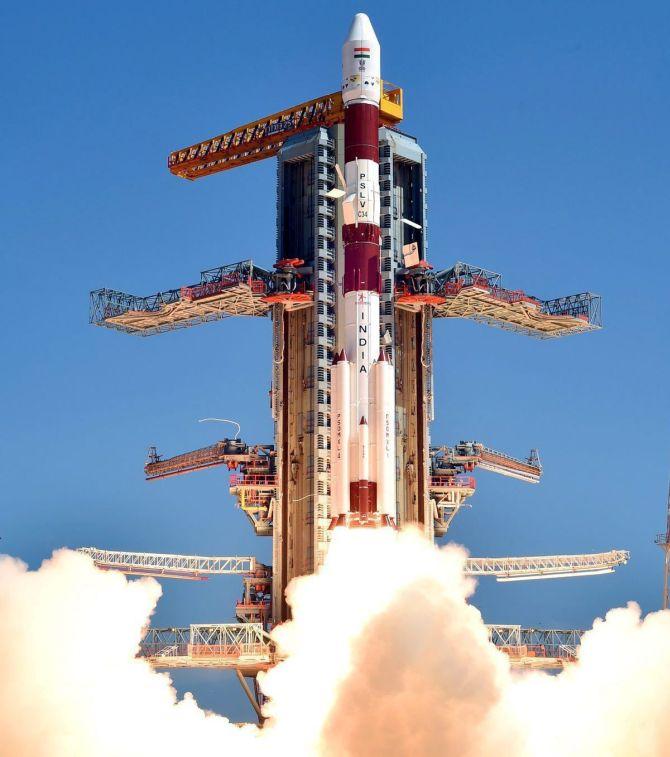 IMAGE: ISRO's PSLV-C34 lifts off successfully from the Satish Dhawan Space Centre, Sriharikota, in Andhra Pradesh on Wednesday. Photograph: PTI Photo.
On Wednesday, the Indian Space Research Organisation's most reliable workhorse, the Polar Satellite Launch Vehicle, successfully launched India's Cartosat-2 series satellite along with 19 other co-passengers into the desired orbit.
For PSLV, this was the 35th consecutive such mission. Over the years, the PSLV has assisted ISRO in fulfilling their various objectives by launching remote sensing satellites to lunar and Martian missions. Now, the PSLV has assisted ISRO in putting up 20 satellites in space.
The latest mission, PSLV-C34, had four important elements which need some elaboration.
First, for any rocket launcher to put so many satellites accurately in their desired orbits is a challenging task. The injection of so many satellites into the same orbit increases the complexity of such missions manifold. Some of these satellites were launched with a time gap of just a few seconds (even milliseconds) and with such proximity, there is always the possibility of a collision.
This mission had two phases: one operational and the other experimental. After the launch of all 20 satellites into the designated orbit, the experimental phase began. In this phase, the fourth stage (a rocket has four phases and when it reaches the fourth phase the satellites are released into the designated orbit) was switched off and switched on twice at different altitudes.
This was essentially done to check the feasibility of placing the satellites in multiple orbits during a single launch. ISRO has declared that this experiment has been successful. This indicates that in future, ISRO could undertake launching of satellites in different orbits in the same mission.
Another important aspect of this mission was its commercial face. Before this launch ISRO had launched 57 satellites for different countries in the world.
With this launch, the figure has reached 74. For all these years ISRO's clientele has been foreign nations. But with this launch, the base expanded to include private commercial concerns based in the United States, including Google subsidiary Terra Bella.
This indicates that ISRO is providing reliable and cost-effective options for satellite launches, which is testified by clients from the United States are opting for ISRO. However, India has to make much progress if it has to attract more customers in the future.
According to current estimates, India boasts of only about 4 per cent of the total share in the global satellite launch market. The basic limitation which India faces in this area is the non-availability of a rocket for launching heavy satellites.
At present, India can launch only small and medium satellites (say, which can carry a payload of less than two tonnes) into a low earth orbit.
India needs to quickly operationalise its GeoSynchronous Satellite Launch Vehicle programme which can carry four to six tonnes category of satellites into geostationary orbits.
This is because most of the communication and meteorological satellites belong in this category and India is, as yet, unable to make inroads into this market owing to non-availability of the launch vehicle.
Another interesting aspect of the latest mission is the launch of two nano satellites (Sathyabamasat and Swayam) for university/academic institutes. This is not the first time that ISRO has carried a payload for students who are keen to put satellites developed by them into space. In the past also ISRO has launched satellites like the Anna University satellite, StudSat-1 and Jugnu.
This essentially indicates that there is a significant amount of interest in the student community in India in the field of space science and space technologies and ISRO should be credited for encouraging the student community.
ISRO is also supporting a group of Indian space enthusiasts called Team Indus, the only Indian team in the Google Lunar XPRIZE competition, which is building a privately funded spacecraft capable of soft landing on the Moon by 2017.
ISRO is expected to provide launch facilities and other required ground infrastructure for this first privately funded space exploration mission ever.
All this essentially indicates that ISRO has a vision for encouraging students/professionals who have interest in space, and some of them could probably be India's future space leaders.
An important feature of the latest mission is the launch of a satellite called Cartosat-2C. ISRO has been launching Cartosat satellites since 2005. To date four satellites in this series have been launched.
According to ISRO, the images sent by these satellites are useful in various cartographic applications, urban and rural applications, coastal land use and regulation, utility management like road network monitoring, water distribution, creation of land use maps, precision study, change detection to bring out geographical and man-made features and various other land information system and geographical information system applications.
It is also important to note that these satellites are dual-purpose satellites and have significant strategic utility. The first satellite in this series was launched during 2005 with a resolution of around 2.5 metres. During the last decade, ISRO scientists have made significant technological progress and the Cartosat-2C is expected to have resolution of few centimetres.
An important feature of Cartosat-2C is the use of adaptive optics and acousto optical devices. This satellite has micro electro-mechanical systems and adoptive optics that offer a better visibility of objects on the ground.
Here, this optical system adopts to compensate for optical effects introduced by the medium between object and its image while acousto optical devices cater for the interaction between sound waves and light waves.
The success of the PSLV-C34 mission is a result of ISRO's professionalism and the hard work put in by their scientists over the last many decades.
This mission also indicates the expanse of India's space programme, one that caters to both civilian and strategic requirements. It is also a programme that has increasing commercial viability and encourages the younger generation by allowing them to make their dreams into reality.
Ajey Lele is a research fellow at the Institute for Defence Studies and Analyses, New Delhi. The views expressed are personal.