'And as we sit (or sleep) out the nightmare, there is feverish speculation about what the post-Corona world might look like,' mulls Hasan Suroor.
Illustration: Dominic Xavier/Rediff.com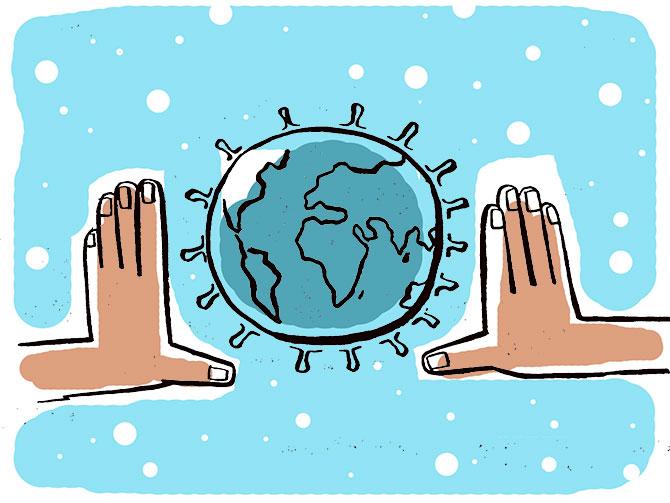 Hunkered down in our metaphorical bunkers to escape the C virus, the world is trapped in a time loop with each day appearing pretty much the same as yesterday.
Tomorrow holds no surprises.
As Tom Hanks, hosting a remote episode of NBC's Saturday Night Live show, said: 'There's no such thing as Saturdays anymore. It's just, every day is today.'
#whatdayisit went viral on social media after a Fox 8 News anchor Todd Meany created a morning show What Day Is It? in which he flicked pages of an old-fashioned calendar and flagged up the correct day of the week. He was deluged with 'thank you' messages from across America.
We're all stuck in Groundhog Day --like the perplexed protagonist of the 1990s eponymous Hollywood classic.
Except that while he and his world were fictional, we're living it in real life -- and real time.
And as we sit (or sleep) out the nightmare, there is feverish speculation about what the post-Corona world might look like.
What will be the 'new normal', once it's all behind us?
There's the widely held 'Kambaya view', which holds that having been 'in it together', even if not in the same measure, we will emerge from it more unified and with 'a renewed sense of unity, trust and determination', as The Times columnist Daniel Finkelstein wrote.
It has been called a 'moment of revelation and unification', a sort of cultural Enlightenment.
The media is awash with stories of extraordinary esprit de corps.
There appears to be a sudden outbreak of good behaviour: Old hatchets are being buried; rivals are becoming confidants; and normally fractious families are miraculously coming together to the beat of 'I see you in me, Me in you, You & I one and the same', a song which has gone viral on YouTube and been viewed half a million times.
Emma Duncan of The Economis wrote about an estranged couple on the verge of a divorce who were forced by the lockdown to prolong their mutual agony together.
After weeks of 'cooking, cleaning, reading and playing board games together' they are 'astonishingly' happy and could call off the divorce proceedings.
Never mind the spike in domestic violence, mental health issues, and racist attacks on Chinese immigrants.
Pollyannaism is the new currency: we are all Pollyannas now with a rose-tinted view of our shared experience and a belief in a bright post-Corona future.
We have persuaded ourselves that at least some of the community spirit generated by our shared incarceration will endure.
It has become a cliche to declare in the midst of a major crisis that the world will never be the same again.
And that once we emerge from this long, dark, tunnel blinking into sunlight we will be entering a new world transformed by our common experience.
Sociologists say our lifestyles, our daily habits, the way we interact with each other, and our sense of personal and environmental hygiene will have changed forever. We will become humbler, gentler, and friendlier.
Italian novelist Francesca Melandri has said: 'When all of this is over, the world won't be the same. Everything will be different: our societies, the global geopolitical power relationships, the role of capitalism... Not to mention the relationship that we, as a human species, have with the natural habitat and the planetary ecosystem.'
Well, hallelujah to all that.
Except that similar predictions made during previous crises -- after 9/11, after the 2008 financial crash and indeed going back in time after the Second World War -- spectacularly bombed.
9/11, we were told, would kill creative imagination, and henceforth writers, poets and artists will struggle to create works of great imagination. It didn't.
It was also meant to sound the death-knell of skyscrapers. It didn't. Not even in New York where 'trophy' towers are still all the rage.
The 2008 financial crash didn't significantly alter the behaviour of bankers; pretty much it remains business as usual.
The Second World War was meant to end all wars. It didn't.
To be sure some things do change after every crisis (the War spawned the welfare State; 9/11 fuelled Islamophobia; the 2008 banking crisis boosted State power) but mostly there's always a gradual return to the old normal, once the pressure is off.
According to behavioural experts, we behave differently in times of crisis and, once the pressure is off it's back to bad old habits.
And so we will, post-Corona. Don't believe the Pollyannas.
Production: Rajesh Alva/Rediff.com