'A pandemic like this will leave behind a trail of political, economic, social and psychological scars.'
Coronavirus is going to impact every being on earth even if they do not contract it.'
'Everyone will pay a price,' cautions Ramesh Menon.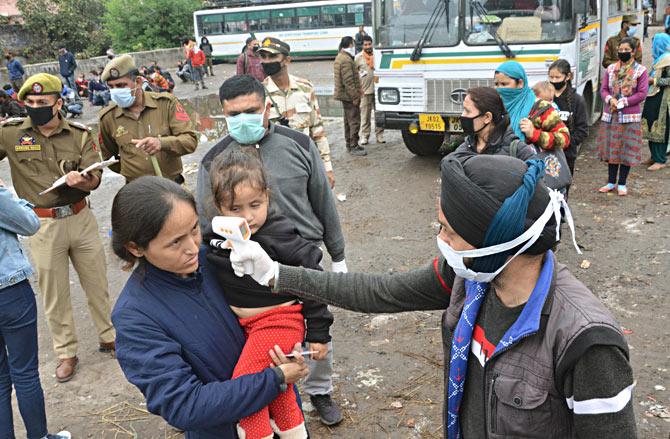 When the film, Contagion, was released in 2011, we dismissed it as fiction.
It dealt with how a virus spread so fast and decimated lives.
Today, it is the story of our times.
Already, thousands have died and many more psychologically maimed.
Imagine. 1.3 billion people locked within our homes.
Streets deserted.
Trains and flights not operating.
Shops and businesses shut.
Millions working out of home.
People learning to manage without household help.
There is fear everywhere.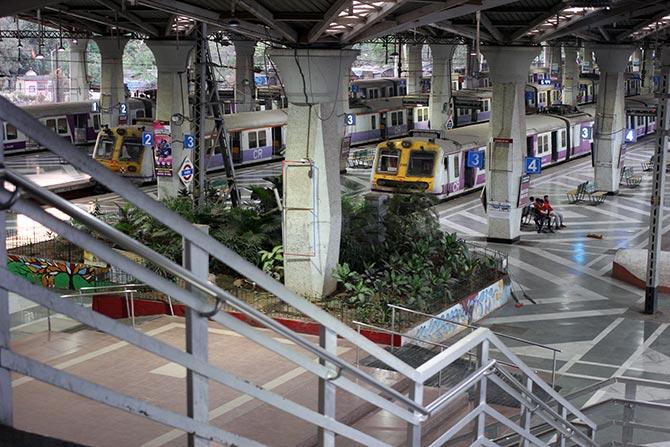 The unimaginable is happening.
Parliament has been shut.
Suburban trains in Mumbai ground to a halt that operates 2,342 trains ferrying over 7.5 million commuters.
Most Indian states went into a lockdown mode as the stealthy COVID-19 spread to various nooks of the country.
As the country steps into the dangerous terrain of Stage 3 where transmission happens through the community, India has gone into a complete lockdown.
That is the only way to break the chain and ensure that the daily rate of ascending cases slows down and ultimately grinds to a halt.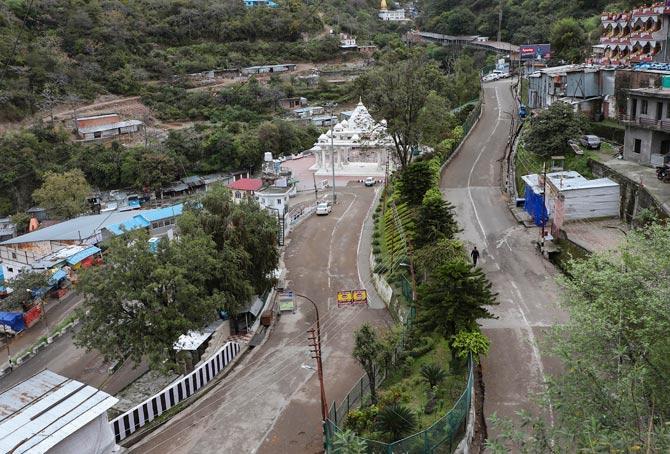 A complete lockdown is the only way because of the country's peculiar nature.
It is saddled with an inexplicable chalta hai attitude.
We saw it when numerous individuals who tested positive did not quarantine themselves but merrily moved around attending functions and weddings.
We saw it when thousands thronged the streets after the Janata Curfew call by Prime Minister Narendra Damodardas Modi.
They were dancing and celebrating throwing social distancing to the winds.
As if there was no tomorrow.
That day, many new cases must have been incubated.
We saw it when thousands who returned from countries that were severely affected, chose to not get tested or self quarantined. Some even attended weddings and parties.
Administrative and health officials in Punjab are desperately looking for over 40,000 NRIs who have entered the state after the pandemic blew up.
Tracking each of them and also all those they are in contact with is no easy task.
This is practically impossible as there is an acute shortage of staff especially now as there is a tremendous strain on both the administrative and health systems.
When the Kamal Nath government fell in Madhya Pradesh, there were huge crowds of BJP supporters making merry on the streets.
This, when the world was hurting with the pandemic.
It was followed by numerous photos of the new chief minister Shivraj Singh Chouhan with his supporters sticking to each other to get into the frame.
This is why India is peculiar.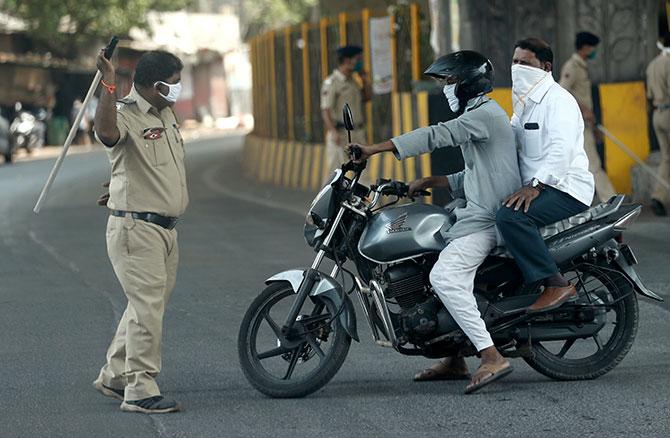 India's policy response to the pandemic has to be coherent and uniform.
It has to be very strictly enforced.
In Noida, Uttar Pradesh, cars are moving around despite the lockdown.
Only a punitive regime that takes them to task will work.
Some arrests have been made for defying the curfew and for evading tests.
But, not enough to discipline all of us.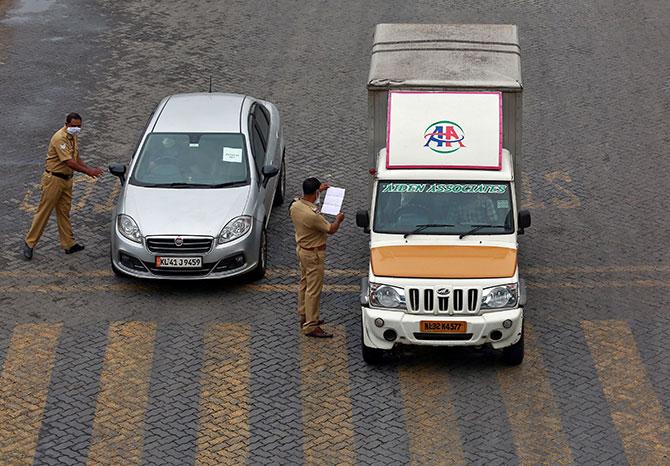 At the human level, we realised how frail we are.
A microscopic virus has held the world to ransom.
We may value our lives more holistically.
We may realise the magic of simplicity and minimalism.
Maybe, at the end of it, we may become more humble, more humane and less arrogant.
We may get a new lens to look at the world and ourselves.
Global fights and differences may look so puerile.
We suddenly saw how our differences of religion, caste, creed, and colour were so pointless.
The virus did not discriminate.
Isolation helped many of us look inward, something we never did as we raced down the road of life.
Self-realisation came automatically as danger knocked on the door.
Even the temples were empty.
Maybe, our lives will never be the same again.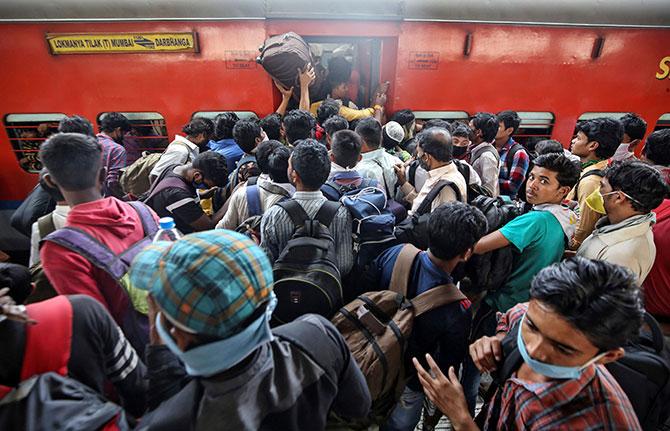 The challenges are huge.
The novel coronavirus pandemic is going to impact every being on earth even if they do not contract it.
Everyone will pay a price.
The poor will be hit the most.
The economy, which was tanking in India, will plummet further with the pressures of mounting losses due to the lockdown, job cuts and businesses struggling to get back on its feet.
Jamie Metzl, author of Hacking Darwin: Genetic Engineering and the Future of Humanity says we are never going to go back to normal and the need now is to focus on what we are going to do to make the new normal a good one.
That makes sense.
A pandemic like this will leave behind a trail of political, economic, social and psychological scars.
Some of them are going to fester for long.
There has to be a new preparedness, a new visionary leadership the will pull us out with minimum collateral damage.
One has yet to see any signs of it anywhere in the world.
The last time the world rattled was in 2001 when terrorists flew airplanes into the towers of the World Trade Center in New York.
We saw how that changed the world forever.
Thousands died in events that tapered off from that event.
Millions were maimed physically and emotionally.
This pandemic will have greater spiraling effects than the 2001 attack as 170 countries look at the prospect of struggling with emerging geopolitical implications.
International Monetary Fund chief Kristalina Georgieva has warned that the global recession in the wake of the pandemic would be worse than 2009.
Be ready.
We are currently seeing how no country or institution is equipped to deal with the crisis or has easy solutions.
All are trying to fathom some meaning with a trial and error method.
The economy and healthcare are surviving on a fragile survival system and will compound the crisis in India.
Healthcare in most states is poor.
Bihar has only one government hospital bed for a lakh of its people.
Scary.
The only exception is Kerala.
This is why when the Nipah virus broke out, it had the wherewithal to contain it within the state.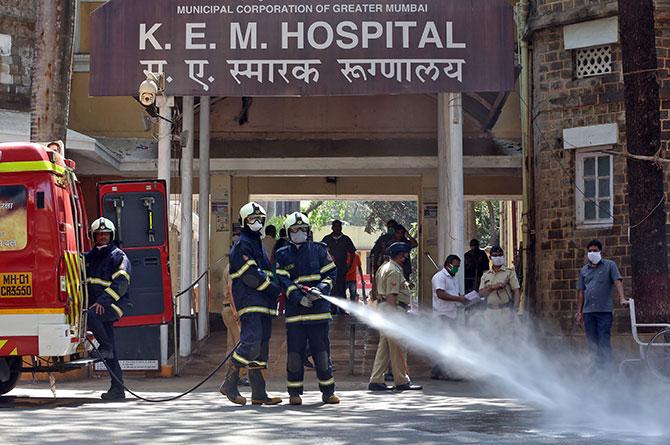 Our lifestyles have to change.
Our value systems need to be examined.
Our political beliefs and our political culture need to change.
We need to inclusively engage our people to shoulder the shocks that are threatening to arrive sooner than later.
Each one of us has become a victim in some way or the other.
As the psychological shocks will continue, we need to be there for each other with a new sense of empathy and belonging.
Many who live alone feel very isolated and fragile.
Even others are seeing anxiety disorders as they do not know what is going to happen tomorrow.
Panic attacks, depression, and post-traumatic stress disorder will add to the health emergency.
It is not going to be easy.
There is no choice but, we have to fight back and steer ourselves out of this mess.
---
Ramesh Menon is an author, journalist, film-maker and corporate trainer,