With Jaya in hospital, the cadres see O Panneerselvam as the natural choice for a stand-in, not just because he had been 'interim' CM twice in the past.
In their eyes, he is Jaya's acknowledged and authorised number 2, repeatedly reiterated by her in word and action, and by extension for AIADMK legislators, says N Sathiya Moorthy.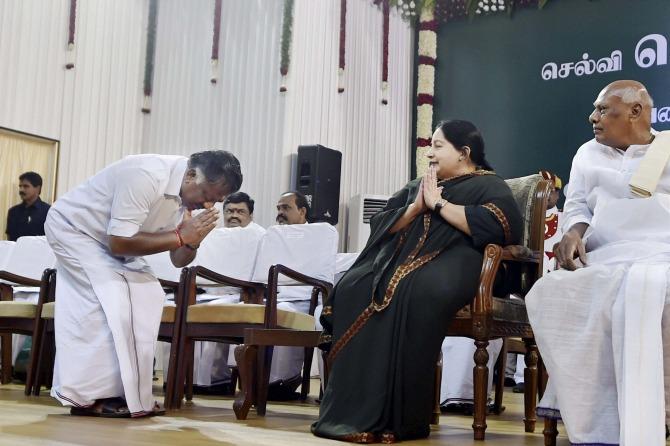 IMAGE: Finance Minister leader O Panneerselvam greets AIADMK supremo J Jayalalithaa at the swearing-in ceremony at Madras University Centenary Auditorium in Chennai on May 23, 2016. Photograph: R Senthil Kumar/PTI Photo.
For the third time in a row, southern Tamil Nadu's very own chaiwallah turned politician in the All India Anna Dravida Munnetra Kazhagam, Finance Minister O P Panneerselvam, or OPS as he is known, has risen to the occasion -- this time when his leader and chief minister, Jayalalithaa, has been hospitalised for a 'longer term' than originally anticipated.
Unlike the previous two occasions when he was 'interim' chief minister when 'Amma' was incapacitated by court orders, including a jail term in the second instance, OPS will only be holding charge of the portfolios under her care. That includes home and central services, including IAS and IPS.
As per a Raj Bhavan Press release, issued by (acting) Governor Ch Vidyasagar Rao, Panneerselvam will also chair Cabinet meetings, until Jayalalithaa's health permits her to take full charge of her chief ministerial duties, whether from hospital or home.
Even more importantly, the Raj Bhavan release ends all speculation about the possibilities of the governor appointing an 'acting' chief minister or deputy chief minister, to carry on with the work of governance under the constitutionally-mandated Cabinet format.
It's another matter that the Constitution does not recognise either an 'interim' or 'acting' chief minister, or even a 'deputy chief minister', by whatever name or designation called. Either there is a chief minister, or not.
It's thus that the Raj Bhavan release very clearly clarified that Jayalalithaa continued to be the chief minister, and will remain so.
The Raj Bhavan release has helped end all rumours and speculation, especially in this era of unstoppable media activity, about the possibilities in this regard.
As the state police has found over the past fortnight and more, filing cyber-crime charges, punishable with three years imprisonment, has not ended unfounded social media rumours about Jayalalithaa's health.
The greater the clarity that the periodic -- if not necessarily daily -- Jaya health bulletins from the Apollo Hospitals have acquired, even more varied have been the rumours.
In turn, these rumours and other motivated and not-so-motivated speculation, in private and public space, had the potential to demoralise ruling AIADMK cadres, whose numbers are legion, and also stall governmental work at lower levels, without anyone's say-so.
The current clarity on the Raj Bhavan's part also means that the governor, in whose name the government functions and who under the Constitution can act only on the 'aid and advice of a council of ministers', has a functional Cabinet to whatever extent possible.
It's becoming increasingly clear that the governor, acting also as the eyes and ears of the Centre in situations such as this, did not rush to any hasty decision, as if he were acting in the short, medium and long term political interests, if any, of the ruling dispensation in Delhi. In political terms, it's a masterstroke by the BJP leadership of the ruling NDA at the Centre.
Instead, it's the avoidable rumours, including possible indications to the contrary to AIADMK grassroots-level cadres, that an alternative situation may be emerging that had necessitated the Raj Bhavan decision, and more so its timing. It could not have waited more.
As may be recalled, the Election Commission had countermanded assembly elections in Thanjavur and Aravakurichchi constituencies when the rest of the state went to the polls on May 16, citing rampant and proven 'corrupt practices' as the reason.
The more recent rumours ahead of the Raj Bhavan notification had included specific names as a possible AIADMK candidate for the Thanjavur constituency in particular, and thus be a ready-made, or ready-to-be made 'acting' chief minister.
In a way, the Raj Bhavan communiqué also underscores the constitutional provision that has tied down the governor's hands in such matters, by implying that he did not have the powers to select a leader for what is at all times an 'elected' post.
In doing so, the governor has been careful to go by what has been the chief minister's 'advice' in the matter. Whether such 'advice' between the governor and his chief minister could be a subject matter for adjudication, however, is unclear.
For now, however, the current processes have been strengthened by the first bench of the Madras high court, under Chief Justice S K Kaul, dismissing as 'publicity interest litigation', in what otherwise is a PIL on Jaya's health-related matters and other constitutional issues, filed by 'Traffic' K Ramaswamy, an activist known for his untiring court battles with authorities at all levels.
There is also a precedent in Tamil Nadu itself, where then Governor S L Khurana had to name senior Minister V R Nedunchezhiyan to chair Cabinet meetings, and hold additional charge of portfolios under Chief Minister M G Ramachandran, when the latter went overseas for medical treatment.
The governor had only Nedunchezhiyan's word for it, supported by 'witness' letters of the kind by the then chief secretary and the CM's secretary, both top bureaucrats in the state.
In the present case, however, the Raj Bhavan has not yet clarified if there was any documentation. However, it's known that CM Jaya was chairing a late-evening official meeting in her Poes Garden residence on September 22 when she took ill and had to be rushed to Apollo Hospitals.
There is thus evidence that senior officials were present on hand at the time, though what transpired in those moments cannot be in the realm of mainline media or social media speculation and discourse.
It may be covered by the objectivity of the state's functionality, and not the subjectivity of speculation and maybe even adjudication -- though no precedent seems to exist, in either case.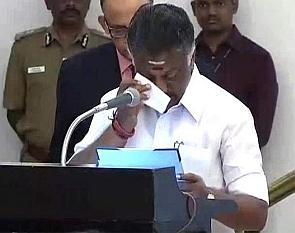 In a way, it's not Panneerselvam's past experience as chief minister twice that has led to his being named to chair Cabinet meetings and also hold additional charge of portfolios under CM Jaya's care until she returns to normalcy.
It may have given him additional exposure to the administrative machinery than any other in this government -- from among whom alone one could have been named to chair Cabinet meetings, etc.
But OPS is still the second-highest ranking minister in the Jaya Cabinet, as has been with the previous ones since 2001, as per the government's Business Rules and Warrant of Precedence.
That Pannerselvam is also the finance minister, and has been holding the all-important portfolio, apart from being the leader of the house in the state assembly, as over Jaya's past innings, have only added to his stature and ready acceptance by the state's highly politicised officialdom.
With Jaya in hospital, the cadres also see OPS as the natural choice for a stand-in, not because he had been 'interim' CM twice in the past. In their eyes, he is Jaya's acknowledged and authorised number 2, repeatedly reiterated by her in word and action, and by extension for AIADMK legislators, whatever be the speculation otherwise.
N Sathiya Moorthy, veteran journalist and political analyst, is Director, Observer Research Foundation, Chennai Chapter.