'The more emphatic denial of any proposal for an OIC foreign ministers meet in Islamabad appears aimed at keeping Pakistan on a leash,' notes Lieutenant General Syed Ata Hasnain (retd).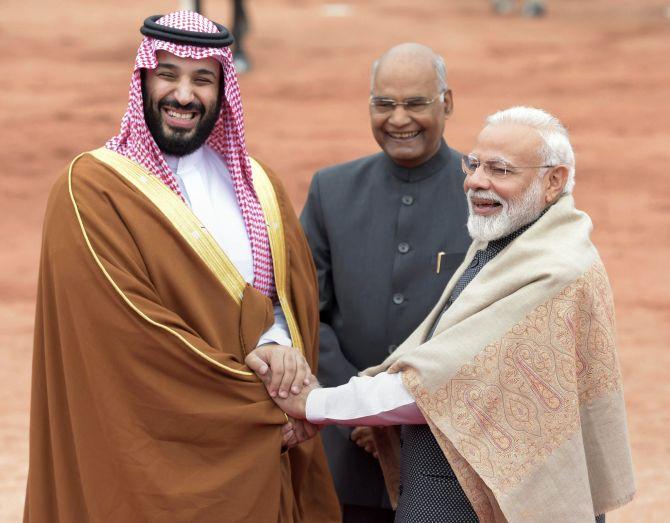 At the end of December 2019, there was much hype in Pakistan about a potential Organisation of Islamic Cooperation meeting of foreign ministers in Islamabad in April 2020. It was supposed to be an event in which Kashmir would be one of the main items on the agenda, thus progressing Pakistan's core ambition of internationalising Kashmir; it would have been a decided diplomatic coup after India had largely staved off the Islamic world from any statements on Kashmir.
The proposed meeting was rumoured to be a sequel to Saudi Foreign Minister Faisal bin Farhan Al-Saud's rushed visit to Islamabad on December 26, 2019 essentially to thank Pakistan for having pulled out of the Kuala Lumpur summit of Islamic nations.
Now it has been made known that no such OIC conference is in the offing in Islamabad. So what is this game being played within the Islamic world?
Behind this flip flop are the dynamics of competition for power between important nations which form part of the 1.8 billion Muslim population of the world; a Great Game of sorts.
Essentially it is about six nations -- Indonesia, Malaysia, Turkey, Iran, Saudi Arabia and Pakistan. A seventh should have been Egypt which earlier under presidents Gamel Abdel Nasser and Anwar Sadat had assumed a leadership role which could not be sustained after the Camp David Accords in 1978.
Of these six nations, Indonesia is the most populous Muslim nation. Two factors seem to militate against its potential leadership role.
First is that its Islam is an evolved one, much more syncretic and secular. Second is that geographically it is too far distanced from the symbolic core centre of Islam, the holy shrines of Mecca and Medina. Indonesia may improve its economic strength in the future but will yet likely remain outside Islam's strategic circle.
With Mohammad Mahathir's return as Malaysia's prime minister there is a spurt in Malaysia's ambition. It has a 62 percent Muslim population of a total of 32 million people and a comparatively better developed economy with a reasonable level of technical manpower. Although it too is geographically far placed from West Asia aspirationally it feels it needs to play a more important leadership role in the world of Islam.
Turkey, which first turned its back on West Asia and the Arab world as a legacy of its iconic leader Kemal Ataturk and sought to be a part of Europe, is now turning its back on the latter. Under its leader Recep Tayyip Erdogan, Turkey has adopted revivalism with a shift towards greater Islamist ideology.
As a nation of 81 million almost wholly Muslim population and a history of leadership delivered through the Ottomans it is powerful enough to re-invent itself to play a more active role in the Islamic world once again.
Currently, it is Saudi Arabia, which by virtue of two major factors, has dominated the proceedings. First is the emotional advantage of custodianship of the holy shrines at Mecca and Medina; the second is the wealth that it enjoys by virtue of its energy resources.
Saudi Arabia hosts the OIC secretariat in Jeddah and plays a leading role in the organisation. The OIC's mission statement bills it as the collective voice of the Muslim world that works to protect the latter.
With 57 member States from four continents, the OIC is the second largest intergovernmental organisation in the world after the United Nations. Iran is a member of the OIC, but being a Shia nation, the sectarian divide within Islam prevents it playing the role it seeks.
The sixth nation of significance is Pakistan which has always attempted to gain significance although its impoverished economy dilutes its higher political importance within the OIC. In order to pursue a dominant role, Pakistan has always maintained a special relationship with Saudi Arabia through support to the royal family and in recent years in hosting and promoting its obscurantist ideology.
The Saudi-Iran ideological tussle has brought a level of turbulence within the OIC. Iran may pursue a greater role towards assuming the mantle of leadership, but for sectarian reasons this may not fructify.
Yet, it continues to support the one identified pan Islamic cause more energetically than any other nation; the cause of the Palestinians. That gives it a higher moral platform.
To further complicate the dynamics, diluting Saudi power due to economic factors is now leading to other major Islamic powers vying for a more significant role. The most prominent are Turkey and Malaysia.
This is the backdrop to the decision of both nations joining hands in setting up an Islamic summit in Kuala Lumpur outside the ambit of the OIC with Pakistan, Indonesia and Iran among the important Islamic nations also persuaded to attend the same.
Stung by the first overtly visible political and diplomatic effort to upend its leadership, Saudi Arabia used its diplomatic clout to prevail upon Indonesia and Pakistan to pull out of the summit in December.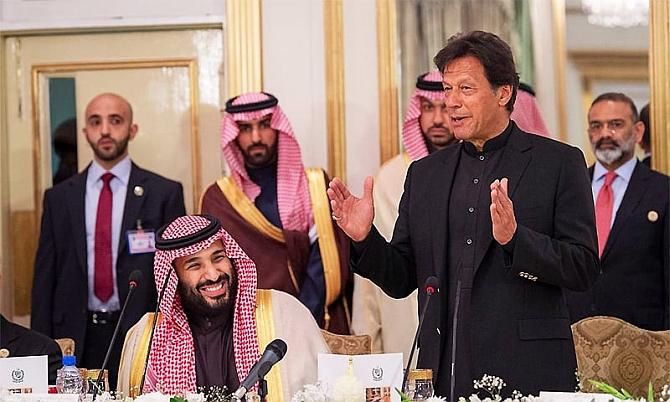 The Saudi-Pakistan special relationship in recent times has seen the Saudis economically bail out Pakistan from the depths of a serious economic crisis Pakistan seems to find no answers to.
The Saudi foreign minister's rushed visit to Islamabad was a kneejerk response by Saudi Arabia and the rumoured promise of holding an OIC foreign ministers meeting in Islamabad in April with Kashmir on the agenda too was perhaps an act of desperation not thought through.
Saudi Arabia under Prince Mohammad bin Salman is viewing its future far more pragmatically while evolving plans for 2032 as the cut off year by when an economy independent of dwindling energy resources is aimed to be built.
For that it needs engagement with both China and India who are major buyers of its energy resources, without exclusion of either of them.
For over half a decade it has displayed all the ingredients of developing stronger bonds with India and thus took a decidedly neutral view on Kashmir, terming it India's internal issue. Yet it needs Pakistan for support within the Islamic world.
Thus, a dilemma of sorts exists for the Saudis forcing them to tread a careful path. The decided advantage that the Saudis have is that financially no other country can bail out Pakistan and support to it is also viewed positively by the US for its Afghanistan strategy and by China which too chips in to economically support and exploit Pakistan.
Pakistan Prime Minister Imran Khan's recent visit to Kuala Lumpur to make up for his absence at the December 2019 Islamic Summit would surely have had Saudi Arabia's nod. However, the more emphatic denial of any proposal for an OIC foreign ministers meet in Islamabad appears aimed at keeping Pakistan on a leash lest the unpredictable dynamics at such an event turn the tide against Saudi interests.
For India, this as a positive turn and augurs well towards building upon the obvious value that Saudi Arabia and other Gulf nations such as the United Arab Emirates and Oman attach to their Indian relationship.
Opportunities such as the unfortunate passing away of Sultan Qaboos of Oman, a long time well-wisher of India, must be used to express empathy. By not sending a leader of appropriate status for his funeral, such an opportunity was lost besides displaying a lack of sensitivity towards mutual interests.
The Islamic Great Game is unlikely to find any winners for long. In the bargain, Pakistan will find opportunity to exploit situations to embarrass India for which India needs to be diplomatically prepared at all times.
We have not witnessed the end of Pakistani efforts at internationalising Kashmir.
---
Lieutenant General Syed Ata Hasnain (retd) -- former general officer commanding of the 15 Corps in the Kashmir valley -- is one of India's most astute commentators on strategic affairs.