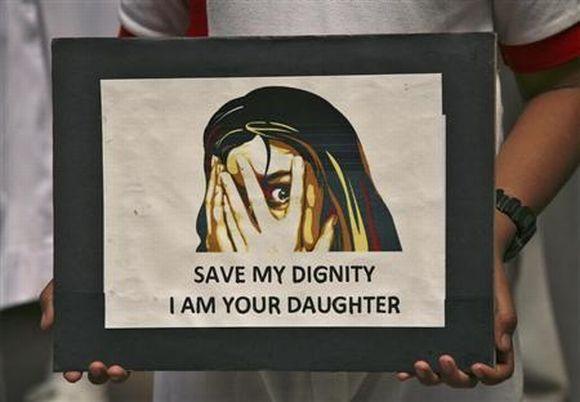 I have outraged too much in the past like many others, which hasn't gotten us anywhere. Rapes have merely become statistics in our country, best meant for research reports and discussions at conferences, says Devanik Saha.

Kerala is filled with grief over the brutal rape and murder of Jisha, a 30-year-old law student, with the post-mortem report revealing that her intestines had been taken out with a sharp object -- bringing back horrific memories of the Nirbhaya gang-rape incident in Delhi in December 2012, which stunned the nation.
Though probably similar in brutality, the intensity of fury in the Kerala case is definitely not the same as in Nirbhaya's, with many social media users questioning the silence of the same nation which had stood up for Nirbhaya so vociferously. Many of them had the same questions: Why hasn't Jisha's death sparked equal outrage as Nirbhaya's? Have we as a society lost our moral conscience? Why is this news not trending on mainstream media?
Despite being a staunch advocate of women rights and justice, honestly, over the years, my outrage against rapes has almost become dead. Hearing about rapes doesn't evoke emotions anymore probably because I have outraged too much in the past like many others, which hasn't gotten us anywhere. Rapes have merely become statistics in our country, best meant for research reports and discussions at conferences.
To me, it's a fixed chain of events, albeit selective events. Most rapes are just confined to small paragraphs on page 9-10 of newspapers.
Rape is reported. Nation duly outrages. Politicians take potshots at each other. The accused is nabbed. Prime time debates for days. Media attention diminishes. Trial goes on for years. Victims hardly get justice (very few are lucky to). Either the victims withdraw the case citing family honour, or the accused is let out on bail. Repeat, back to step one.
It is similar to what journalist Chitra Subramaniam describes in her essay 'You have a problem, I have a committee'. It was part of a book (published in 2012) which was a collection of essays by Chameli Devi Jain awardees. In her intriguing essay, she mentions that how raising a question in India leads to the formation of a committee and two sub-committees spying on each other.
At the time of writing this article, I had just finished watching an episode of Crime Patrol on Sony. It focused on the case of a five year old girl who was raped brutally in 2013, got media attention and help from the state government which provided her a shelter for recuperation. The programme revealed that once the media attention and national sympathy fizzled out, the shelter support by the government authorities was withdrawn.
The case is just a reminder of the stark reality of how administrative systems function in our country, and which have failed rape victims time and again.
Overburdened and understaffed judiciary: The Chief Justice of India's breaking down in front of the prime minister last month was given due importance. He was not wrong in what he said, the statistics do portray a grim picture. India has only 17 judges per million, as against the recommended 50 judges per million. It faces a 23 per cent deficit of judges across all courts in India and two million cases await trial for more than a decade, according to an analysis by IndiaSpend. After every rape case, which attracts national attention, prime time debates discussing the need for judicial reforms run for weeks, promises are made by politicians to do "something", but after a few weeks we are back to square one.
Police apathy: It is often said that in India, the trauma of a victim post the rape is actually more than what she suffered during the rape itself. There are many instances where the police mock, ridicule the victim and refuse to file FIRs against the accused. Recently, a woman from Manipur was molested and thrashed by three men in Mumbai; the police filed a cross-FIR against the woman for hitting back at her assailants and locked her up in jail. Throughout India, police officials continue to act with brazenness and are extremely insensitive in handling rape/sexual assault cases. They only act when either the media intervenes, or the victim somehow manages to get senior-level officials involved and that, too, if she belongs to an affluent family with her father having some influence.
Rape crisis centres: In July 2014, the Centre had announced that it would setup 660 rape crisis centers -- one in each district and 20 in metros. However, last year, it downsized the programme and decided that it will open only 36 centres, with locations to be decided by the states and Union territories. Such a huge downsizing clearly outlines the lack of seriousness with which the government treats rape cases. The Nirbhaya fund launched in 2013, and which has been allocated Rs 1000 crores each year, lies almost unutilised barring a few small projects.
Furthermore, the comments on rape by our politicians cutting across party lines keep reminding us about their lack of sensitivity towards rape. Some of the gems are:
"Boys are boys, they make mistakes", "Rape is a social crime which depends on the man and the woman", "It is sometimes right and sometimes wrong", "Women should not venture out with men who are not relatives" and "Rapes are on the rise because men and women interact with each other more freely now".
We are a unique nation where consensual sex between two teenagers below 18 years of age is considered rape, but a husband raping his wife is permissible by law unless she is less than 15 years old.
We are a unique nation where a godman accused of rape still finds million of followers.
We are a unique nation where we rephrase Virat Kohli's century against Pakistan as Kohli 'raped' Pakistan.
We are a unique nation which has an inherent instinct to blame the victim for the rape and equate it to losing her honour.
As people on social media trend #JusticeForJisha, the most important question is, will anything happen apart from the fixed chain of events mentioned above?
Bhanwari Devi. Nirbhaya. Delta Meghwal. Jisha…
The list will just keep on growing, so enough is enough. Let's not waste our time outraging. We have better things to do.
The next IPL match is at 4 pm today, in case you have forgotten.