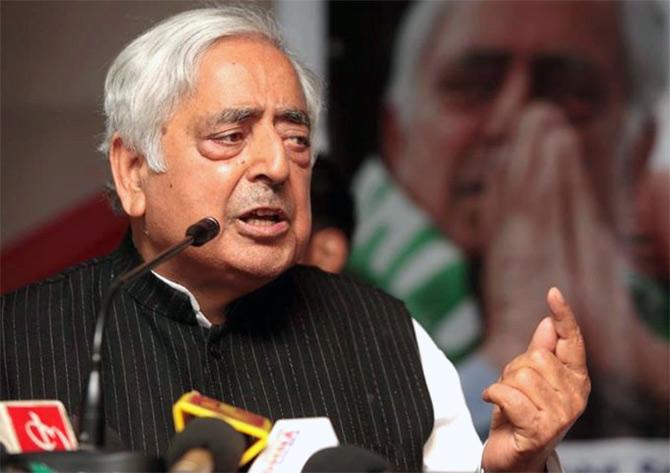 'Mufti's political graph shows his fondness for courting unpopular, politically hazardous ventures in pursuit of his ultimate objective to vindicate his leadership.'
'Towards the end of his life, Mufti's public profile had come to assume the dimensions of statesmanship. One reason being his willingness to learn from his experience,' says Mohammad Sayeed Malik.
Mufti Mohammad Sayeed's deep understanding of the delicate nuances of the internal dimension of India's festering Kashmir problem stood him out in the crowd of his contemporaries.
That is what impelled him to court the hazardous course of redrawing battle lines on his home turf towards the fag end of his nearly half a century-long political career.
Now it is his daughter and successor, Mehbooba Mufti, whose political future hangs on what she makes of her father's unfinished legacy -- running an ideologically incompatible Peoples Democratic Party-Bharatiya Janata Party coalition. More importantly, without hurting her own party's popular base in the Muslim-majority Kashmir Valley.
Mufti's overarching persona had so far held the creaky coalition in the balance, braving odds of all kind -- ideological, political and administrative. His father-figure image acted as sort of an auto-correct device.
His line was that regional, ethnic and communal fault lines among the three regions of J&K -- Kashmir, Jammu and Ladakh -- were a big hurdle in grappling with the larger Kashmir problem at the (India-Pakistan) bilateral level.
Nine or ten months were too short a period to assess the efficacy of Mufti's unconventional idea. If anything, the coalition's initial teething troubles dominated the perception of its public image, to Mufti's disadvantage. However, his astute leadership and self-confidence egged him on to stay his course until he breathed his last, battling a fatal multi-organ infection.
Mufti's political graph shows his fondness for courting such unpopular, politically hazardous, venture in pursuit of his ultimate objective to vindicate his leadership. He became active in state politics from the 1960s, but his profile came to be noticed a decade or so later in the 1970s.
Indira Gandhi was the first to notice fire in Mufti's belly. She put the reins of her Congress party in J&K in Mufti's hands, side-stepping his senior Syed Mir Qasim at a crucial time while reinstalling Sheikh Abdullah in 1975, following the Kashmir Accord.
Sheikh Abdullah was an unforgiving opponent and nursed a deep grudge against the Congress leadership for having him pushed into a 23-year wilderness and extracted a heavy price for his restoration in power.
Mufti did not disappoint Indira Gandhi and plunged into unequal combat, steadily nibbling at the grassroots. He proved his excellent grassroots skill which eventually became his hallmark, of course, with Indira Gandhi's full backing. Even today Congress cadres in J&K fondly recall Mufti's leadership. The Congress became a reckonable entity in J&K under Mufti's leadership.
Rajiv Gandhi, unlike his mother, sought to marginalise Mufti to make way for the return of the Abdullah dynasty and Farooq Abdullah. Mufti could not take it for long and walked out of the Congress which he had laboured hard to consolidate in his home state.
The changeover offered Mufti opportunity and he acquired a higher, national-level projection with his appointment as India's first Muslim home minister in V P Singh's United Front government.
As was his wont, Mufti enlarged his vision by familiarising himself with the multi-dimensional national perspective of the Kashmir problem. It was at this stage that he perceived the crucial nuances of the internal dimension of this problem. He re-aligned his role in pursuit of his amplified vision and shifted focus from the narrow to a wider perspective. Tackling the unattended internal dimension of the larger Kashmir problem became a priority.
Creation of the PDP in 1999 became its most visible manifestation. The PDP's tie-up with the Congress in 2002 was a significant development in J&K politics for more than one reason.
The Abdullah dynasty-led National Conference virtually monopolised J&K politics mainly because of its unchallenged position on the ground in the Kashmir Valley.
Mufti's fledgling PDP succeeded in projecting itself as a viable alternative to the National Conference in the 2002 assembly polls, bagging 16 of the Valley's 44 seats in its maiden appearance.
For the first time since 1977 the National Conference found itself left high and dry with both the Abdullah dynasty candidates, Omar Abdullah and his uncle Mustafa Kamal, biting the dust.
The Sonia Gandhi-led Congress persuaded itself to go with Mufti overlooking his immediate past and reversing the course Rajiv Gandhi had set way back in the 1980s. This short-lived arrangement of 2002, however, collapsed in less than five years as the dormant contradictions inherent within the internal dimension of the Kashmir problem showed up over the Amarnath land row.
Mufti would not, however, give up.
That his brainchild, the PDP, was no flash in the pan was proved in the 2009 assembly polls when the Mufti-led party emerged as the only gainer (compared to the 2002 outcome) harvesting 21 seats. The ensuing six-year tenure of the National Conference-Congress coalition under Omar Abdullah ended up ignominiously at the 2015 polls with the PDP emerging at the head of the race, bagging 28 seats compared to the National Conference's measly 16.
Infructuous poll arithmetic, however, posed the toughest political challenge to the PDP. Yet again, Mufti found himself face to face with a serious dilemma --ideological as much as political. Virtually it boiled down to making halal what till then was recognised as politically haram -- a PDP-BJP coalition.
Unlike others, Mufti sensed an opportunity. According to him, here was an opening to join forces to grapple with regional, ethnic and communal tension within the state. It was perhaps more a gamble than a calculated risk but in Mufti's calculation, worth a try.
His argument was that so long as the internal dimension were left hanging fire, the larger Kashmir dispute between India and Pakistan would remain irresolvable.
His consistent advocacy of Indo-Pakistan amity was a part of this very mindset. He remained confident about efficacy of his thinking till the last.
This particular feature of his public profile marks him out in the crowd.
Having personally known Mufti and watched him from close quarters for half a century, at times his political audacity appeared baffling to me. He was not an outgoing public figure like his flamboyant contemporary Farooq Abdullah. Many mistook him to be unduly introvert. But not his grassroots party workers.
Administratively, Mufti fared far better than the Abdullahs. He was generally acknowledged to be ahead also in the quality of governance.
Personally, he was warm as a friend -- always prepared to yield space for mutual differences over men and matters. Defeat or setback, he would take it in stride and never let it demoralise him.
I have seen him accepting his successive electoral defeats in the early stage of his emergence on the leadership plane in good humour. Often, he would cut a joke at his own expense.
Unlike most of his contemporaries across the board, Mufti had a remarkable capacity to adjust his personal and family life under most trying conditions. I have seen him living contented in ramshackle dingy houses after being evicted from government accommodation by rivals in power.
His flexibility in adjustment with his environment was something to be seen, though not so when it came to his political life where his instinct led him to revolt and combat.
Towards the end of his life, Mufti's public profile had come to assume the dimensions of statesmanship. One reason being his willingness to learn from his experience. Unlike his contemporaries in J&K, Mufti tried hard to maintain a respectable distance between political differences and social relationships.
Unaggressive by temperament, he had close friends across the board.