'By the time he came out after nearly five hours, he had a one-to-one conversation with the President, a delegation-level meeting, a reception, a dinner, a tour of the White House and a joint statement of a kind none of his predecessors ever had,' says Ambassador T P Sreenivasan.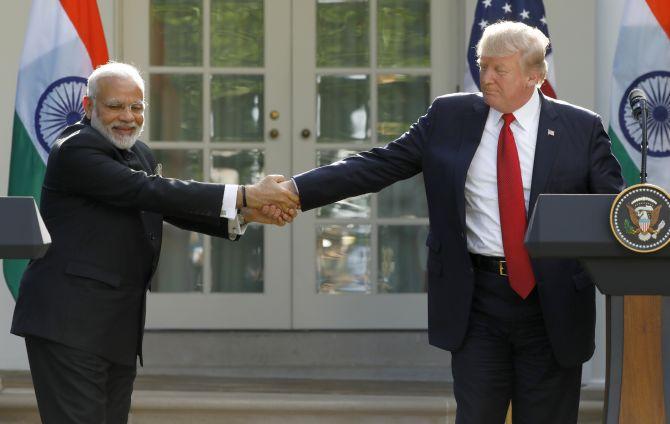 Prime Minister Narendra Modi could easily whisper to himself as he boarded his Air India flight to Amsterdam after his Washington visit, like Julius Caesar did, 'veni, vidi, vici (I came, I saw, I conquered).'
Such was the swift and decisive victory he had in the White House, much against the views articulated by the sceptics, doubting Thomases and prophets of doom.
No other visitor to President Trump's White House had gone back home unscathed because of Mr Trump's unpredictability and idiosyncrasies.
Mr Modi not only had a red carpet rolled out for him on the White House lawn, but also had Mrs Melanie Trump waiting with her husband for his arrival.
As soon as he arrived, Mr Modi started a pleasant conversation with the Trumps like a long lost friend before he was ushered in.
By the time he came out after nearly five hours, he had a one-to-one conversation with the President, a delegation level meeting, a reception, a dinner, a tour of the residential areas of the White House and a joint statement of a kind none of his predecessors ever had.
It was almost a dream come true for him and India. He also managed to hug the unsuspecting President not once, but twice.
The reason for this happy turn of events was not a sudden change of heart of the mercurial Mr Trump or Mr Modi's irresistible charisma, but a cold calculation that there was scope for a cool trade-off between his desire to nail Pakistan and China and Mr Trump's wish to make America great again through creation of jobs.
Mr Modi knew that the way to Mr Trump's heart was through a few arms deals and quietly placed an order for $2 billion worth of drones and made it known that F-16s would be co-produced by the Tatas and that Spicejet was in the process of buying more than a hundred Boeing planes.
Mr Trump quickly realised that what he was getting was hard cash and jobs while what he had to offer in exchange was mere words, which would make no difference on the ground.
So he tested the waters with categorising the Hizbul Mujahideen chief as a global terrorist, much to the ecstasy of the Indian press as well as Mr Modi himself.
In the White House, further concessions were made by listing Pakistani terrorist outfits together with IS and Al Qaeda, which should be combatted jointly by India and the US.
They urged that Pakistani soil should not be used for launching terrorist attacks and that culprits of the attacks in Mumbai, Pathankot and Uri should be brought to book.
It cost nothing for Mr Trump to do this, as there was no guarantee that any joint operations would be launched.
But for Mr Modi, it was a triumph, never savored by any Indian prime minister before him.
He declared that one man's 'Make in India' was another man's 'Make America Great Again'.
The sound of firing from the India-Pakistan border and the noise of a scuffle between Indian and Chinese soldiers in the Himalayan heights reverberated in the ornate halls of the White House to help the great India-America trade-off.
Clearly, the bilateral mechanism established for combating terrorism is pregnant with possibilities, which include sharing of intelligence, training and actual engagement in the event of a threat in either of the two countries.
The practical application of the principles established will go a long way in deterring potential terrorists, particularly radical Islamic terrorists.
On the China front, what Mr Modi was demanding was not any concrete action, but a formulation of words that would gladden Indian hearts, without even mentioning China by name.
The two leaders simply agreed to take further measures to strengthen their partnership in the Asia-Pacific region in the hope of intimidating China.
They expressed concern about rising tensions over maritime territorial disputes, and affirmed the importance of safeguarding maritime security and ensuring freedom of navigation and over flight throughout the region, especially in the South China Sea, the whole of which is claimed by China.
The leaders called on all parties to avoid the use, or threat of use, of force in advancing their claims.
They urged the concerned parties to pursue resolution of their territorial and maritime disputes through all peaceful means, in accordance with universally recognised principles of international law, including the United Nations Convention on the Law of the Sea.
None of these would make any difference to China or rule out separate deals between China and the United States!
On realising that there has been no nuclear trade between India and the US ever since the nuclear deal was sealed and delivered in 2008, the US and India reaffirmed their commitment to implement fully the US-India civil nuclear cooperation agreement and even established a Contact Group on advancing the implementation of civil nuclear energy cooperation in order to realise early their shared goal of delivering electricity from US-built nuclear power plants in India.
This would only amount to hold a dialogue to discuss all implementation issues, including but not limited to administrative issues, liability, technical issues, and licensing to facilitate the establishment of nuclear parks, including power plants with Westinghouse, a company which has declared bankruptcy, and GE-Hitachi technology.
Though one of them had withdrawn from the Paris Agreement and the other had signed it reluctantly, the leaders declared that they are committed to working towards the success of the Paris Agreement, including the creation of a new global agreement on climate change.
India's opposition to renegotiating the Paris Agreement did not deter Mr Modi from calling for a fresh agreement on climate change.
In apparent criticism of China's One Belt One Road, the president and prime minister emphasised the need to accelerate infrastructure connectivity and economic development corridors for regional economic integration linking South, Southeast, and Central Asia.
The president reiterated that the United States, through its New Silk Road and India-Pacific Economic Corridor, is promoting the linkage of India to its neighbours and the wider region to enable a freer flow of commerce and energy.
India had boycotted the OBOR summit while the US had attended it at a fairly high level.
More seriously, the leaders asserted the importance of a sustainable, inclusive, sovereign, and democratic political order in Afghanistan, and committed to continue close consultations and cooperation in support of Afghanistan's future.
They also urged North Korea to take concrete actions toward denuclearisation and other goals, as well as to comply fully with all its international obligations, including all relevant UN Security Council resolutions, and to fulfill its commitments under the 2005 Joint Statement of the Six-Party Talks.
Surprisingly, the president reaffirmed his support for a reformed UN Security Council with India as a permanent member.
Mr Trump and even his Permanent Representative to the UN do not have much faith in the UN itself.
The so-called 'reaffirmation' is meant to make India happy, not to propose a reform of the Security Council.
Sadly, all these accomplishments in Washington have not gladdened Mr Modi's opponents, who pointed out that the Joint Statement did not have any reference to the H1-B visa, which faces extinction under Mr Trump.
Apparently, Mr Trump had given a strong message to the Indian side that he was not flexible on this issue and no purpose would be served by discussing it.
Moreover, this is within the purview of the US Congress and the administration would not be able to provide any relief.
But when Foreign Secretary S Jaishankar was asked about this omission, he said he did not expect any adverse action as the Joint Statement said elsewhere that cooperation between India and the US in the digital world was important and that the contribution of the Indian community was of great importance.
The Indian and American IT companies, however, continue to worry that any new restriction would turn out to be expensive for them.
There is a certain inevitability about the success of summits, as even the most disappointing outcomes can be projected as a resounding success.
But Mr Modi and Mr Trump can claim that they came, they saw and conquered each other.
T P Sreenivasan, (IFS 1967) is a Former Ambassador of India and Governor for India of the IAEA, Chairman, Academic Council and Director, NSS Academy of Civil Services, Director General, Kerala International Centre.
IMAGE: Prime Minister Narendra Modi and US President Donald J Trump at the White House, June 26, 2017. Photograph: Reuters