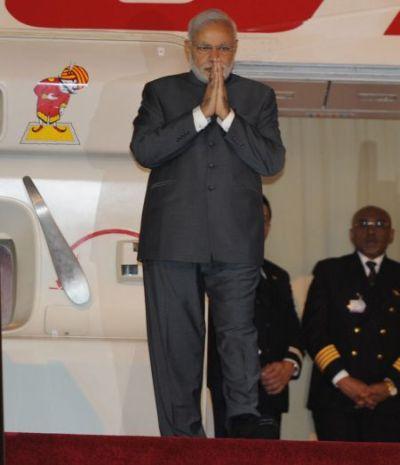 Prime Minister Narendra Modi will focus on extended neighbourhood, particularly the ASEAN and Central Asian regions, says Archis Mohan
Prime Minister Narendra Modi has been receiving flak from opposition parties for his frequent foreign travels. But neither the Prime Minister's Office nor South Block are fazed by this. The PM's itinerary with regard to foreign visits in the second year of the government is likely to be as packed as it in the first year.
If the focus of prime minister's foreign policy in the first year was the neighbourhood, the second year is likely to be marked by more attention to India's extended neighbourhood, particularly the Asean and Central Asian regions.

The external affairs ministry and the PMO are keen to plan a multi-nation visit not only to East Asia as part of the PM's 'Act East' policy, but also to nearly all the Central Asian countries to consolidate New Delhi's 'Connect Central Asia' policy.

India has deep strategic and economic interests in Central Asia, which the foreign policy establishment hopes to consolidate. Central Asia has been the centre of what is termed as the 'new great game' and India has ambitions to be a more active player in the region, given its uranium, oil and gas and mineral resources.
External Affairs Minister Sushma Swaraj has already been to Turkmenistan and Tajikistan, both of which share borders with Afghanistan. The Indian Air Force, along with its Tajik counterpart, runs an air base in Farkhor, close to the Tajik-Afghan border.

Modi is scheduled to be in Russia to attend the BRICS and Shanghai Cooperation Organisation summits on July 9-10, and is likely to travel to each of the five Central Asian countries -- Uzbekistan, Kazakhstan, Tajikistan, Turkmenistan and Kyrgyzstan.

But the highlight of the PM's visits in 2015-16 could turn out to one to West Asia. The Iranians have already officially invited the PM in 2015. According to sources, the dates are yet to be finalised. But the progress made on cooperation on the Chabahar Port and North South Transport Corridor has brightened the prospects for an early visit.

Since July 2015, Swaraj had been to Bahrain, Oman and the United Arab Emirates. All three countries have a substantial population of Indians. Workers from India comprise nearly a third of Bahrain's population.

No Indian PM has visited the UAE in three decades, and Modi could redress this during his second year. Apart from trade linkages and presence of Indians, the two countries have had strong security cooperation in recent years, with the UAE helping India secure some of its wanted terrorists.
However, the beginning of Modi's second year in power will have him travel to Bangladesh in June. He has already asked West Bengal Chief Minister Mamata Banerjee to accompany him. Banerjee had refused to accompany then PM Manmohan Singh to Dhaka in September 2011.

Modi can hope for a warm welcome in Dhaka after ensuring ratification of the India-Bangladesh Land Boundary Agreement. According to sources, the PM had spoken to leaders of every political party with presence in the two Houses of Parliament to ensure passage of the constitutional amendment.

The Asean region will be another area of focus. Swaraj, in the past one year, has visited Singapore, Indonesia, Vietnam and Myanmar. The PM is slated to visit Malayasia to attend the East Asia Summit and could also be in Singapore and Vietnam. Both Malaysia and Singapore have significant numbers of Indian-origin people, while Vietnam is strategically important for India.

According to sources in the party, the PM's visits will continue to have a strong link with the Indian diaspora. He had visited Kenya; home to thousands of Gujarati families, as the chief minister and a visit to both Kenya and South Africa is being worked out. India will also be hosting the India-Africa Summit this year.

Similarly, if the PM decides to attend the Non-Aligned Summit meeting in Venezuela, he could travel to Suriname, which has a third of its population of Indian origin. An extended visit to the United Kingdom is also in the works.

Responding to attacks on PM over his foreign trips, sources in the government point out how Manmohan Singh was outside India for 47 days in the first year of UPA-2 and travelled to 12 countries. Modi, in comparison, had travelled to 17 countries and been out of India for 53 days. Swaraj, who has put in much hard work, travelled to 19 countries.