'Previous governments in India had reservations about working with Israel.'
'Modi has shed this tag.'
'Disengaging itself from its traditional and ideological foreign policy approach in the Middle East shall serve India's long-term interests.'
Rajaram Panda explains why the significance of Modi's visit to the Jewish nation goes beyond markers like the first-ever visit to Israel by an Indian PM and 25 years of diplomatic ties.
IMAGE: Israeli President Reuven Rivlin, left, and Prime Minister Narendra Modi at Hyderabad House, New Delhi, November 15, 2016. Photograph: Adnan Abidi/Reuters
Prime Minister Narendra Modi's diplomatic activism is going to scale another frontier when he travels to Israel for a three-day visit on July 4, the first-ever by an Indian prime minister in 67 years after India formally recognised the Jewish nation on September 17, 1950.
Both established full diplomatic relations in 1992 and embassies were opened the same year.
This year, the two nations celebrate 25 years of diplomatic ties.
Following Modi's visit, Israel's Prime Minister Benjamin Netanyahu is likely to visit India later this year.
What makes Modi's forthcoming visit significant is that the defence and security components in the relationship between the two countries will receive a boost. Both nations are making conscious efforts to make the ties a multi-dimensional relationship, and not merely uni-focal.
Though defence-related issues are likely to dominate discussion, neither side is willing to reveal, in advance, what's on the agenda.
While Daniel Carmon, Israel's ambassador to India, mentioned that both sides were working on 'every possible area of cooperation', he reserved comments on cooperation in the field of defence.
It is, however, expected that discussion would be on a wide-range of issues -- not just defence, but agriculture, cyber security, drinking water and innovations.
Modi's visit assumes significance as it comes after President Pranab Mukherjee's visit to Israel in October 2016 and External Affairs Minister Sushma Swaraj's visit to the Jewish nation in early 2016.
Also, in November 2016, Israeli President Reuven Rivlin visited India.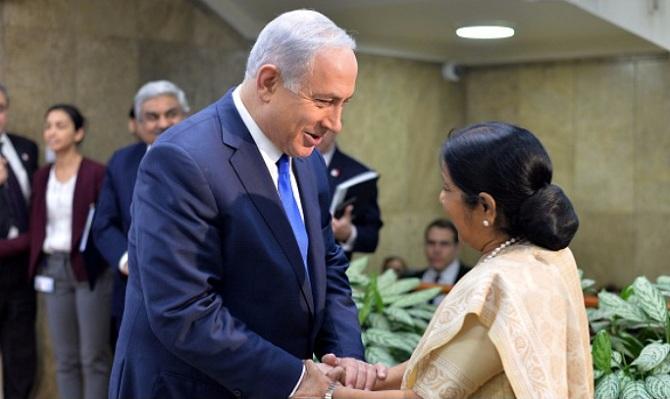 IMAGE: Israeli Prime Minister Benjamin Netanyahu with External Affairs Minister Sushma Swaraj, Jerusalem, January 2016.
Following Modi's visit, Netanyahu is likely to visit India later this year.
Photograph: Israeli Government Press Office
In celebration of the silver jubilee of the diplomatic ties, both countries are planning a series of events.
The plan to establish a programme under India's Global Initiative of Academic Networks is one such initiative. India has already dispatched a professor to teach in Israel.
Both countries have decided at the highest level to create a joint coordination committee to plan out the activities.
Exchange of business delegations is expected to be the next step.
Modi will travel to Israel on his way to the G-20 leaders' summit in Hamburg, Germany, which is being held on July 7-8.
He is expected to address the Knesset, Israel's unicameral parliament with 120 members.
He is also expected to visit an innovation park, with the Advanced Technologies Park at Ben Gurion University being one of the possible options. Top innovators from both sides are expected to showcase their products when he visits the high-tech park.
Given the importance both nations attach to the other, a bilateral joint statement covering issues pertaining to water management, defence, diamonds, counter-terrorism, agriculture and others could be expected.
It is to be noted that several high-profile visits -- including by National Security Adviser Ajit Doval, several senior secretaries and a Minister of State for Agriculture S S Ahluwalia-led 11 member multi-party parliamentary delegation -- have taken place before Modi's visit. Indian Navy chief Admiral Sunil Lanba travelled on a five-day visit to Israel from June 11.
All these visits have laid the ground work for several MoUs that are likely to be inked during Modi's visit. A raft of mega defence deals, which includes procurement of an air defence system for the Indian Navy, is likely.
According to the Stockholm International Peace Research Institute, India had a 3.3 per cent share of world military expenditure of the 15 States with the highest spending in 2016, and moved up to fifth position in global ranking in 2016 for military spending. SIPRI monitors developments in military expenditure worldwide and the figures are credible.
This is in response to beefing up the nation's defence preparedness in response to the security environment in its neighbourhood.
There are high hopes that the much-awaited deal for Barak-8 air defence missile systems for the navy and procurement of Spike anti-tank missiles for the army will be firmed up during Modi's visit.
Besides other defence-related deals on the table, Ambassador Carmon expressed optimism that bilateral ties would move beyond buying and selling and the focus would shift towards joint research and development. As a start, two multi-billion dollar acquisition deals are expected to be finalised.
It is not that the expected defence deals are going to be new; India and Israel do have a robust defence partnership. India has been the largest buyer of Israel's military hardware, which includes various weapon systems, missiles and unmanned aerial vehicles, but not many details have been revealed.
For example, in February, India had cleared a ₹17,000 crore deal for jointly developing with Israel a medium-range surface-to-air missile (MR-SAM) for the army. A formal announcement is expected during Modi's visit.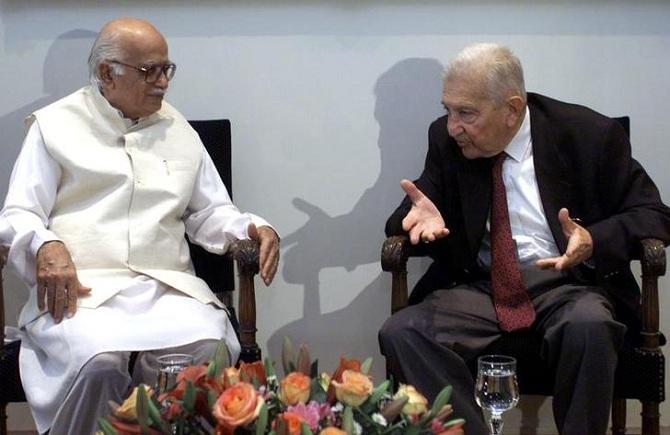 IMAGE: Israeli President Ezer Weizman, right, with then home minister Lal Kishenchand Advani, Jerusalem, 2000.
Advani was then the highest-ranking Indian leader to visit Israel since diplomatic ties were forged between the two countries in 1992.
Weizman was the first Israeli president to visit India.
Photograph: Reuters
What makes India procure such sophisticated weapon systems from Israel at a time when it needs huge funds for infrastructure development and in the social sector?
The Pakistan-China nexus is creating troubles for India, and it is a provocation that India can ill afford to ignore.
The 8,000 missiles from Israel is part of Modi's $250 billion plan to take on China and Pakistan.
The necessary clearances from the government have already been obtained. In October 2014, the Defence Acquisition Council approved the purchase of Spike missiles and the Barak-8 purchase proposal was given the go-ahead on April 3, 2017.
Besides India coping with the threat coming from China and Pakistan, both India and Israel face a common external threat of terrorism.
Modi finds working with Israel is a big pivot, even as he tries to reach out to the US and finds US-Israel relations complementing his efforts. This is why deepening ties with Israel makes sense.
After the contracts are formally inked, the delivery of the 8,000 missiles shall be delivered within the next two years.
The pact with Israel worth $1.5 billion is a part of Modi's plan to modernise the armed forces by 2025 to cope with tensions in India's neighbourhood.
Like the Brahmos, India should have separate collaborations with Israel on missile and other technologies of defence. Israel's ground tanks, missiles, drone technology are proven ones, and India can do business with Israel for arms technology for greater market facilities, better technology transfer and better future ties.
Engaging with the Indian Diaspora is another pillar of Modi's diplomatic journey.
The 80,000 Indian Jews belonging to four different communities -- Bene Israel, Cochinis, Baghdadis and Bnei Menashe -- who live in Israel maintain some of the cultural practices of India and can be a bridge between India and Israel.
Modi's visit in October 2006 as Gujarat chief minister is remembered fondly by the people of Israel.
Previous governments in India had reservations about working with Israel. Modi has shed this tag.
Disengaging itself from its traditional and ideological foreign policy approach in the Middle East shall serve India's long-term interests.
Modi has built a close bonhomie with his Israeli counterpart Benjamin Netanyahu. Both met on the sidelines of the Paris climate summit in November 2015.
India's abstention at a United Nations Human Rights Council vote in 2015 on a UN report critical of Israel's offensive in the 2014 Gaza War was seen as a sign of a qualitative leap in ties, though India later clarified that its vote was a 'principled' stand in connection to the International Criminal Court that had reference in the resolution and did not mark 'any shift in policy'.
There could be fissure in India's diplomatic foray vis-à-vis its Palestine policy as Modi skipped visiting Palestine. However, India is expected to maintain its support for the Palestinian cause and sculpting closer ties with Israel is unlikely to shape its Palestine policy.
We need to wait and see all what Modi brings during his visit to Israel to the table that serves India's interests.
Professor (Dr) Rajaram Panda is currently the Indian Council for Cultural Relations India Chair Visiting Professor at Reitaku University, Japan.
The views expressed are the author's own and do not represent either of the ICCR or the Government of India.
---
Don't miss: Paving the way for Modi in Israel