Four major political takeaways from Narendra Modi's much-anticipated trip to China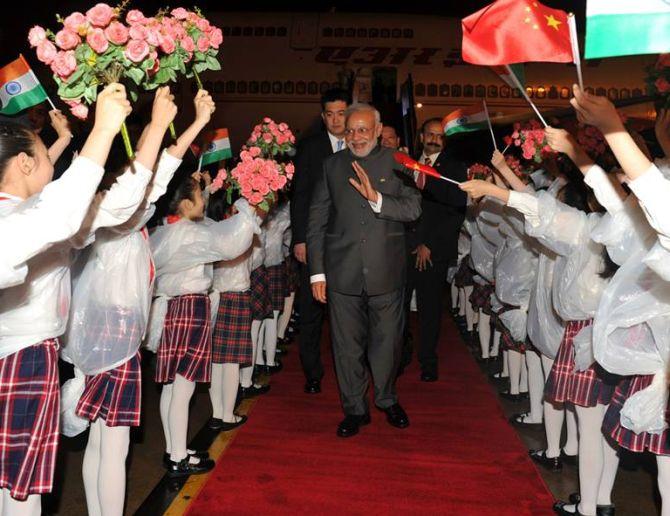 Prime Minister Narendra Modi being welcomed by small children on his arrival in Shanghai. Photograph: MEAIndia/Facebook
Narendra Modi surely needed his vaunted 56-inch chest, with shoulders to match, to carry India's expectations of China on his just-concluded visit. The Indian prime minister ends his first year in office with a bravura foreign policy performance. Here are some political and security takeaways from the China tour.
Raymond Cohen noted in his path-breaking Negotiating Across Cultures (1991), that Indians are vulnerable to symbols -- for example, when the other side confers a protocol-breaking gesture. But even after allowing for this proclivity, one does not recall an instance when China's principal leader went outside his capital to receive a foreign guest, as did Xi Jinping at Xi'an. Another first: the Chinese president accompanying a leader to a major shrine, the Buddhist White Goose Pagoda. It signalled a new stage in China's evolving opening to religious worship. Buddhism is a latent connector, given that crowds of youth now throng temples in every Chinese city; India can gain much by taking a major exhibition of Buddhist artefacts and art there.

Let us dispassionately examine the political impact of the visit. First, what is the strategic objective for each? China has long distrusted India's ties with the US, Japan, and Australia, even ASEAN; scholars wrote about India joining a hostile encirclement. That distorted view has now shifted; India is seen as a 'swing' state, worthy of cultivation. Some of this is now backed by actions in bilateral relationships -- remember Reagan's dictum: Trust but verify?

India deeply suspects China's ties with Pakistan, now deepened with Xi's Islamabad visit last month, committing a massive $46 billion, almost a quarter as grants for the Gwadar-Karakoram road and rail corridor, and much of the rest to double Pakistan's power generation capacity, adding 15,000 Mw. A sizable arms package is included, though the 110 fighter aircraft being given are of an old generation.
Many in India are angry over the alignment of this axis through Pakistan-occupied Kashmir, and India has lodged a protest. But have we not constantly offered to Pakistan conversion of the Line of Control into a formal border? A deeper point: will these Chinese investments produce stability and growth in Pakistan, or will China now become a factor in that fractured country's internal politics, facing undiminished threat also in Xinjiang? At a conference in Chengdu two weeks ago I noted private unease among their scholar community, some suggesting that this was a gamble.
Second, the border issue: a half-expectation of an 'out of box' settlement formula from China did not materialise. Modi publicly pushed for an early settlement, also declaring: "China is to reconsider its opposition on some issues that hold us back." He also urged action to delineate the Line of Actual Control.

Necessarily, neither side speaks of the inner content of the 'Special Representative' discussions, now in 18 rounds; the joint document affirmed settlement via a three-stage process as a 'strategic objective', and new steps indicated to expand the border commander exchanges. One may ask: is Indian -- and Chinese -- public opinion ready for the compromise that a settlement will involve?

Third, China has been pushing its Silk Road projects, land and maritime, calling these 'One Belt, One Road', backed with $200-plus billion in investments (including the above China-Pakistan Economic Corridor).
The reality is that diverse historical trade routes traversed Asia. India's past reluctance to speak on this ended with PM Modi's statement to Chinese journalists on the trip eve. He told them that since ancient times, Asia had been connected in a variety of ways by land and sea, adding: "Today, a re-emerging Asia must reconnect its many regions and with the world beyond. Like China, India too is seeking to strengthen connectivity to the East and West. India and China are also working together on Bangladesh, China, India and Myanmar Corridor". In his May 16 speech at Tsinghua University Modi again endorsed the BCIM Corridor.
What is the scene on the ground? A May 15 BBC report showed that at Moray in Manipur, a principal Indian gateway to Myanmar (also on the long-projected Asian Highway to which ADB and ESCAP are committed), the road leading to Myanmar is in pathetic condition, in parts just a dirt track. The 2013 Kolkata-to-Kunming car rally showed the harsh reality that of the four countries traversed, the worst roads were encountered in our northeastern states. This region needs an activist push by the PM to enable it to fulfil its destiny as gateway to 'Act East' connections.

Fourth, Indian entry into regional entities remains a complex story, with a glimmering of Chinese support. The May 16 Modi-Li joint statement declares: 'China welcomed India's application for full membership of Shanghai Cooperation Organisation… The two sides agreed to broaden cooperation in Saarc.' Clearly, tightrope walking is involved, attempting entry to SCO, without linking it with China's Saarc aspirations. China signalled that it 'welcomed India's desire to strengthen its link with APEC'; that entry hinges on persuading other members of APEC. On nuclear issues, the two sides held their first bilateral discussion last month; in the statement China 'took note of India's aspirations to become a member of the NSG' (nuclear supply group, hitherto opposed by China).

At the conference two weeks ago, a well-known Tsinghua professor asked: should we first build trust, or can cooperation develop without that? His response: cooperation often moves forward even in a trust-deficit situation, as with China and the US. One may expect that working together will enhance trust, but that does not always happen (surely an allusion to China-Japan relations). For India and China, a better perspective might be: are Asia's two giants in cooperation, competition or contestation? My take: all the three phenomena co-exist; what matters is that we do not drift into conflict - which neither seeks.

After my early four years in Beijing (1963-65 and 1970-72), since 1999, I have visited China twice or thrice a year -- and since this is mostly to teach, I meet lots of young people. Notable for me is the change in how India is seen: initially, Indian growth aspirations were treated as unworthy of serious note. That has evolved into grudging, and now more affirmative respect, even while India is perceived as far behind China. That evolution underlies a real, profound India-China shift.
-- The writer is an honorary fellow at the Institute of Chinese Studies, Delhi