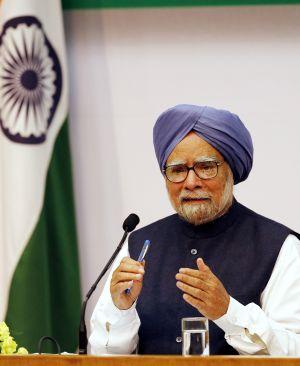 Leader of Opposition in Rajya Sabha Arun Jaitley tears into Prime Minister Manmohan Singh's press conference, and remarks that the 'formality' ended as a 'farce'.
Today's press conference by the prime minister was intended to announce the fact that he is no longer a contender for office after the general elections. While announcing his own farewell one expected the prime minister to be candid. There was a historic opportunity for the prime minister for a reality check. I regret that he completely missed the opportunity.
The Congress party has been routed in the recent assembly elections. Its prospects in the coming general elections appear to be 'disastrous'.
This is entirely on account of performance of the UPA government headed by Dr Manmohan Singh. The prime minister admitted his government's failure in containing inflation, unemployment and corruption. A combination of these three factors makes a perfect recipe for an electoral doom.
Instead of owning up to this reality, the prime minister would want only history to assess him. His most repeated statements in the press conference was "time will tell". The prime minister is entirely wrong.
In a democracy it is the voters who tell by judging your performance. He is willing to rest the corruption of UPA-I on the argument that an electoral sanction was granted to corruption in 2009. However, he is not willing to accept electoral verdict in 2013 as a judgement of his performance.
The prime minister is bitter with the media, bitter with the opposition and even more bitter with Narendra Modi. The prime minister's office demands that a prime minister in his vocabulary and idioms must always maintain dignity and grace.
Dr Manmohan Singh failed that test today.
No Indian politician has gone through the kind of scrutiny that Narendra Modi went through on the 2002 riots. The Supreme Court appointed Special Investigation Team and finally the courts have both vindicated him. The electorate gave him thumbs up thrice. Opinion polls indicate that he is the most popular leader in race for becoming the prime minister and yet Dr Manmohan Singh used phrases like 'disastrous' and 'mass murder'.
A person against whom no evidence has been found by repeated inquiries deserves better. By using this phraseology the prime minister has demeaned his office.
Is he willing to use the same phraseology for the prime minister as on November 1, 1984 during whose tenure the worst ever genocide in the country took place against the Sikh community and for which nobody till date has been held responsible?
It was a press conference of a failed leader. He has lost his willingness to rule. His concern for probity is minimal. He has not yet cared to even look at the voluminous evidence against one of his party's chief ministers. His mindspace on issues of corruption has narrowed.
His press conference found no mention on issues of national security. There was no concern for atrocities on women in the last few years. The concern for revival of investment cycle and economic activity was minimal. He played down corruption cases from coal-gate to 2G to Virbhadra Singh bribe gate.
The press conference was intended to be a formality. It ended as a farce.
Image: Prime Minister Manmohan Singh interacting with media persons in New Delhi on Friday
Photograph: Reuters