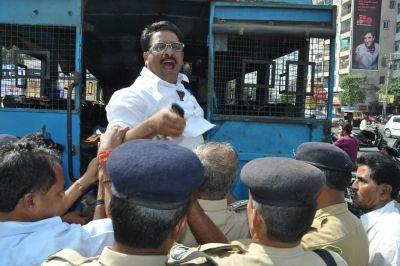 Narendra Rawat, an 'arrest-happy' Congress leader, is expected to unleash a fair amount of political tamasha against his rival, Narendra Modi in Vadodara.
Rediff.com's Sheela Bhatt's intriguing insight into the many permutations, combinations and miscalculations involved in finalising a candidate for the Great Indian Election 2014.
In Vadodara, the cultural capital of Gujarat, the Lok Sabha battle will NOT be as exciting as the one in Varanasi (from where the Bharatiya Janata Party's prime ministerial candidate Narendra Modi will contest against an as yet unnamed Congress leader).
Here, in Vadodara, the political match is between Narendra Modi versus Narendra Rawat of the Congress. Rawat is president of the Congress's Vadodara city unit.
He has been an accused in a case of a bouncing cheque.
Rawat is from Palanpur, a city in North Gujarat.
He claims he belongs to the Other Backward Classes, like Modi, but leaders from his own party have expressed doubts about this claim.
They even sent some people to Palanpur to verify his caste credentials.
Rawat migrated to Vadodara to study engineering at the Maharaja Sayajirao Gaikwad University where today he is a member, representing the technology faculty, in the Senate.
He has been derided in local Congress circles as an expert in 'police arrests' due to his penchant for provoking the local police and courting arrest.
He was the lucky beneficiary of the Congress's 'primary' held on March 13 to select a candidate for the Lok Sabha election from Vadodara, which he won.
The idea to hold a 'primary' to finalise candidates for some Lok Sabha seats was Congress Vice-President Rahul Gandhi's brainchild.
The idea, though borne out of good intentions, was introduced too late in the day.
It has failed to organically blend with the Congress's well-known and well-entrenched culture of 'buying' influence and factional support.
Rahul insisted on trying it on an experimental basis in 13 Lok Sabha seats across the country. Under this system, voting is conducted internally by the party to democratically decide a suitable candidate for the election.
How can this new animal called 'primary' that Rahul Gandhi is reportedly passionate about, work in an Indian election?
To comprehend this, let us first understand how the BJP's PM candidate got such a weak Congress candidate pitted against himself in Vadodara due to Rahul Gandhi's 'primary' experiment.
Between 25 and 30 people descended on Vadodara from Rahul Gandhi's office to prepare for the 'primary'.
In Gujarat, Vadodara and Bhavnagar were chosen as constituencies where 'primaries' would be held to select candidates for the 2014 polls.
Rahul Gandhi is reportedly irked that members of the Congress high command, over many decades, have been seriously accused of favoritism, feudalism and even financial irregularities while 'selling' tickets for various elections.
Rahul Gandhi's team was led by Prakash Joshi in Vadodara and Sachin Rao in Bhavnagar. Congress members belonging to as many as 19 categories were eligible to vote in the primary.
This list included former and current Congress members of Parliament, members of the legislative assembly, All India Congress Committee members, elected and non-elected categories of the Pradesh Congress, even members of the Youth Congress, the Mahila Morcha, the National Student Union of India and the Seva Dal.
Also, Congress members working in municipal corporations and district (not taluka) cooperative banks were eligible to vote in the 'primary'.
Since party symbols are not used in panchayat polls, those who came forward to fill Congress membership forms were eligible to vote. The voters' list was uploaded on the party Web site and even local Congress offices kept copies of it.
Congress members were also asked to check whether the candidates had criminal records and if they were hiding any facts.
Vadodara witnessed an elaborate voter registration process and all candidates for the Lok Sabha constituency were invited.
Besides Rawat, former city unit president Suresh Patel, women's wing president Rajashri Desai and district Congress president Vinu Patel filled nomination forms for the polls.
On voting day -- March 13 -- a plot of land otherwise used to hold marriage functions was booked for the exercise.
As is expected in the Congress, some wise people tried to dissuade Rawat against contesting the primary, as they believed he was not 'Lok Sabha material'.
But Rawat, a street fighter, is always in the mood to launch an agitation. He didn't listen to anybody.
He is expected to unleash a fair amount of political tamasha against Modi as well. Or, as Ravat would probably call it, dhamaal.
He will not deliver too many speeches during his campaign and he will not care about taking any issue seriously. He can create a noise whenever and wherever he likes.
Apprehensive of exactly this, a group of veteran Congressmen had backed Suresh Patel, a local businessman.
Patel had been once close to senior leader Shankarsinh Vaghela. But this time, even state Congress president Arjun Modhavadia, reportedly, backed him.
Incidentally, Rawat was chosen to head the Vadodara Congress by Modhawadia.
Patel's life, too, has had its share of drama. Once an employee of IPCL, much before Reliance acquired it, he resigned from the oil behemoth to start a small scale unit.
His father had invested in a piece of land in Harini, on the outskirts of old Vadodara, as part of prospective dowry for his daughter.
Some affluent members of the Patel community are known to give away millions of rupees in dowry for their daughter's marriage.
Some years ago, Patel became a billionaire overnight. For his family land had become part of Vadodara city's town planning project.
Patel, who was worth around Rs 15 crore to Rs 20 crore (Rs 150 million to Rs 200 million), overnight had over Rs 300 crore (Rs 3 billion) in his coffers!
Congressmen therefore thought that the sober, serious and resourceful Patel would be a better candidate than Rawat.
Interestingly, the allegedly murky ways employed by the anti-Rawat camp in the local Congress could not work.
The voting was conducted along the line of the Rajya Sabha election.
Rahul's message was read out to the assembled party workers. All the voters and candidates were asked to take an oral pledge before the 'selection, not election' exercise by the party.
Each voter had to choose two candidates in the order of their preference. The voter's second choice to the same candidate would only get 50 per cent weightage.
The winning candidate had to get at least 50 per cent of the total votes polled.
On March 12, 607 voters were registered, but only 514 votes were found to be valid.
Rawat received 265 votes, Suresh Patel got 200 votes, Vinu Patel got 33.5 votes and Desai got 12 votes.
As it often happens in a political party, the defeated leaders complained of corruption. One of them even told the media that cash worth Rs 2,000 in envelopes was handed out by one candidate.
The end result was far from satisfactory for Congress leaders because the most effective campaigner inside the party unit, not the most popular Congress leader in Vadodara, had won the 'primary'.
Rawat is not the most 'winnable' candidate in the fray. Suresh Patel enjoys a comparatively better public profile in the city.
Rawat's win doesn't exactly spell victory for the Congress in the given situation, more so now when he has been pitted against Modi.
A senior Congress leader told Rediff.com, "Rahul's primary is a defective system. We will not get the most suitable and 'winnable' candidate who enjoys popular public support. We will get a leader who enjoys a good network within the party."
The last time the Congress won the Vadodara Lok Sabha seat was in 1996.
In Vadodara municipality, the BJP has 75 members while the Congress has only 11 members. The Congress is in a pathetic state in spite of the BJP's allegedly corrupt rule in the local municipality.
The city's civic facilities have deteriorated under BJP rule. Corruption is rampant at the lower levels of the civic body.
Not only Congressmen, even BJP supporters have claimed that corruption is rife in infrastructural projects -- like building bridges and flyovers -- that are anyway quite an eyesore.
While handing out tenders for such projects, local leaders of both the Congress and the BJP have been reportedly working in tandem.
The cost of living in the city, due to high electricity bills and the exorbitant value of land, is virtually unaffordable.
In spite of deteriorating civic facilities, Vadodara is the best city to live in Gujarat. It is neither as money-minded as Ahmedabad nor does it suffer from the growing pangs of an urban milieu, like Surat.
The city is very well connected and boasts of an airport, amazing museums, a decent railway junction, luxurious shopping centres, historical sites, decades-old education institutions and major industries manufacturing metro rail coaches, fertilisers and pharmaceuticals, and refineries.
It provides an opportunity for living in style in a society that has a healthy mix of caste, community and religious elements.
Once known as the sanskar nagri (cultural centre) of Gujarat, the city has lost its charm of yore, while even the iconic M S University has lost much of its sheen.
But nostalgia about the city's past is appealing enough for one to like Vadodara, and for the BJP's prime ministerial candidate to choose it as a safe haven in the rough and tumble of the 2014 election.
Image: The Congress's candidate for Vadodara, Narendra Rawat, courts arrest. Photograph: facebook.com/narendra.ravat.5
Yesterday, Sheela Said: What's playing on our leaders' minds
Will Rahul Gandhi's idea of holding primaries to select candidates work in India? Vote below!