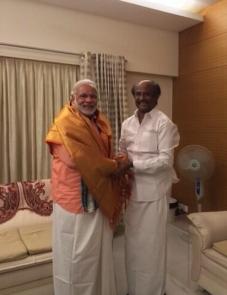 Not having launched a political party, Rajni now has his fans spread across various political parties in the state. They vote for different political parties and candidates, depending on issues and factors such as ideology, caste and community, says N Sathiya Moorthy.
After two pre-poll rallies at Tiruchi and Chennai, Bharatiya Janata Party's prime ministerial candidate Narendra Modi came calling on Tamil Nadu, once again at Chennai, last weekend. This time, unlike earlier and possible future visits ahead of the April 24 polling in the Lok Sabha elections in Tamil Nadu, Modi was not the main attraction, Rajnikanth was.
It should have been a different experience for Modi, whom admirers from all walks of life and from across the country have been mobbing to see, touch and feel. Most of them know they cannot hope to meet him. Not Rajnikanth, who after the Modi visit, wished the latter (electoral success).
Rajni in particular wanted the world to believe that it was only a courtesy call, nothing political or electoral about it. According to him, Modi had kept calling him throughout the period he was indisposed the year before, and he had then invited the Gujarat chief minister home at the time.
No one was fooled. Whether or not Rajni wanted Modi around at the peak of Lok Sabha poll campaign, it was obvious that the BJP leadership, both in the state and at the national-level, had hoped for electoral advantage from the media hype attending on such a meeting. So, Modi had to stay on the side-lines, giving media space and limelight voluntarily to someone else for the first time since his name came to be mentioned for the prime ministership.
Leaving aside the personal equations between the two, the BJP may have got it wrong as far as Rajni's political influence goes. They seemed to be living in the past of his last film offering, Robot or Enthiran in Tamil. With the block-buster, Rajni possibly became the nation's top star (filmi or otherwise), after whom all kinds of macho-man jokes were created and circulated on the social networks.
Not having launched a political party own when millions of fans had hoped for in 1996, Rajni now has his fans spread across various political parties in the state. They vote for different political parties and candidates, depending on issues and factors such as ideology, caste and community. Though Rajni does generate new and younger fans with each new generation and film, the core of his following is aging.
Whether these fans would go by any open call from Rajnikanth, for or against any political party, is unclear. Possibly, if he were to launch a political party, they may consider shifting electoral loyalties, but Rajni may have passed that phase in state politics very long time ago.
Reflecting public mood
Rajnikanth lost his electoral charm after the 1996 elections, when he reflected the general, anti-Jayalalithaa mood of the state's voters. The election proved the voter -- and hence, Rajnikanth -- right. When he supported the DMK alliance in the 1998 Lok Sabha polls -- after the 'Coimbatore serial blasts' -- his acknowledged and identifiable fans and their associations, pulled down his cut-outs across the state.
The election proved the fans were right and Rajnikanth was wrong. After shying away from identifying with any party or alliance or candidate in 1999 and 2001, Rajni's unclear backing failed in 2004 parliamentary elections. The DMK-led alliance came through despite his endorsement of the AIADMK, winning all Lok Sabha seats, including the lone seat from Puducherry.
Today, Rajni fans are tired of talking about his entry into politics. They are even more sceptical about his endorsing political parties and candidates. Yet, political parties, strategists and self-appointed promoters do not seem to have lost hope.
From Valli to Kochadaiiyaan
Today, ahead of the release of his multi-lingual (including Bojpuri and Japanese), multi-crore, 3-D computer-animated tech-extravaganza, Kochadaiiyaan, an offering by his younger daughter, Soundarya Ashwin, Rajnikanth can still do with some free publicity -- and across the nation and beyond. With the world, particularly South Asians settled across continents, closely watching the Indian election scene, Modi as the hottest political topic wanted to be seen in his company, Rajni was not the one to let go off it. Or, so it seems.
That Rajni was in two minds in talking elections before or after receiving Modi in his Poes Garden residence this time round came across well, when he clarified post-visit that there was nothing political to the Modi visit. After all, Modi represents a certain political ideology and Rajni has fans who transcend those barriers.
For a few hours after the Modi visit, speculation was rife if Jaya TV, which had purchased the television rights of Kochadaiiyaan -- the story about a fictitious ruler with some references made to history, and the title meaning, the 'man with a curly mane' (a reference also to Lord Shiva?) -- would carry a pre-publicised interview with the 'super-star' as a pre-release promotional venture on April 14, the Tamil New Year Day. It did happen, and Rajni fans and owners of cinemas in the state that have booked Kochadaiiyaan at a high cost are said to be relieved.
What makes Rajnikanth click? Over the past so many years and films, he has had a film release every three or four years -- and does only one movie at a time. In his Jaya TV interview, Rajnikanth also reiterated for one more time that he was not a great actor.
Yet, he continues to be the reigning super-star of Tamil cinema. The magic formula none has fathomed, to replicate, or even reach a shade of it. That is the iconic value of Rajnikanth, which even the wave-creating Narendra Modi could not do without.
N Sathiya Moorthy, veteran journalist, is director, Observer Research Foundation (Chennai Chapter).