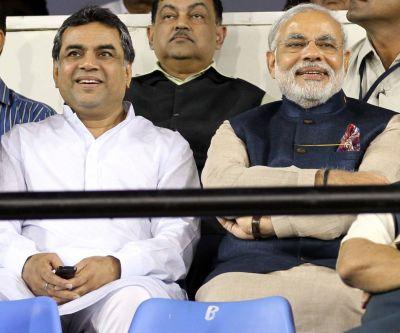 'When you are out to malign somebody, you should remember that above all is the court. No court has indicted Modi, then who are we?'
'I believe in India people should have, up to a certain age, compulsory military training. I also believe that voting should be made compulsory. I have some violent idea, that all candidates should sign an affidavit that whatever they have promised to the people, if they are unable to fulfill they won't stand in elections again.'
'I addressed a meeting near the Kalandari mosque where more than 8,000 Muslims had come to listen to me. I said Muslims have nothing to fear, you fear only Allah. You should be afraid of no one... Some people are creating a fear about Modi in your community. I only want you to understand that.'
Paresh Rawal, the BJP candidate from Ahmedabad East, speaks to Sheela Bhatt/Rediff.com
Paresh Rawal, 58, the actor who joined the classics club by playing Babulal in Hera Pheri (the Priyadarshan film, is the Bharatiya Janata Party candidate from Ahmedabad East, replacing Harin Pathak, the seven-time member of Parliament and Narendra Modi's critic within the party.
Rawal was handpicked by Modi to decimate Pathak. Rawal is shrewd enough to tread carefully to avoid stepping on political landmines in the constituency which has been nurtured smartly by Pathak for decades.
Paresh's family belongs to Paliyad, a village near Gandhinagar. He has come a long way in life, from stealing a few puffs on used cigarette stubs in his student years and living on credit extended by the footpath stall-owners who served him anda-bhurji in Mumbai's suburbs. Many times then, Paresh had no money to get though his daily life; that was when he was trying his luck in theatre and films in Mumbai.
Today, he is the richest candidate in the fray from Gujarat, with his family assets worth Rs 79.40 crores (Rs 794 million).
Over the last couple of years Paresh has lost some 14 kg, and looks a pale self of his screen image. His views are completely Modi-fied. He speaks as veteran politicians in New Delhi do. He is riding on the Modi wave to reach Parliament.
In this exclusive interview with Sheela Bhatt/Rediff.com, he gives the clear idea that the great acting talent Paresh Rawal, in his newly-born political avatar, is here to stay.
Where did you meet Narendra Modi for the first time?
I first time heard him in 2004 or 2005. My first impression was that this man talks from the heart and he is a patriot in the true sense. By God's grace that impression has remained intact.
Later, I met him at a function to felicitate the writer Tarak Mehta.
At one more meeting we talked about poetry, drama and about Ketan Mehta's film on Sardar Patel in which I played Sardar. I saw that this man has no relatives, he is not into corruption. He gets a high only when he is working hard for the people.
I felt I should contribute something. So, I joined him in the campaign for the assembly election. My special interest was to see how he wants to go in for development.
If you just juxtapose the Congress's 60 years with his 14 years, you will know immediately how he is different. He is a visionary. He has the resolve, he has plans. All these things were fascinating for me. One feels nice to see when someone works by putting his heart into it.
The Hindi film industry is divided about Modi and his role in the 2002 riots. What's your stand on it?
When you are out to malign somebody, you should remember that above all is the court. No court has indicted Modi, then who are we?
Also, we know that when Godhra happened, Modi called up three Congress-ruled neighbouring states and for some reasons they could not send paramilitary forces. Why would he ask for help? To stop the riots, obviously.
Second, he was new in his job. He had no experience to handle such a situation. Even the most experienced hands would find it difficult to control such a situation. (British Viceroy) Lord Mountbatten was called back from Shimla to Delhi in 1947 when the situation went out of control.
See, anybody will feel the pain when wrong things happen. But, it is absolutely wrong to say that he did it with design. On the other hand, so many people, including Hindus, have died in the police firing and so many have gone to jail in the riots case.
We have before us the 1984 riots, too. The Congress has no scope to even ask question on the issue.
All these years we saw you only as an artist. We never noticed the political streak in you. How come this deep political colour has emerged suddenly?
It is not about a deep political colour within me. When one is an alert citizen, when one is reading newspapers, when one is watching TV debates, you start taking sides. You know what is right and what may be wrong. All the time, at the back of your mind, newspapers and TV debates are replaying. Was Modi really wrong? You do ask questions.
You also see the condition of the country. All the people, including artistes, ask questions. We see the characters, their actions and their views and we keep evaluating them.
I am politically aware. I believe everybody is politically aware. However, I never ever thought of joining politics.
Did the proposal to join politics go from you or did it come to you?
It came to me. They must have seen that I was campaigning. I was talking intensely.
They asked me. If I want to serve the country, I felt, I should work for him when he sits as prime minister. We must give him one chance. He has proved himself in Gujarat.
This is the limited aim I have. Genuinely, I don't want to carve out a political career.
When performing artistes like you get into politics, how do you reconcile with your audience which is a mix of all castes and political colours? How do you address your mixed audience?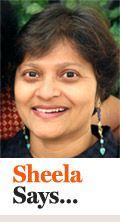 I come from the film industry where there is no difference between Hindus and Muslims. Salim-Javed and Karim Morani were part of my initial years. Naseeruddin Shah is my ideal actor. My mind doesn't differentiate on those lines.
Today, I addressed a meeting near the Kalandari mosque where more than 8,000 Muslims had come to listen to me. They claimed that after 1947, it was the first such meeting by a BJP leader!
I told them that you may be looking at film-star Paresh Rawal or a political candidate. I said Muslims have nothing to fear, you fear only Allah. You should be afraid of no one. You must not be carried away by anybody.
You yourself have seen Gujarat. After the Akshardham attack you have seen that things remained peaceful. Some people are creating a fear about Modi in your community. I only want you to understand that. It is up to you whether to vote for me or not.
Each and every Muslim in the audience cheered my speech. So much so that when the azaan ( for maghrib (the Islamic sunset prayers) came, they didn't leave the place. They wanted to hear me.
Some of the leaders came to see me, later. They said Pareshbhai, you spoke from the heart, we listened through our hearts.
One man is trying to build the bridge. What kind of humanity is this that you keep raking up the issue? You keep rubbing salt over wounds. Those whose have lost blood relations are asking for justice, I agree. Even Modi has said that, hang me if I am found guilty. Nobody is against giving justice.
Also, the deaths have been on both sides. Some Hindus have died too. See, there is no other issue against Modi so the 2002 riots issue has been kept alive.
That man (Modi) is trying to build the bridge. Let him construct the bridge. But, people don't want to allow him to bridge the gap. If the Hindus and Muslims get united, then the Congress loses all issues.
The Muslims in Bapunagar, Vatwa and Rakhiyal are listening to me with rapt attention. For the first time the BJP is holding meetings of Muslims in those areas. I speak in Hindi in those
meetings. My opening line is that you are looking at Paresh Rawal, but listening to a candidate of the BJP. So they know that I will talk straight. I will talk intelligently. There will be no dialoguebaazi.
Muslims are jazbaati (emotional). They are not fearful people. They are being driven wrongly. There is no focal point to criticise Modi except Godhra. Because Modi is successful, the riots have become an issue.
If Modi would not have been successful in politics, the 2002 riots would not have turned into an issue.
The issue of skull cap and other issues are kept alive artificially. The BJP has said this is not the issue of siyasat (politics), it is about ibaadat (faith).
Share with us your rediscovery of Ahmedabad during your campaigning.
It is a discovery of India. Ahmedabad is mini India. I see here casteism, communalism, lack of sanitation, lack of education. I think we have to do tremendous work in these areas. The strength of India is its diversity. Somehow, it is also a weakness of India. We see everything through the prism of caste, community, religion etc.
'Vote-bank politics' is not only between Hindus and Muslims. It is in many forms and everywhere. It is among castes and in different sections of society as well.
When you appeases one caste, the other feel why should I not exercise my identity, my right?
It is very painful to say but very few people think 'I am an Indian'. Most people see themselves as a Patel or a Brahmin or a Baniya etc.
Also, development and technological advancement are fine, but we have to ask if our morality is intact? Our growth is okay, but we must introspect how much of morality is intact within us?
I am anguished by casteism within us. I don't look myself as a Brahmin. I don't have that kind of attitude to see things along caste lines.
You were offered your seat on a platter. What is the big deal to win a BJP seat?
The big deal will be when I will work for people. Second, many people come to me and say I should get a bigger margin. I tell them that to win an election you need just one vote more than your rival.
If I win, it will help Modi. My aim is limited to that. The test is party politics that doesn't bother me at all.
What was the brief from Modi to you?
Madhavi Bhutta (member of the BJP's Mahila wing) told me that Sahib (Modi) wishes you to stand from here. I needed just a spark in my mind to take the decision. I took it.
I like the way this man (Modi) works. He is good for the country. He will work for the country.
I am not a blind fan of Modi. I do question. I am not chanting 'Modi' all time. I have my views, too. I see things objectively.
How do you see India going?
This election is the turning point in India. People are aimlessly creating fears against Modi. That's their business. They allege that Modi will polarise India. In fact, Modi is uniting India.
Modi doesn't believe in the polarisation of India. I firmly believe that.
I wish Modi gets a majority. That's very important because people have tremendous expectations from Modi. People think that the day he will sit on the PM's chair their problems will be solved.
I do think he has the competence to solve people's problems, but only if he gets a majority. A coalition government has its own limitations.
However, Modi is not one who will readily compromise to remain in power. Who has the audacity to say that whether I win or lose, I won't play politics of appeasement?
I see a clear-headed man in him. I see the good future of our country.
He speaks his mind. He brooks no nonsense. He will work for his goals.
Under Modi, people will be able to live with much more pride.
Look how a man who is 63 years old is able to connect with the youth of India and another is 43 years old (Rahul Gandhi), but the people are not able to connect with him. There must be something in Modi.
Except the Indian Army, the Congress has let loose everything to nab Modi.
Will you stay on in Ahmedabad if elected?
I am here three days a month, normally. I don't have any track record as it is my first election. I will surely like to work for the water issue in Dahegaum area. Also, I will work on education and health issues.
I think Modi selected me because he must have thought that I am a committed person.
I believe in India people should have, up to a certain age, compulsory military training. I also believe that voting should be made compulsory.
I have some violent idea, if you allow me to say so, that all candidates should sign an affidavit that whatever they have promised to the people, if they are unable to fulfill they won't stand in elections again.
The accountability of political leaders is necessary.
Will the Hindi film industry miss Paresh Rawal?
No, no! I will require some 175 days a year in Parliament. I do character acting which requires some 125 days. I won't quit acting because my house runs on it.
I have not come to politics to make money.
Also, if I don't act my soul will die.
I have to keep my sanity; else I will go mad. Something that I have learnt for 58 years, I can't abandon that craft.
Raj Babbar, Hema Malini, Chiranjeevi, Jaya Bhaduri are attending Parliament and working, too.
What are Modi's weaknesses?
I think Modi has come late on the national scene. It will sound sentimental to you, but if I was unmarried then I would have joined a Modi kind of person earlier leaving behind home and career. I had such an urge when Jayaprakash Narayan was leading the Navnirman movement.
I strongly believe Modi should have come earlier on the national stage. This country is not poor. It is made poor because of looting, year after year.
In fact, let me tell you something not as a BJP man or as Modi's friend. If Modi doesn't become PM this time, then the country's youth will slip into huge levels of depression.
Image: Paresh Rawal with Narendra Modi. Photograph: Paresh Rawal's Facebook page.
Will Paresh Rawal make a good politician? Vote below!