'This election campaign in Gujarat, in spite of an expected impressive win for the BJP, will expose the party's emerging weaknesses in the state.'
'In urban areas, the BJP will do well, but in the Congress strongholds of tribal areas and the south and in some towns of middle Gujarat, there will be a couple of surprises.'
'If Modi was not the prime ministerial candidate, his party would have faced ignominious results in the Lok Sabha elections.'
Travelling across tribal Dahod to an about-to-be-born township near Ahmedabad, Sheela Bhatt/Rediff.com examines how the 'Modi effect' will play out in the polls in his home state.
In Gujarati newspapers today, the Bharatiya Janata Party's prime ministerial candidate Narendra Modi underplayed the 'Let a Gujarati become prime minister' appeal. It was expected that in the last phase of campaigning, Modi would play the emotional regional identity card and try to win all the 26 seats at stake here. However, he only played it subtly.
Instead, the advertisement in local dailies inspires people to vote. Only in radio advertisements in Gujarati was it claimed by the BJP that, 'As Gujaratis felt proud when Mahatma Gandhi and Sardar Patel led the struggle for Swaraj, let us feel proud once again as Narendra Modi, another Gujarati, wants to lead the struggle for Su-Raj' (good governance).
In a speech in Gujarati in Surendranagar, Modi did mention a Gujarati proverb that implied that if a Gujarati is there in New Delhi to serve the state's interest it would help (Mama ne ghare ma pirsanari hoi to anand thay). Its literal translation is, if one goes to one's maternal uncle's home and your mother is serving food there, then you feel it is like your own home.
Like many states of India, Gujarat behaves differently in the Lok Sabha and assembly elections. Under Modi's leadership, the BJP's performance has never been impressive in the Lok Sabha election. In the 2009 election, the BJP won 15 seats and the Congress won 11 seats. In the 2004 election the BJP won 14 seats.
Just to make the point that Modi's bid for the prime minister's post has resounding support in his home state, the BJP would like to win 26 out of the 26 seats. After all, 37 years have passed since Morarji Desai, a strong regional leader from Gujarat, is once again bidding for the top post.
Notwithstanding the Modi wave and 'Modi for PM' cries, the most interesting thing about the 26 Lok Sabha seats that went to the polls today is that in Gujarat, not even senior BJP leaders claim that there will be a clean sweep by their party.
There is anti-incumbency in Gujarat against a slackening administration, there is the people's disgust against ever-growing corruption at all levels, and even the BJP's usually well-oiled party machinery is not working efficiently.
Also, Congress candidates have been selected more prudently than BJP candidates.
However, Gujaratis being practical voters are likely to cheer Modi because, as he mentioned, a 'Gujarati prime minister' will help in New Delhi. Modi has clearly underplayed the 'Gujarati' tag largely because his other identities of Vikas Purush and 'Being Indian First' may get blurred in the battlefields of Uttar Pradesh and Bihar.
This election campaign in Gujarat, in spite of an expected impressive win for the BJP, will expose the party's emerging weaknesses in the state.
In the urban areas, the BJP will do well, but in the Congress strongholds of tribal areas and the south and in some towns of middle Gujarat, there will be a couple of surprises.
If Modi was not the prime ministerial candidate, his party would have faced ignominious results in the Lok Sabha elections.
In Vadodara, Modi's victory will be awesome. But in the surrounding areas of Dahod, Chota Udaipur, Bharuch, Sabarkantha, Anand and Kheda, the Congress and BJP are fighting like equals and the victory margins are likely to be modest.
In spite of the Modi wave, Gujarat's electorate in the tribal areas is speaking out against his government when the media talks to them. They talk about sanitation, corruption and the costly standard of living, particularly electricity bills.
Of course, a Gujarati bhai's bid for the PM's post has very strong appeal in the state, so the Congress's hard work may not yield the desired results, but it will pave the way for the future.
On April 26, near Deogadh Baria, we met Bhurabhai Damor, a retired teacher, and Raimalbhai Bhabhor, the sarpanch of Dhamrada village (image, left), who spoke at length about their lives.
They explained how things are going from bad to worse in their area. Raimal was a Congressman, but Bhurabhai is politically neutral.
"We have no industry. No jobs," they said. "We do cultivation depending on the rain. We don't have water from a canal."
In spite of a new law dealing with forest lands, tribal families don't get the rights to the land. The Gujarat government is moving very slowly in implementing the law.
One of the most common complaints is that there is corruption at every stage in their area. To even get a certificate of 'tribal' status, they have to pay bribes.
Funnily, such a certificate is required to fight the local body elections. The government gives candidates such certificates that are valid for only six months!
"In our area," Bhurabhai said, "desi alcohol and liquor imported from Rajasthan and Madhya Pradesh are easily available. In fact, daaru is more easily available than drinking water. Modi has not done anything to break the nexus of the liquor mafia with bureaucrats, politicians."
The sale and consumption of alcohol is prohibited in Gujarat.
Sujhabhai Damor, an agro-expert living near Deogadh Baria, says, "Modi has made his MLAs impotent. There is nobody to protest against the difficulty in getting subsidies for animals and seeds. Bureaucrats have no check on them. In forest areas and tribal villages they behave as they like. When your party is weak and when your MLA is powerless, corruption by bureaucrats will be the natural outcome."
Dr Prabha Taviyad, the Congress candidate, has done few things in improving railway connectivity, but beyond that she has not done enough. Her supporters say Prabhaben gets no support from the state administration because Modi is miffed that she challenged him on the plight of the tribals at a government-sponsored garib mela.
After that showdown, Dr Taviyad has complained that she is not invited to government functions in her area.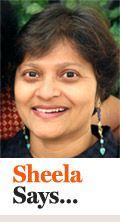 Another villager in Dahod, Naresh Chauhan says, "Diva tale andharu (darkness under the lamp). Modi shines at the national level, but in his backyard we suffer. In Dahod and other tribal areas, huge migration has taken place. We don't have jobs. Life is difficult when you wait for the rains to cultivate fields. There is rotten corruption in seed banks and agro-equipments loans."
One would immediately think of the much-debated Gujarat model and arguments for and against it. But everything in life and politics has nuances, two sides and relative truths attached to it.
'The Modi wave' and the 'Gujarat model' are much debated, much abused and misunderstood topics in the current election.
Gujarat's tribal areas have improved a lot when compared to what they were like some 20 years ago.
Why is Modi's BJP going to register a thumping victory in spite of the formidable challenge in some 15 seats from the Congress?
Have you heard the name Nicole village, an area in Ahmedabad?
Try and discover it on your next visit.
Paresh Rawal, the actor and BJP candidate, agreed for an interview with Rediff.com He gave me the address of an area which is close to the infamous Naroda Patia.
As Gurgaon and Noida on the outskirts of New Delhi have become the favourite destination of the educated and high-salaried classes, here in Ahmedabad the middle income group has got a wide range of housing options. The residential township development in and around the industrial belt of Ahmedabad and Naroda is mind-blowing.
There are smart shops, wide roads, building after building, offering stylish living to the middle class who have improved their living standard from the 'lower middle class' or 'working class'.
While searching for the villa that is Rawal's temporary home, one traveled through vast swathes of land where a new town is about to be born. It is the investment of billions of rupees by largely migrant Saurashtra builders. They offer a decent lifestyle to thousands of middle-income group people who can be called the 'Modi Class'.
Deogadh Baria's development issues are a reality and this-about-to-be-born town near the Nicole area is more than a reality. Because it is a new horizon of aspiration. The working class who lived in slums are now shifting into these newly-built small apartments. To reach this area from posh Navrangpura, one has to drive through slums and semi-slum chawls.
The industrial belt has many colonies in Bapunagar and other areas where largely migrants from UP live in shabby conditions. Now, after one or two generations of hard work, some of them -- the migrants from Bihar, UP, Saurashtra, Kutch and tribal Gujarat -- are getting offers from migrant Kathiawadi, Rajasthani and Kutchi builders to purchase these thousands of small, smart apartments in a friendly neighbourhood with all the urban facilities.
Rawal was staying here, among the BJP voters.
The debate on the Gujarat model is as aimless as the debate on well-developed south-east China versus western and north-west China. There are two Gujarat models. Of course, there has to be.
Modi's critics talk about one model and Modi's supporters talk about the infinite possibilities of making a new life around Nicole. Both Gujarat models are a reality.
Both are bound by the hope factor and it is this that keeps giving Modi votes in spite of weak BJP candidates and anti-incumbency against his government.
Image: Narendra Modi after voting in Gandhinagar on Wednesday.
Must Read: Sheela Bhatt's fascinating columns on Election 2014
Is the Gujarat model an illusion? Vote below!