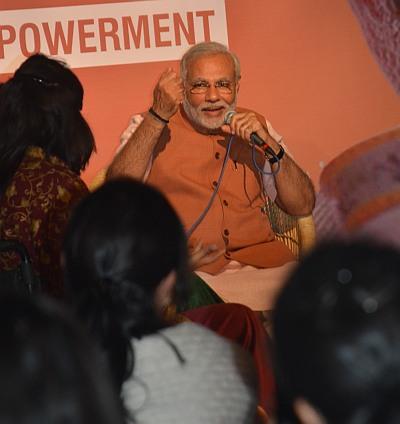 Is Modi trampling upon his senior BJP colleagues while taking decisions?
How come Team Modi underestimated the political action-reaction when they were upsetting two of the BJP's founding fathers, L K Advani and Murli Manohar Joshi, in the ticket distribution process?
Rediff.com's Sheela Bhatt's fascinating new column where she reveals the ground realities in the Battle for India.
This was not expected from the team who wants to make Narendra Modi the next prime minister of India.
The Bharatiya Janata Party's prime ministerial candidate faces a serious setback as the division in the party's top leadership, over his proposed nomination from Varanasi and Ahmedabad East or Gandhinagar, has become public.
This is a case of complete mismanagement, and if more such instances come to light as the country goes into election campaign mode Modi will have to explain why he is failing to handle 'human relations' within his party, which is an integral element of building up his party's and his own public image.
Two recent events have jolted Modi's standing. One is the difficult-to-decipher comment by Rashtriya Swayamsevak Sangh chief Mohan Bhagwat in Bangalore on March 9.
The Indian Express reported that Bhagwat told RSS cadres: 'Hum rajneeti mein nahin hain. Hamara kaam "Namo Namo" karna nahin hai. Hume apne lakshya ke liye kaam karna hai (We are not in politics. Our work is not to chant "Namo Namo". We must work with an eye on our goals)."
Bhagwat also said the RSS 'should not cross its maryada (limits)' while working for the BJP, and it should stay away from any personality-driven campaign.
The reference from the leader of the entire Sangh Parivar, which includes Modi, is obviously to the latter.
In fact, the RSS leadership is learnt to have communicated to Modi that given the dissatisfaction in the higher echelons of the BJP, perhaps he should consider contesting from Patna.
Since the last one year it has been known that Modi enjoys the total support of the RSS in his political goal to defeat the Congress and make the BJP the ruling party under his leadership. Bhagwat's advice at such a delicate time puts a question mark over Modi's equation with members of his parent organisation where he grew up and from where he got his ideological base.
Is Modi trampling upon the egos of his colleagues while taking decisions within the party?
The RSS tried to clarify later about Bhagwat's 'advice,' but the damage had been done. Is this inevitable since Modi's acceptability in some sections of the higher echelons of the Sangh Parivar remains low?
If that is so now, when real power is still at a distance, what will be the scene if and when Modi and his party get to it?
After Bhagwat's remark came the news on March 13 of the delay in announcing the list of BJP candidates for Gujarat and Uttar Pradesh for the Lok Sabha. The party's election committee has failed to reach any agreement in spite of time running out.
Why did Team Modi fail to cajole Dr Murli Manohar Joshi, the sitting MP from Varanasi, to opt for another seat and leave Varanasi for him? This was a decision Modi and his team had been debating for many months.
Rediff.com had reported almost a year ago that Modi may fight the Lok Sabha election from Uttar Pradesh.
Some two months ago, BJP MP Harin Pathak had gone to Gandhinagar, met Modi and offered his seat, Ahmedabad East, considered the BJP's safest seat in the country, to Modi.
Pathak has won the seat six times and is almost like Advani's son. He didn't want Modi to touch Advani's Lok Sabha seat, Gandhinagar, so he was ready to sacrifice his own.
Still, the decision about Advani and Modi's seats are hanging in the air. Harinbhai watches ETV in his Ahmedabad home to know if he has got a ticket or if he will make way for Modi.
Advani is justifiably upset that his name was not announced in the party's very first list of candidates. He has represented Gandhinagar in the Lok Sabha since 1991.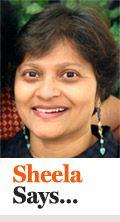 The art of conducting human relations is integral to public leadership. Why did Modi's team not speak to Dr Joshi much before it became a spectacle?
This is a legitimate question and BJP cadres can easily see through the lack of tact in handling the important issue of Modi's own candidature for the Lok Sabha.
How come Team Modi under-estimated the political action-reaction when they were upsetting and uprooting two of the BJP's founding fathers, Advani and Dr Joshi, in the ticket distribution process?
After all, the nomination of candidates for any election is one of the most political events in any party. It smacks of arrogance on the part of party managers to buy time at the expense of elders.
Dr Joshi vented his anger in Varanasi. While attending a music programme he is reported to have said, 'There is a wave in the country... I am sure you must be aware of it... I have been a student of science... I must have committed some sin, that's why I got stuck in politics and landed in Parliament.'
Modi and Dr Joshi's supporters are running a poster war in Varanasi. Modi's army is also running a signature campaign in his favour.
When Modi's choice of Varanasi became clear Dr Joshi's wife Tarla inaugurated the party's central election office at Anand Vatika Bhojubir Road in the city on February 20. It was a clear indication that Dr Joshi was resisting tooth and nail Modi's claim on Varanasi.
"There is complete lack of grace in finalising seats for L K Advani, Dr Murli Manohar Joshi, Rajnath Singh and Modi," says a senior leader of the Sangh Parivar.
Transfer of power within the party is inevitable as Modi is challenging the older leadership and established BJP stalwarts.
Modi is justified in some ways in challenging the discredited party leadership in Lucknow. Many leaders in New Delhi too have been conducting a laidback political activism that has resulted in two consecutive defeats for the BJP at the Centre.
Even now, the RSS's thinking is that whatever seats -- 160 or 200 plus -- that come the BJP's way is coming because of the Modi juggernaut, but Team Modi cannot bulldoze its way and arrogantly bring in the new order, and that seems to be the message given to Modi as well.
In Uttar Pradesh Amit Shah, Modi's crisis manager, has made sweeping changes in the party at the district level. Kalraj Mishra, Lalji Tandon and other veterans, who have not helped the BJP much in the last three elections, stand discredited among party cadres.
Shah has ruthlessly brought in some 40 new junior leaders into the party at the lower level and weeded out the support base of leaders like Mishra and Tandon.
Shah is working in the party's interest, but it is aggressive politics for a party which has acquired lazy bones in UP.
These BJP leaders have been accused of siding with Bahujan Samah Party leader Mayawati and the Lucknow establishment, costing the BJP dearly. Their uprooting is necessary for the BJP to allow a younger leadership to grow.
The Brahmin-Baniya dominance is so strong in the BJP office in Lucknow that even as Amit Shah tries to push out the oldies and discredited leaders they are striking back with the 'Brahmin card' and trying to hit back at the 'OBC Modi'.
That's the crux behind Modi's Varanasi blues as well. The Brahmins charge that the Rajnath Singh-Modi-Shah trio is getting too many Thakurs in powerful positions in the party.
Thursday morning, much before the BJP's election committee met in New Delhi, a party leader told Rediff.com, "The Brahmin angle has emerged so Modi's Varanasi seat may not be declared today!"
This is a silly excuse when the party and Team Modi believe there is a wave in UP in his favour. The Brahmin card has to be subsumed in the Hindu card and the development plank of Modi, right?
Modi's Varanasi blues are a lesson for all parties in how lack of tactics in handling the all-important human relations can impact the giant exercise of image-building -- even of prime ministerial candidates.
Image: Narendra Modi at an event on International Women's Day 2014. Photograph courtesy: BJP Web site.
On Thursday: Sheela Said: Will Jaya realise her national dream?
On Wednesday, Sheela Said: All the PM-in-Waiting's Men
On Tuesday, Sheela Said: Delhi poll result reverberates in UP
On Monday, Sheela Said: Narendra Modi wants Varanasi, and he will get it!
Is the transfer of power within the BJP messy? Vote below!