In Tamil Nadu politics J Jayalalithaa is the queen of all she surveys today. Some factors may still dent her high ambition.
Rediff.com's Sheela Bhatt's fascinating new column where she reveals the ground realities in the Battle for India.
In Tamil Nadu, all the political parties are fighting two elections. One is the Lok Sabha election of 2014 and the other one, in their mind, is the 2016 assembly election.
The state has 39 Lok Sabha seats plus one seat in the Union territory of Pondicherry.
The All India Anna Dravida Munnetra Kazhagam
Chief Minister J Jayalalithaa is walking into the battlefield with maximum confidence. She is well poised because there are no corruption scandals dogging her this time round.
Her nearest rival, the Dravida Munnetra Kazhagam, is a house divided and its leader M Karunanidhi is nearing the sunset of his political career.
Her populist schemes like low-cost Amma idlis, cooked rice and bottled water have touched a chord among voters and in spite of her age her demeanour is intact -- a firm, queen-like poise, always.
She is aiming for all the 39 + 1 seats, and even her detractors say she will get nothing less than 15 to 20 seats.
This time, Tamil Nadu politics is about Jayalalithaa versus all other parties.
Jayalalithaa started her campaign early and declared all her candidates well on time. The divide in Karunanidhi's family gives her an edge that will work as a bonus. She has taken a tough stand on Sri Lanka-related issues and that helps her garner the anti-Congress and anti-United Progressive Alliance votes.
Jayalalithaa being Jayalalithaa, it is difficult to catch her on the wrong foot.
She ruthlessly dumped the alliance with the Left parties when they could not agree on a seat-sharing arrangement.
One of the interesting questions from this election will be -- will Mamata Banerjee's Trinamool Congrees get more seats than Jayalalithaa?
The race between two ladies and even Mayawati is to bag the title of 'third biggest party' after the Bharatiya Janata Party and the Congress. Mamata and Jayalalithaa have recently talked coyly about each other and raised hopes of a post-election federal front.
On the planks of 'controversy-free' rule, more than dozen welfare schemes, and the anti-Sri Lanka issue, Jayalalithaa is set to win an impressive number of seats and play an important role in New Delhi.
The only minus point for her is that there is a multi-pronged contest in Tamil Nadu.
Ranged against her party are the DMK, the Congress, the Left parties and the newly-formed front that includes Vaiko's Marumalarchi Dravida Munnetra Kazhagam, Dr Ramadoss's Paattali Makkal Katchi and actor Vijaykanth's Desiya Murpokku Dravida Kazhagam and the BJP.
In each Lok Sabha contest, the AIADMK will face a minimum of three prominent candidates.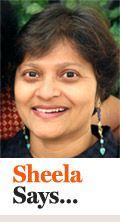 Neither the DMK nor the AIADMK has declared a prime ministerial candidate, nor have they declared support to any outsider. The Lok Sabha election will still be local in character here.
The DMK
Here is the tragic picture of a family feud. Karunanidhi is 90 and still worrying about his beloved party's diminishing fortunes. Although son M K Stalin is his preferred choice as successor, it is quite like a Mughal family saga where family clashes bring down everything including the throne.
Karunanidhi is worried about daughter Kanimozhi's future too.
Stalin has received two decades of training under his father, but it is elder son M K Alagiri who is the politician with raw wisdom and a desi touch. He has been abandoned by the family, but he is likely to play a role in the assembly election.
Stalin will meet his match in his brother then.
The Congress and DMK could not finalise a deal for the Lok Sabha election mainly because Stalin's eyes are set on the assembly election and the party wants to keep its options open to join the incoming government in New Delhi.Rediff.comIt will help the party get external help to take on Jayalalithaa. According to early reports, 2G scam-tainted DMK leader A Raja is likely to retain his Lok Sabha seat, the Nilgiris. That is Tamil Nadu!
The Modi factor
It is a novelty of this election that Tamil Nadu politics, which works differently from national politics, is witnessing some visible support for Narendra Modi. He is supported by non-Tamil migrant students and also by a young section of the Tamil middle class.
It is the Congress, and not the BJP, that is untouchable in Tamil Nadu. See how the perception of the saffron party changes dramatically in a staunch Tamil-speaking society.Rediff.comThe downfall of the Congress has contributed to the BJP getting some space in this region. The BJP's alliance is likely to win seats here.
All the parties are focusing their energy to hit the Congress hardest. In doing so, issues related to Sri Lanka, like the fishermen's issue, human rights violations, rehabilitation of Sri Lankan Tamils and, above all, the commuting of death sentences of Rajiv Gandhi's killers will be played up.
Somewhere, Jayalalitha's hope is to get lucky and be in the race for prime minister. That will only be possible if the BJP and Congress are restricted to 250 Lok Sabha seats.
The importance of Tamil Nadu in government formation in New Delhi lies in Jayalalithaa's final seat tally.
Image: Tamil Nadu Chief Minister J Jayalalithaa.
On Wednesday, Sheela Said: All the Prime Minister-in-Waiting's Men
On Tuesday, Sheela Said: Delhi poll result reverberates in UP
On Monday, Sheela Said: Narendra Modi wants Varanasi, and he will get it!
Do you see a bright chance for Jayalalithaa to play a role in national politics?