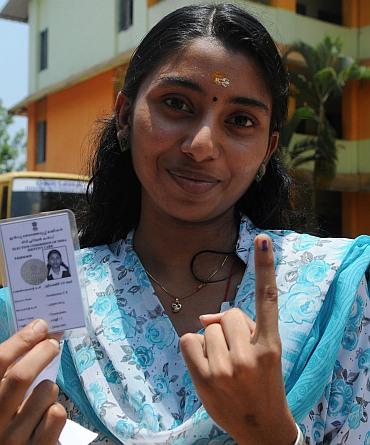 Your vote will decide whether India fixes itself and becomes a vibrant democracy, or a failed State like the ones in our neighbourhood, says Dasarathi G V.
"Corruption can be tolerated, but fast development is a bigger necessity.'
This is a common opinion in India today.
When you say 'development', do you mean this?
Snatching farm land near cities from farmers, giving them a pittance, then after taking a bribe from large real estate developers, mining companies and industrial houses, giving them the land at throwaway prices?
Helping multinational seed companies to spread their untested technologies, causing hundreds of thousands of farmers to commit suicide?
Encouraging pesticide-intensive farming technologies and helping multinational pesticide companies sell products that are banned elsewhere, resulting in the incidence of cancer among us being four times what it was 20 years ago?
Destroying our forests, lakes, rivers, villages and cities to enable a few slimy corporate houses to make humongous profits at the cost of the rest of us?
Making laws in favour of, and giving contracts to, a few favoured companies and keeping out the rest?
Making our cities and towns some of the most polluted in the world -- cesspools of garbage, air pollution upto 10 times the safe limits, road deaths among the highest in the world?
No? This is not what you meant by 'development'?
This is what the Congress and National Democratic Alliance (during the six years they were in power) have given us. This is what they mean by being 'business-friendly'.
When you say 'tolerate corruption', do you mean this?
People taking bribes to allow powerful industrial houses to start mining in virgin forests or in the midst of human settlements, destroying the environment, and livelihoods and lives of people?
A close friend or relative of ours gets raped, and the police takes bribes to suppress the case? A close relative or friend of ours gets murdered by a rich man or hit by his BMW car, and the police takes bribes to suppress the case?
Taking bribes that gives us substandard water treatment plants, substandard power plants, substandard hospitals, substandard roads, substandard bridges?
Taking bribes to approve 'medical colleges' run from single room sheds with no equipment, and we get a country full of doctors from these colleges?
Rich and powerful people winning elections by buying votes? Votes being bought instead of being earned by years of hard work and good governance?
Taking bribes to ask specific questions in Parliament, to switch parties, to pass laws that favour the rich and powerful?
Taking bribes in government departments to appoint substandard teachers in schools and colleges, substandard police personnel, substandard doctors and nurses, substandard engineers, substandard soldiers, substandard bureaucrats?
Taking bribes to buy guns, snow shoes, jackets and food for our soldiers in Kargil. People responsible for ensuring the quality of these goods then taking a bribe for passing substandard goods?
Taking bribes to buy coffins for soldiers who lay down their lives defending us (makes you weep, doesn't it?). Other people then taking a bribe for passing substandard coffins?
No? This is not what you meant by 'tolerating corruption'? Then what did you mean?
No? These things don't happen?
They've happened for decades now. Don't you read the newspapers?
Some during the Congress-led United Progressive Alliance rule, some during the Bharatiya Janata Party-led NDA rule.
And nobody has been caught for any of this. Because the government in power always owns the investigation agencies and the police. Because the Congress and the BJP have consistently got together to prevent ombudsmen (Lokpals, Lokayuktas, etc.) from being set up, or to ensure that they are toothless even when they are set up.
There is no such thing as tolerating corruption
All our institutions are rotting because of corruption.
The politicians, the armed forces, the bureaucracy, the police, investigative agencies like the Central Bureau of Investigation, doctors, teachers, government engineers, every government department.
With lawmakers who can be bought, the laws will increasingly be made for slimy business people and thugs. One by one, all laws that protect our property, our right to clean air, a good education, healthy food, livable localities, our life itself, will be modified to suit them. Will the police protect you?
Do not tolerate corruption
A country where votes can be bought is not even a democracy. It is a banana republic. And we have made it one, by tolerating corruption, by saying 'Ah, it's okay that they're buying votes, as long as they're giving me development.' Like filmmaker Shekhar Kapur says, 'In India, the corrupt accuse the corrupt of being corrupt and the corrupt investigate the corrupt and absolve the corrupt of being corrupt.'
Corruption is like polluted air -- it spreads everywhere, and it corrodes whatever it touches. You cannot have selective corruption that is restricted to certain sections of the government, so that it 'speeds up' development.
You, as a voter, have a huge responsibility towards the nation. India is an island in a sea of struggling or failed democracies -- Nepal, Pakistan, Sri Lanka, Afghanistan, Myanmar, Thailand. Your vote now is going to decide whether India fixes itself and becomes a vibrant democracy, or a failed State like the ones in our neighbourhood.
Voting for honesty means voting for development.
Voting for corruption means voting for death.