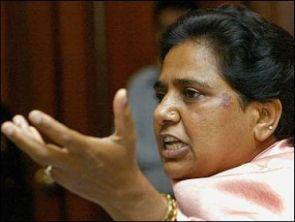 Bahujan Samaj Party supremo Mayawati on Sunday attacked the Bharatiya Janata Party and Congress for "double-crossing" the common man by serving the interests of capitalist. Addressing a rally here on the eve of the birth anniversary of Dalit icon Babasaheb Ambedkar, Mayawati said, "Parties such as the BJP and the Congress are getting elected on the votes of the poor, downtrodden, SCs, STs and Muslims, but are serving the needs of capitalists without caring for the common man".
Singling out BJP's PM nominee Narendra Modi, Mayawati said, "If Modi becomes the prime minister, the entire country would be in clutches of riots." Attacking the Congress, Mayawati said, "Corruption will rise manifold if Congress is voted to power again."
Raising the issue of black money, Mayawati said, "The Union government has failed to bring back the black money stashed in foreign banks despite being in power even as corruption has gone up many fold."
"If the BSP comes to power at the Centre, we will leave no stone unturned to uplift the depressed and backward community as we did in Uttar Pradesh during my tenure," the former Uttar Pradesh chief minister said.
The BSP supremo alleged there was a "plan" afoot to cancel reservations to the deprived classes. "On the contrary, BSP has demanded inclusion of the economically backward people from upper classes across the country for reservation," she said.
She accused the ruling Democratic Front government in Maharashtra of "perpetrating injustice to the common people". Aurangabad is the home turf of Shiv Sena where sitting Member of Parliament Chandrakant Khaire is seeking another term.
The Congress has fielded Nitin Patil from the seat, while BSP has given ticket to Dnyanoba Jevrikar and the Aam Aadmi Party to Subhash Lomte.