'The PM cannot give a single reason why farmers should trust him.'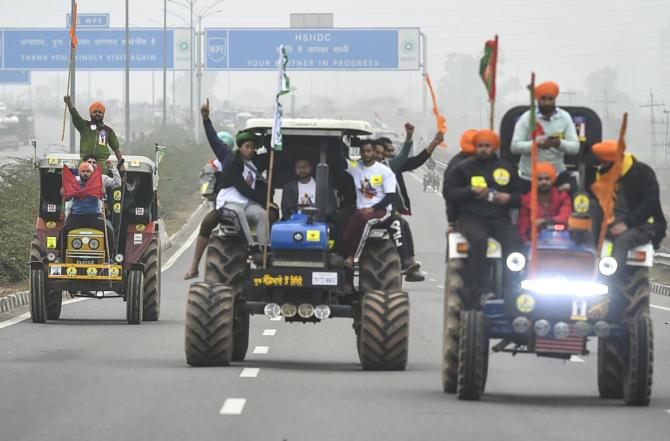 Shiv Kumar Sharma, popularly known as Kakkaji, is one of the leading faces of the farmer agitation.
In 1998, he joined the Rashtriya Swayamsevak Sangh-backed farmers group, the Bharatiya Kisan Sangh, without realising it was affiliated to the RSS.
Despite being a member of the BKS, Kakkaji continued to protest against the Bharatiya Janata Party-led Madhya Pradesh government until he was sacked in 2012.
He went on to found the Rashtriya Kisan Mazdoor Sangh.
He speaks with Nitin Kumar on the protests, farmer demands, and more.
Prime Minister Modi, while addressing farmers of Madhya Pradesh virtually, said if anyone has doubts about the new farm laws, the government is 'ready to negotiate with folded hands and bowed heads'. Why does the issue remain unresolved then?
People do not believe our prime minister anymore.
During his virtual rally, he said the government is giving 'C2 (complete costs)+50%' to farmers, but farmers are asking where the money went as no one received it.
In response to a PIL, the Centre had told the Supreme Court it would not be able to raise the MSP (minimum support price) for agricultural produce to 50 per cent more than the input cost.
When his government has already filed such an affidavit in the apex court, on what basis is the PM claiming that he has implemented the C2+50% recommendations?
The government says it has reduced the cost of production, but during the BJP's rule, it has increased more than ever.
From fertilisers, tractors and tractor parts to diesel, etc, everything is taxed.
The PM's words do not match his actions and people can understand that.
Why do you think the PM is not accepting the farmers' demand that the laws be repealed?
Modi's views are pro-corporate.
During his rule as Gujarat chief minister, over 33,000 farmers were booked under various acts for demonstrating against the government.
Within two months after he became the PM, he ordered state governments to stop giving bonuses on paddy and wheat.
In the past six years, this government has taken 18 anti-farmer decisions.
He focused on imports rather than exports.
The PM cannot give a single reason why farmers should trust him.
You say Modi has been against the farmers, then how did he get such a big mandate?
Farmers have never voted in unison.
They vote for religion, caste, alcohol, and money.
They (BJP) have all four.
These victories are the result of the BJP's Hindutva agenda.
We cannot take electoral victory as farmers' support to the government.
How long will the movement continue? Can farmers leave their fields for long?
This protest will continue forever.
The farmers know that these Acts are their death warrants and it is a fight for survival.
We are ready to bear losses.
Why do you think the government is hell-bent on implementing these Acts?
The government is under pressure from the WTO and countries, such as Canada and the US, which have filed cases against the Indian government over the procurement of crops on MSP and had asked the government to stop giving subsidies.
However, all these countries spend from Rs 1 lakh to Rs 2.5 lakh per acre as subsidies to farmers.
Why is the government not asking them to end their subsidies first?
We have a subsidy of less than Rs 10,000 per acre.
It wants to shift labour from farming to factories.
But, when you look at Bihar for example, you realise that people there are being forced to leave their state for sustenance as a result of similar laws.
What would be your long-term strategy to continue this movement?
In a democracy, non-violent protest is the only way of showing dissent.
Governments try to create violence because it becomes easy for them to quell such protests.
Until now, the government has tried its best to do that.
They tried to divide farmers by calling them terrorists, Khalistani, etc.
Now, agents from various corporate organisations are meeting the government under the guise of farmer leaders and extending their support to the farm laws.
But they will be unsuccessful in their attempts and we will soon expose them.
Then, they will launch nation-wide signature campaigns, but they will not be able to divide us.
Why do you think many experts are praising these laws?
All these experts are agents of the ruling party.
The biggest expert is the farmer who is growing the crop.
These so-called experts sit in AC rooms and air their opinion, but they cannot even grow even 1 kg of crop.
How can they talk on our behalf?
What are your demands for the bereaved families of farmers who died during the agitation?
We have no faith in the government.
Our Sanyukt Kisan Morcha will take care of families of farmers who were killed during the agitation.