How many more years, how many more states, how many more campaigns, how many more candidates can he ask votes for, before he or the voters or both tire?, asks Krishna Prasad.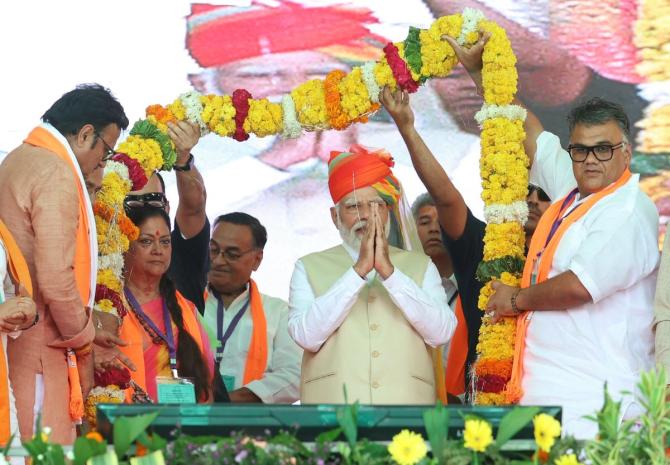 Every question has been asked and answered about the Karnataka election verdict.
Every question, except the only one that matters: If this is what could happen to the BJP with Narendra Modi, what might happen to the BJP without Narendra Modi?
There is no running away from this question given the thundering 'thappad' the BJP has received in its 'gateway to the south', where the prime mantri was the pradhan mascot, throwing all he could summon in a cringe-worthy demo of I-me-mera-mahaan.
At public meetings and in road shows; in 'interactions' with plebs and celebs; on hoardings and in pamphlets; in newspaper ads and TV commercials; on Facebook and WhatsApp; and in tweets and photo-ops, it was Modi, Modi, Modi -- to the power of 2AB.
For all the energy that the double-engine's head driver put on show, for all the execrable tropes he used, the BJP got 66 seats in the referendum, 38 fewer than five years ago.
And this, in a state where BJP had thrice formed a government without Modi's exertions (and excesses).
It is difficult to imagine a more thorough repudiation -- rejection, actually -- of everything Modi thinks he represents. Jai Bajrang Bali.
The BJP's meltdown in Karnataka is not the point. It is the puncturing of the Modi persona, constructed at obnoxious cost.
A trip to open an airport in Shimoga in February cost Rs 21 crore.
A detour to Belgaum on the same day cost another Rs 15 crore.
A 110-minute visit to Dharwar to open an IIT in March cost Rs 9.5 crore.
Self-effacing Kannadigas, whose political, cultural, literary, sport, cinema and business icons are a picture of modesty, saw through the relentless preening and self-promotion for what it was, and demolished the 'Statue of Narcissism' with the kind of brutality no one suspected lay behind their quiet docility.
They also showed they had a good memory.
In the two years of 2020 and 2021, when Karnataka saw Covid and a deadly flood, Modi came just once.
But in just the four months of 2023, he visited 11 times on official (government) and non-official (party) visits, the two indistinguishable in the BJP playbook to hoodwink the Election Commission's laughable rules.
Between April 29 and May 7, he addressed 16 public meetings away from Bangalore. The BJP won in exactly two of those locations. Strike rate: 10%.
This is precisely why the 'BJP after Modi' question gains salience.
If the party can lose despite Modi throwing his all into the campaign, what can it expect of those who have a lot less charisma, credibility and can-do?
Karnataka answered that, too.
Modi and Amit Shah touched 218 of the 224 constituencies through their campaigns. The BJP won in 66 of them. Strike rate: 31%.
Another aspirant, Uttar Pradesh Chief Minister Adityanath showed off his JCB in 10 constituencies.
Not only did BJP not gain any new seats, it saw its margins shrink in three seats where 'Yogi' campaigned in the Hindutva hotspots of Coastal Karnataka -- and he could not even stop mining baron Janardhana Reddy's triumph. Strike rate: 0.
Of the other shrill, language-challenged choral members the BJP unleashed to play 'Raga Narendra Modini' in Karnataka -- Shivraj Singh Chouhan, Himanta Biswa Sharma, Devendra Fadnavis, et al -- it can be safely said they did not trouble the scorers, or voters.
It can be argued that this cascade of rejection is only to be expected when an incumbent party is engulfed by a giant wave, but what Karnataka has demonstrated is not just diminishing respect for the BJP's pradhan vote magnet but near-total contempt for those who will follow after him.
By putting all its eggs in one basket, the BJP has arrived at an inflection point in its electoral journey.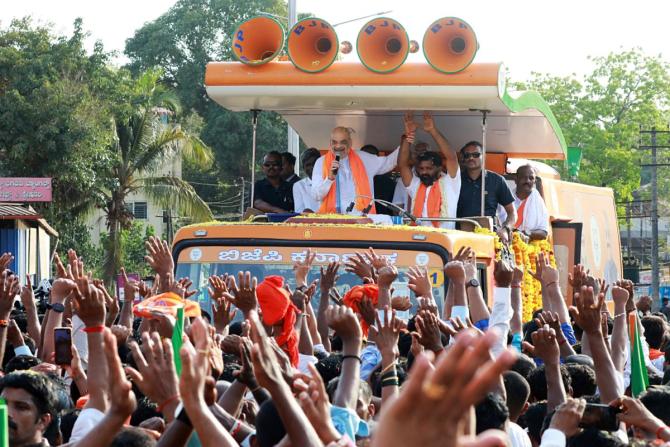 Karnataka may, of course, be an exception. Modi may yet find his image intact in the five other states where elections are due soon, and/or in the next general elections.
At least that is the gloss being applied on the loss. But the question 'BJP after Modi' is very much on the table whether the party wins or loses.
After all, Narendra Modi is 73. Realistically, how many more years, how many more states, how many more campaigns, how many more candidates can he ask votes for, before he or the voters or both tire?
And what if the EC moots 'one nation, one election'?
It is perfectly all right for the BJP and its chamchas and cheerleaders to taunt the Opposition with the rhetorical binary, 'If not Modi, who?'
But sometime soon they need to face the mirror and ask, who is the alternative to Modi within the BJP, when the going gets tough as it did in Karnataka?
What happens to the BJP without Narendra Modi is relatively easy to imagine in the absence of an acceptable, coherent or cohesive second line.
Less easy is a natural corollary: What happens to India after Narendra Modi, as a receding tide washes up the detritus of hype, hope and hoopla.
Nagpur, you have a Modi-size problem.
Krishna Prasad is former editor-in-chief, Outlook, and former member, Press Council of India.
Feature Presentation: Aslam Hunani/Rediff.com