The fact that the responses from the community to Mohan Bhagwat's remarks have ranged from guarded optimism to outright disbelief tells its own story, points out Kanika Dutta.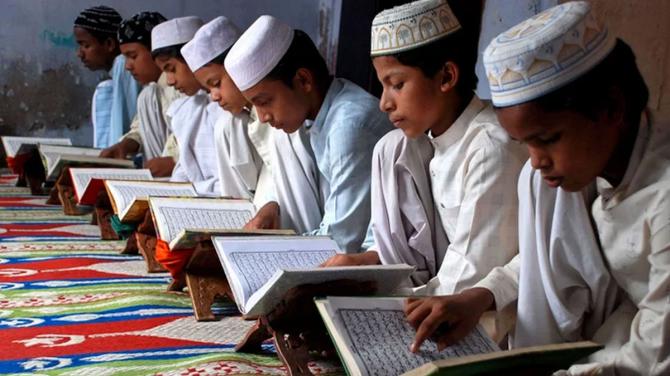 It is instructive that in the third decade of the 21st century, the head of a powerful religio-social group thought it necessary to reassure the country's principal minority group about the safety and equality of its citizens, rights that are embedded in the Indian Constitution, actually.
But Rashtriya Swayamsevak Sangh chief Mohan Bhagwat's comments unwittingly raised a far more invidious issue: A covert chauvinism in so-called polite society (cue: The latest Pew survey), and that includes the Indian corporate sector.
Today, the rising perception of persecution among Muslims is usually framed in the form of visible action over the past seven years -- lynchings, cow vigilantism, random arrests, targeted legislation and so on.
But these headline-grabbers reflect the overt threats fostered by political Hindutva. Their significance lies in the fact that they give free expression to the unstated prejudice that runs through majoritarian India.
There is little physical violence embedded in this sort of innate bigotry, but its impact is no less deleterious. This much was embarrassingly clear from the conclusions of the Sachar Committee report that was tabled in Parliament in 2006 and created a controversy that is long forgotten in the mists of political turmoil.
The overall finding was that Muslims were worse off than other socio-religious categories on a range of parameters -- from education to health.
The striking differential showed up in employment in government, public and private sectors. Muslims accounted for 23.7 per cent of government jobs, lower than Scheduled Castes, Scheduled Tribes (SC/STs) and other backward classes (OBC). These imbalances could be a function of affirmative action programmes and, in urban areas at least, reflect the lower workforce participation of Muslim women.
But the unstated discrimination is clear in the share of Muslims at various levels of government service -- just 3 per cent in the IAS, 1.8 per cent in the foreign service, and 4 per cent in the police or security agencies, for instance.
The record is worse in the public/private sector, where the scope of affirmative action is limited and the majority community are dominant owners of capital. Here Muslims accounted for just 6.5 per cent compared with 9.5 per cent for SC/STs and 12.8 per cent for OBCs.
The argument that Muslims are less qualified does not hold here since education levels are either a little better or on a par with SC/STs and OBCs.
But the fact that businesses are reluctant to hire Muslims is also suggested by the Sachar Committee comment that a relatively high share of Muslim workers were involved in self-employment and in the informal sector.
These findings, taken together with evidence of Muslim enrolment in education institutions, present a picture of selective bias. They were based on 2004-5 data, but there is little reason to assume those numbers have changed significantly.
Indeed, it is significant that some Bharatiya Janata Party spokespeople have occasionally referred to the relatively backward development of Muslims in TV debates (perhaps they are unaware that the party had rejected the report when it was first published).
This, at least, was the reason forwarded for the National Democratic Alliance conspicuously allocating funds to modernise madrassa> education and posit it as a major progressive initiative.
If these leaders had cared to read the Sachar report, they would have saved taxpayer money: Contrary to belief only 3 per cent of Muslim children attend these institutions of religious instruction.
Way back in 2015, nine years after the Sachar Committee report was tabled and a year after a post-Sachar Evaluation Committee submitted under Professor Amitabh Kundu its report, the Muslim community remains a marginal presence in India's economy.
An ET Intelligence Group study in that year found that Muslim account for just 2.67 per cent of directors and senior executives among BSE 500 companies, a figure that rises slightly to 4.6 per cent when the sample is narrowed to BSE 100 companies.
Even without the numbers, it is possible to gauge the deeply conservative nature of India Inc -- not just in terms of religion, but caste and gender too.
This is not surprising; if the Government of India has been a discriminatory employer, it is unlikely that India's private sector will transform itself into a contrarian trend-setter.
Coming back to Mohan Bhagwat's comments, which he insists were not part of an image building exercise. They can be read in two ways.
One is at face value; that Muslims should not be 'trapped in a cycle of fear' that Islam is in danger in India and that they are equal citizens who should not be subjected to violence.
The other is the subliminal message: To suggest that now that they've been shown their place, they have nothing to fear if they conform to a prescribed majoritarian idea of India.
The fact that the responses from the community have ranged from guarded optimism to outright disbelief tells its own story.