'What was said about Muslims was the most important part of the three-day RSS 'seminar'.'
Rashtriya Swayamsevak Sangh Sarsanghchalak Mohan Bhagwat, in his speeches at last week's 'Future of Bharat: An RSS Perspective' event, declared that a 'Hindu rashtra' doesn't mean that there will be no place for Muslims in it.
Some observers argue that Bhagwat's comments are a reflection of a perceived shift in RSS thinking.
Walter K Andersen has explored the changes underway in the RSS in a new book The RSS: A View to the Inside, co-authored with Sridhar D Damle, with whom he wrote the seminal The Brotherhood in Saffron: The Rashtriya Swayamsevak Sangh and Hindu Revivalism in 1987.
In the first part of his interview with Rediff.com's Utkarsh Mishra, Dr Andersen explained why the RSS will not play a major role in the 2019 Lok Sabha election.
"The key is to see if this verbal call for tolerance is followed through by the various affiliates," Dr Andersen says as he explains Bhagwat's remarks at last week's event in the second part of a multi-part interview.
How do you interpret Mohan Bhagwat's comments at last week's RSS event?
Was it just an image makeover exercise? Or was it a veiled threat to the BJP, telling them who is the boss?
On the general significance of Mohan Bhagwat's comments, I don't think it was either of the two options you mention.
It was more than just an image makeover, though there is something to that objective.
It was definitely not an effort to show who was 'boss'.
The RSS affiliates (and that includes the BJP) are autonomous.
As explained in one of my book's case studies, the RSS gets involved in electoral politics where the party is weakly organised (as in rural Bihar as our book explains).
But the involvement is within the context of the BJP. I have written elsewhere that I think it had an inward audience (the Sangh family) and an outward one as well.
On the inside, to warn that violence is not acceptable and that Muslims should be considered Hindu (which in fact meant to mean they should be considered fellow Indians and what was said about Muslims in my view was the most important part of the three-day 'seminar').
The key is to see if this verbal call for tolerance is followed through by the various affiliates.
On the outside, it seems to also convey a similar message, though with the added element of pointing out that the RSS is not a political party.
Notice how Bhagwat went out of his way to praise the Congress's role in the freedom struggle.
His 2017 Vijayadashmi speech is quite critical of the BJP's economic policies as insufficiently populist.
Some BJP leaders say it was the RSS chief's warning to the party that their polity is not Hindu-centric enough. Do you agree?
I do not read the speeches as a criticism (of being) insufficiently Hindu-centric.
Hinduism is hierarchical and Hindutva at least in theory subscribes to social equality.
In fact, one might say it was advice to follow Hindutva more closely and the most reliable exponent of that is Deendayal Upadhyaya in Integral Humanism.
Notice that the more hardline (the RSS's second Sarsanghchalak Madhav Sadashiv 'Guru') Golwalkar was barely mentioned at all during the 'seminar'.
Bhagwat's speech was testimony of how the RSS wants to bring uniformity in India. He rejected the term 'Hinduism' and said it should be called 'Hindutva' or 'Hinduness' instead.
His approach to the majority versus minority question was also puzzling.
He completely rejected the notion of 'minority' and said it was a concept imposed by the British.
Doesn't all this say that the core of the RSS is the same, only the language has been euphemised because they are no more a fringe now?
I have explained why Hindutva as a term is preferred to Hindu.
The rejection of the term minority seems to be a way to tell both those within and outside the family that Christians, Muslims etc may have different religious doctrines (a situation that exists within religious Hinduism, as he notes), but they are, in fact, fellow Indians by ethnicity and politics.
He is not, as you suggest, ambiguous on this point -- and has already been criticised for taking such a strong stand on this issue.
This is a major evolution from what was the case when The Brotherhood book was written three decades ago.
There is no doubt that many (maybe even most) swayamsevaks still have a hardline view toward Muslims, but this word from on top is to reject that view.
Now we can judge sincerity by the steps taken to push this advocacy of greater tolerance from within.
Has the RSS abandoned the idea of a Hindu rashtra or do they still strive for it?
To be quite frank, I prefer the word 'Hindutva' to 'Hindu rashtra'. And they tend to use Hindutva more -- it is my experience -- than the phrase 'Hindu rashtra'.
Now as I mention in the book, the phrase (Hindutva) has come to being something more inclusive that it once did.
In the early days, it referred to people who could be categorised as Hindu by religion. It doesn't mean that anymore, at least for most.
One of the things I've mentioned in the chapter on Hindutva is that there are many definitions of Hindutva. But it now refers to, basically, people who are Indian, whatever their religion, but who -- hopefully, in their view -- subscribe to a culture that is Hindu.
And they often refer to Indonesia as an example of what they would like to see.
Here's a country that is, what, 80 per cent Muslim? Yet the predominant culture is Hindu, in Indonesia.
The Indonesian embassy here in Washington has a 30 feet statue of the goddess Lakshmi. The Indian embassy doesn't have anything like that (laughs).
The national epic in Indonesia is a version of the Mahabharat. Look at the names of the leaders, Sukarno etc. All have a very Sanskritic basis. So that's what they (the RSS) say they would like to do (in India).
Now that doesn't mean that the Christians, Muslims and others subscribe to it because there's lot of opposition from these communities to that.
But one has to keep in mind that there has been a changing view of what Hindutva means.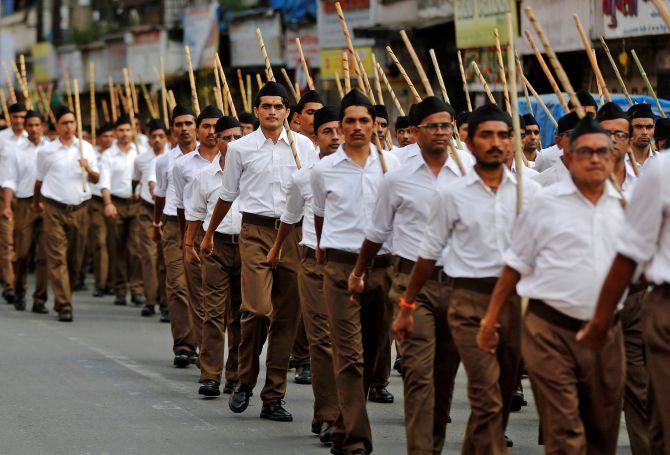 When the RSS says that all who live in India are culturally Hindu, it seems like more of a co-option than acceptance of minorities.
I like that term 'co-option'. I wish I had thought of it earlier when we wrote the book.
That's a very good term to use, that they prefer co-option.
The RSS seems to categorise only one kind of Muslims and Christians as Indian. It is not ready to accept the minorities the way they are.
Actually they can't because of their Hindu background.
Hinduism is so complex that it is impossible to come to a single vision of it that will be acceptable all over the country.
Therefore, because Hinduism is so diverse, many in the RSS look at Christians and Muslims almost like another sect. And there are Muslims who go to (RSS) shakhas.
The RSS opened itself to non-Hindus in 1979. And I am told there's no effort to identify a person by their religion. And the demand is not made of Muslims and Christians who attend shakhas that they convert.
In fact I wrote in the book that there are some prominent RSS people who commented that we don't insist that they come to shakhas, therefore they have to become Hindu.
(But) some might, and undoubtedly there might be a sense that this is the thing to do.
Don't miss the final part of the interview. Coming Friday!