The military preparations underway show that the PLA may undertake operations this summer to achieve whatever objectives they could not achieve last May, asserts Jayadeva Ranade, the distinguished China expert and retired RA&W officer.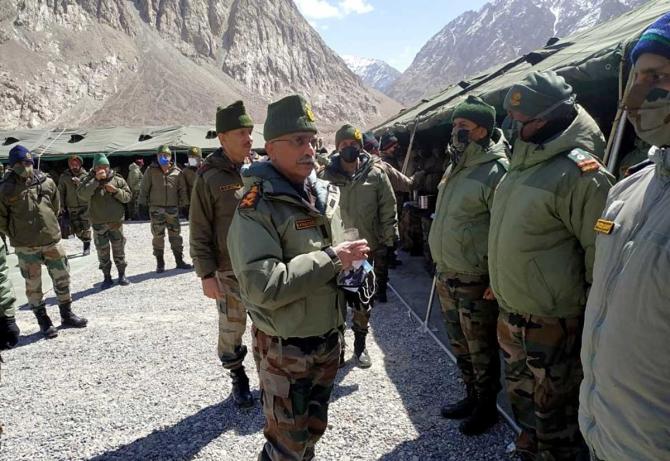 While India continues to pursue the path of commander-level talks for peaceful resolution of the border crisis in Ladakh, China has chosen this time when India is reeling under the onslaught of the virulent second wave of the Covid pandemic to expose the true extent of its animus against India.
India needs to be prepared and vigilant as the snows begin to melt this summer.
Giving an insight into the thinking in the higher echelons of the Chinese Communist party, the official Web site of China's perhaps most powerful organisation, the CCP's Political and Legal Affairs Commission, which is at the apex of the country's security apparatus, allowed a contemptible post to be put up on May 2.
It was taken down only after nearly 48 hours. The post, which received over 150,000 'hits' within hours, went viral.
The post captioned 'China ignites; India ignites' had a photograph of China's successful space ship launch juxtaposed with another photograph of burning fires in cremation grounds in India.
A separate post publicised that canine crematoriums are being used in India for humans.
China's cyber administration and security apparatus, incidentally, claim they take down posts that are offensive within minutes.
That this was not an isolated instance became clear when the Hainan province public security bureau reproduced the identical post on its official website.
It was taken down after it had scored tens of thousands of hits.
China's popular social media portal weibo also carried the post, but took it down later in the day.
Around the same time the Chinese media and Chinese embassy in India were propagating that China was supplying essential medical equipment to India on emergency basis. What they deliberately avoided mentioning was that these supplies are all being purchased by Indian businessmen and brought to India.
India will certainly finally come out of this terrible situation, but it will not forget China's behaviour.
This also serves as a timely reminder of Chinese intentions, especially as the snows begin to melt this summer.
Reports indicate that China's People's Liberation Army has carried out the rotation of two divisions in its Xinjiang military region, particularly in the Hetian and Ali military sub-districts.
The 8th and 11th divisions have now been brought in from Wusu, about 10 kms from Aksu and Urumuqi respectively.
The number of tanks with the armoured regiments of these divisions have been reduced and replaced with much larger numbers of infantry fighting vehicles for enhanced mobility in the tough mountainous high-altitude terrain.
Additional infantry regiments have also been inducted.
Separately, reliable reports filtering in from inside Tibet in the past couple of days reveal that the Tibet autonomous region authorities have begun taking over the traditional grasslands of Tibetan nomads and relocating them.
The Tibetan nomads have been promised compensation and warned not to disclose this development.
The PLA plans to build military base camps. The sites of the proposed military base camps are: Shigatse county, Gampa county, Dingri county, Ngamring county, Rudog county and Nyalam county.
Efforts to strengthen the capability of the PLA Air Force are also underway.
China's 14th Five Year Plan (2021-2025) and the Long Range Objectives through the Year 2035, which included a number of defence-related projects to augment the existing defence infrastructure in the Tibet autonomous region in the near to medium term, was approved by China's version of a parliament, the national people's congress on March 11, 2021.
It sanctioned construction of 20 'multipurpose' border airports in addition to other projects to augment the defence infrastructure in Tibet.
Some of the 20 'border airports' to be built by 2025 have been identified as those at Tashkurgan (near the Karakoram Pass), Shigatse, Lhunze (Longzi), Dingri (Ngari - Ali), Burang/Purang (Ngari), Yadong and an additional runway at Lhasa's Gongar airport.
Reports indicate that construction of the airport at Yadong, opposite Sikkim, has basically been completed. The process to recruit personnel began some days ago.
Similarly upgrading of Gongar airport at Lhasa and construction of an additional runaway appears to be nearly complete. Here too the process for recruiting personnel has just begun.
The military preparations underway show that China will not only maintain pressure on India over the longer term, but that the PLA might undertake operations this summer to achieve whatever objectives they could not achieve before arriving on our borders last May.
Chinese Foreign Minister Wang Yi's statement on the sidelines of the national people's congress on March 7, clearly shows too that China has no intention of arriving at any accommodation on the current situation along the Line of Actual Control or the PLA withdrawing from its current positions.
In fact, it reiterates China's stand and cautions India against 'initiating confrontation'.
Jayadeva Ranade, former Additional Secretary, Cabinet Secretariat, Government of India, is the President, Centre for China Analysis and Strategy.
Feature Presentation: Ashish Narsale/ Rediff.com